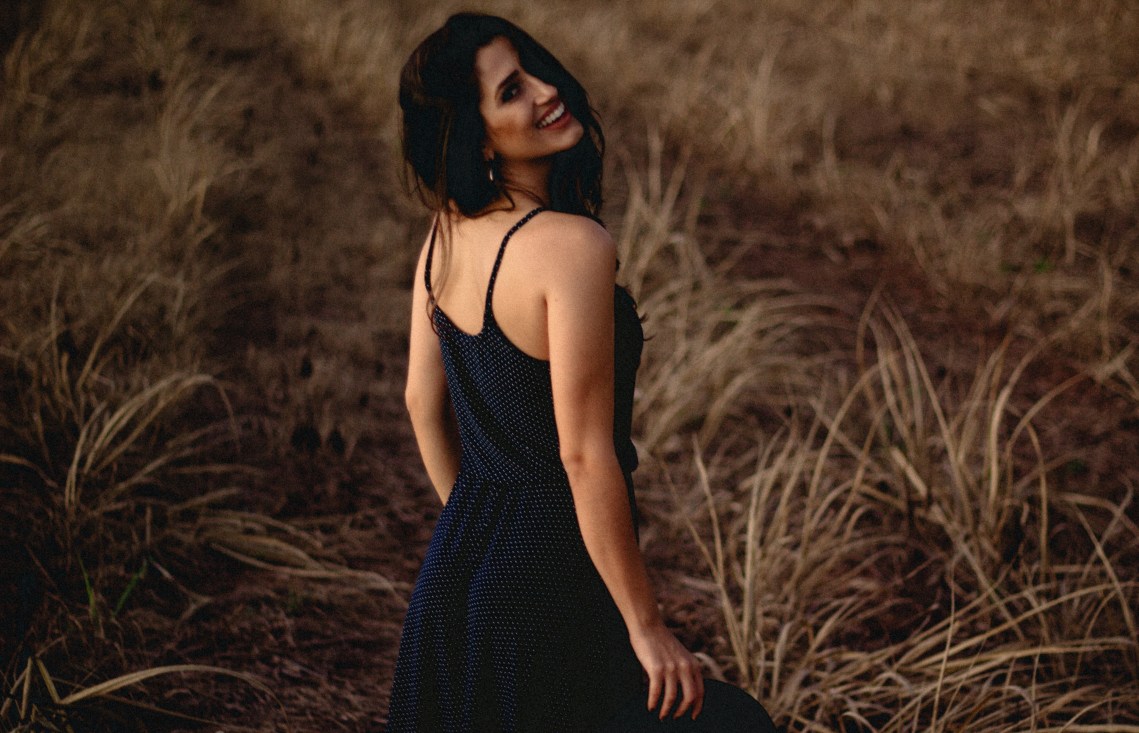 I arise in the morning and look in the mirror to find the face of a wild woman staring back at me, barbaric hair and dark eyes that welcome the light pouring in from the bathroom window. This woman has faced the very darkening descents of heartbreak. But this woman did not perish.
I have dug trenches into my soul searching for a source of light to give others. I have drowned myself with ankle chains to entertain a fake idealistic love. When I arrived here, society clamped its cold hands around my neck and demanded me to conform. But this woman did not listen.
I am recklessly beautiful and primitive. My vines are overgrown and they are native to this land. They spill into the cracks of pavement and push through decay and drought. When I was planted, I was told to keep my vines short and bare so others could grow. But this woman did not sever.
When I speak, I hear the crescendo of violin strings. Sometimes I speak of sadness and sometimes I speak of loss, sometimes I will miss my step and trip into confusion and other times I board a train of animosity that spits smoke into the air. But my words, I assure you, are genuine.
And I am loud. When I showed up for the very first time, I was told to keep my words to myself. But this woman damn well did not quiet.
I come from the place in your heart where wild wolves roam. Where lilac daisies reach for the wind to dance, the space in your sacral where seeds are cultivated and offered to the gods. I come from the place in your mind where torrent winds rip apart the weak.
My blood carries the water of the rivers that ran through ancient ruins. Your ancestors, adorned in gold, caress me as I bleed with the full moon's rays. I was taught that my own blood was taboo, offensive, displeasing, unwanted. But after I peered at the face of a newborn child, I understood deeply that my blood is the elixir of life.
So I walk tall, I take up space. I spread light over my skin like buttercream and I illuminate the pathways you long to travel. I will stretch and grow and suck the air from your lungs if you try to suppress me. I am the strength of the ox. I am the kindness of the butterfly. And although I taste of sweet peach, I carry with me the cherry venom of the serpent.
I spit out societal bullshit because it's too sour and write my own bible.
I dance to music of seduction. I sway my hips to the sounds of Earth drums and tree breeze. My feet are chapped and calloused from running bare through fields of rough soil. I am open and ass-naked, for the world created me as art and I will stop at nothing. Red for blood, gold for light, black for protection, green for growth. I gather color until my painting is completed.
My beauty wholly surpasses that of the physical. More than that I am ethereal, I am luminous, I am messy and I am lush. The wind brushes my hair and music carbonates my veins. My movements match the vibrations of home.
I am homesick. But I show up for this world.
And I am not afraid to show my tears and anguish. I keep my head held high and stride proudly, because I can take up space here, however I may come.
I heal this world through my own suffering. The universe is channeled through my feminine grace. I am mother, I am teacher, I am devout student and captivating lover. I transform the untold into stories, to tell you of the light.
I have power in my presence. You will feel me when I enter the room.
But with power, my sisters, comes jealousy. For hundreds of years they have attempted to break us. And break us they may, burn us they may. After the disintegration of our spark, contamination of our blood, and disgracing of our beauty, what is left are the bones.
The bones live forever.
And when the wild woman scouts these scattered bones, lost lives, she will gather them and lay kisses upon their surface, for these are the remnants of her slaughtered heart.
And at once, she will smile at the man who brought her to this desert to find them. She will set the bones in front of her, raise her hands above to rest on humble vibration, inhale the air capacity of death and of life – and she will lift them with her violin voice. Songs of resurrection.
Her bones fill with flesh again, life again. The most defeated parts of her soul brought to wholeness again for the next round.
Now women of Earth, you see you are more powerful than you could ever imagine. To arrive at your place of violet wisdom, be silent. Fill our golden sun with gratitude and reign from your heavens. There are generations of medicine women, healers, warriors behind you who lift you onto your platform and hold your feet to keep you steady. They are lighting your torch.
Listen.
To the song of the birds in your morning. The sound of the wind whispering secrets into your creative vessel. For this is the wild woman in all her glory, and she is reaching for you. You must surrender to her. Let your tresses free and fears dissolve into rainwater, irrigating soil for crop.
You are wild wolf. Diamond woman, you may drink from the tangerine sun. You may eat from the lust of hot sex in hot desert and be proud to illuminate its afterglow. A whole and honey woman. You may set boundaries that honor your spirit and your energy. You will learn to keep your freedom unbound.
Cages are for the feral, we are the wild. Do not keep yourself locked up.
Don't require six shooters to let loose. You are encouraged by your sisters to dance, to shimmy and jump, spin and love through your life. Emanate your sparkle. We need your color.
And so, each morning when I wake to my reflection, I see that primal shimmer in my human eyes. I remind myself in bright red words that I am worthy of all. I open sweetly and ferociously to the world and I scream loud from hilltop the song of my resurrection once again.
I plant my feet in the sides of mountaintops and sing to higher planes, reminding myself of my origin. I am lover, healer, protector, core of magic and usher of worlds.
I am destroyer of those things which do not sanctify me. And I must learn intuitively, that which must live and that which must die. For this is the role of woman. I am all shades of love, water, and Earth. I am authentic. I am whole. I am vulnerable without fear. I am untamed. I am wild woman and I run with the wolves.