Producer's note: Someone on Quora asked: What are the coolest startup culture hacks you've heard of? Here is one of the best answers that's been pulled from the thread.
I'm a co-founder at Maptia and after we graduated from the Techstars Seattle program at the end of last year, our team's temporary U.S. visas expired, and so we were forced to re-locate away from the States. Being three British co-founders, London seemed like an obvious option, but it is of course extremely expensive to rent accommodation and office space.
Needing to make our runway last until we had launched the Beta for our product, we instead spun the globe and found a cheap apartment only ten metres from the Atlantic ocean in the Moroccan surf town of Taghazout – now equipped with high speed broadband (thanks to Ken's technical genius) and enough space for all five of us currently on the team to live and work comfortably.
We lived in Taghazout for ten months and our ultimate 'culture hack' has been to blend Maptia's startup culture with our daily lives.
Below is the village where we are located…the Maptia HQ is on the second floor of the white house!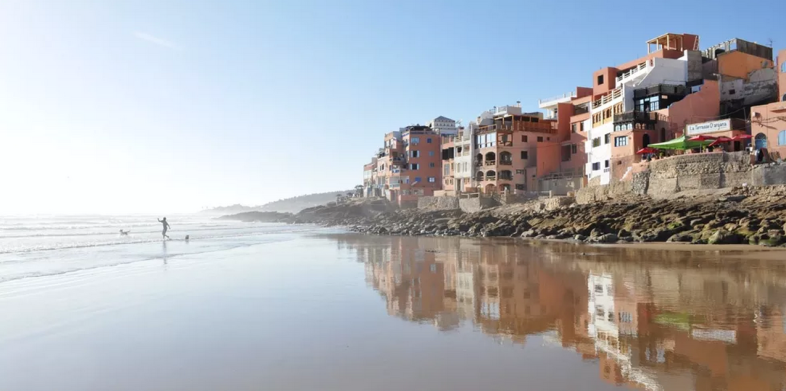 This is the view from the window of our shared office space at sunset…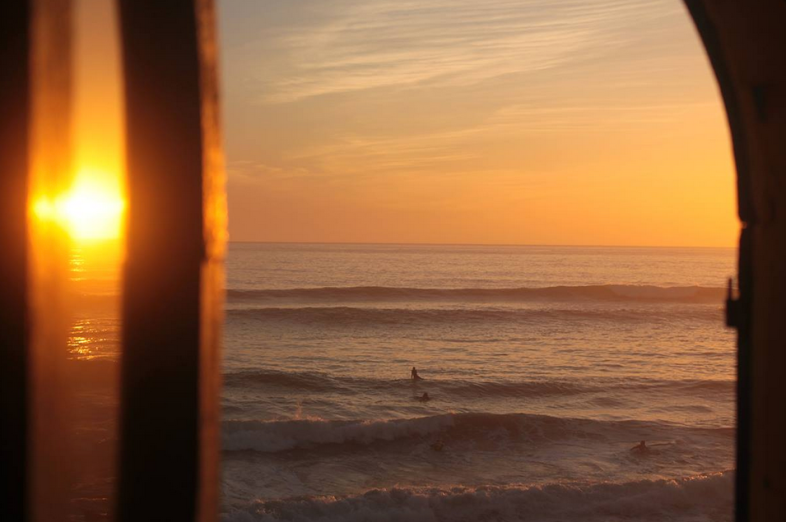 Share highs and lows from the week:
Every Sunday at 11.11 am, to kick off the day, we sit at a little cafe down by the ocean and share our highs and lows from the week (a culture hack we adopted from Andy Sack who runs the TechStars Seattle program) over bacon (nearly impossible to find in Morocco) and gloriously strong coffee!
Adopt fun routines to refresh team energy levels:
Like any startup team (especially when launch deadlines are fast approaching) we have a tendency to burn the candle at both ends, but we've adopted a few routines to refresh team energy levels when needed. To share a couple here –Dean sometimes plays the ukulele and makes up ridiculous songs, if the swell is good I'll give the others a quick surfing lesson or go for a quick sunset surfat Anchor point, and Ella (our flexible intern) leads a rooftop yoga class most evenings. There are also a few cliff jumping spots nearby and a local Hammam where we can get an intense massage in the next village south!
Make the work environment feel zen:
To improve our shared office space we have built a couple of DIY standing desks using breeze blocks we found lying around – one for inside the house and one up on the rooftop terrace. We also obtained a few old school tables and chairs from the crazy scrapyard in Agadir – these were promptly scrubbed clean, sanded down, and Ella painted our Maptia logo on the back.
Taking the time to make the work environment feel zen, and to make sure it reflects some of the things that are integral to what we are building at Maptia (maps, travel, and design!) makes a real difference.
We've decorated the office with our own handwritten quote postcards,Maptia manifesto posters, globes and other map related memorabilia – now it feels like home!
Below you can see us hard at work in our office…
Or if we wanted a change of scenery we'd work on the roof terrace upstairs…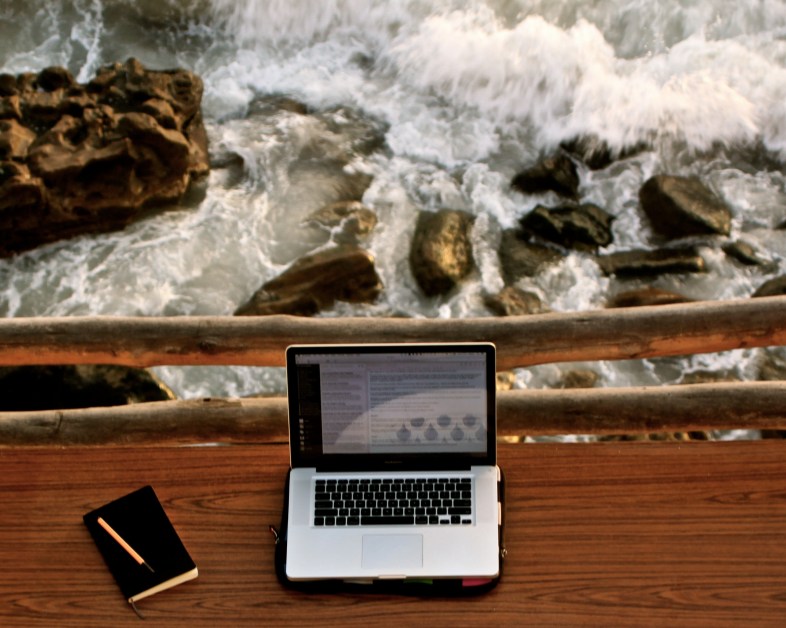 Below is our current team: from left to right, Dean – our CTO and map-maker, Dorothy – our CEO and designer, me – doing community and marketing!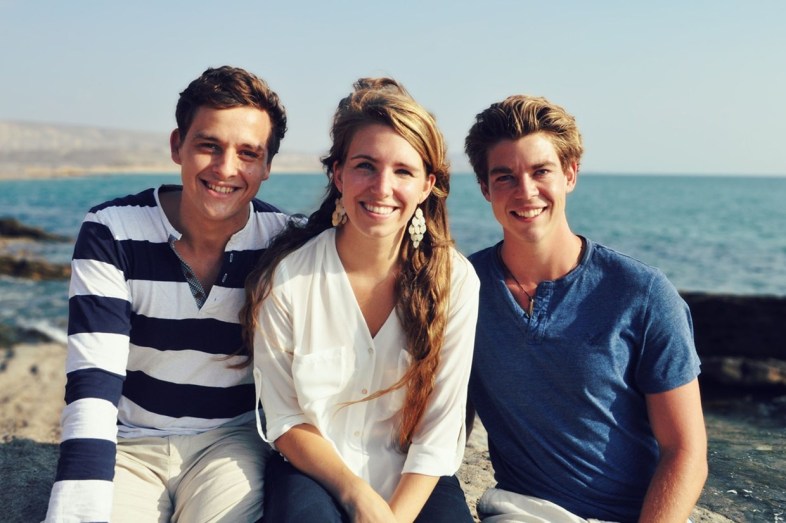 Get the whole team to take responsibility for chores and live on $10 per person per week:
Getting the whole team to take responsibility for the everyday tasks needed to keep Maptia fuelled has also been really important. It means we all really appreciate being lucky enough to work out here and are happy to do our share of the chores.
Once a week we take our giant backpack and stock up on mountains of fresh food from the local market a few miles south – in the aptly named 'Banana Village'. This of course keeps our living costs incredibly low. Our weekly food shop equates to roughly $10 per person per week, which means we have some funds leftover for the occasional team BBQ or pizza out in the village! We also take turns to cook each evening and have been experimenting in the kitchen with some of the more colourful Moroccan flavours. Everyone's culinary skills have benefited immensely from being out here!
Remove all unnecessary distractions to focus on the product:
Removing all unnecessary distractions by being out here in Morocco has done wonders for our team productivity. While we were taking part in both the Start-Up Chile incubator, and in the Techstars program, we found that although the constant stream of meetups and coffee meetings were great for intensive learning and networking, we struggled to focus on building the product as much as we would have liked. Giving ourselves the opportunity to focus exclusively on this (plus community building) has been fantastic, and entirely appropriate for the stage we are at.
Ensure the whole team is genuinely passionate about your company (and foster this)
Everyone on the team is thoroughly enjoying life out here in the sunshine and without too many distractions we are all managing to be insanely productive –even more so than we were during TechStars! Despite working pretty long hours – that is what happens when your whole team is genuinely passionate about your company's mission and product – we still find time for yoga, surfing, and cooking the odd tagine on the roof. Doing all this for a fraction of the money that we would have been spending in London or Seattle is a huge bonus.
It is important to mention briefly that we stand by Rand Fishkin's definition of what 'company culture' is and is not. Rand believes that although various awesome 'culture hacks' and an inspiring workspace may well be indicative of a great culture, they are very different things. Have a read of Rand's insightful thoughts on what what company culture is and is not if you have a moment.

This answer originally appeared at Quora: The best answer to any question. Ask a question, get a great answer. Learn from experts and get insider knowledge.