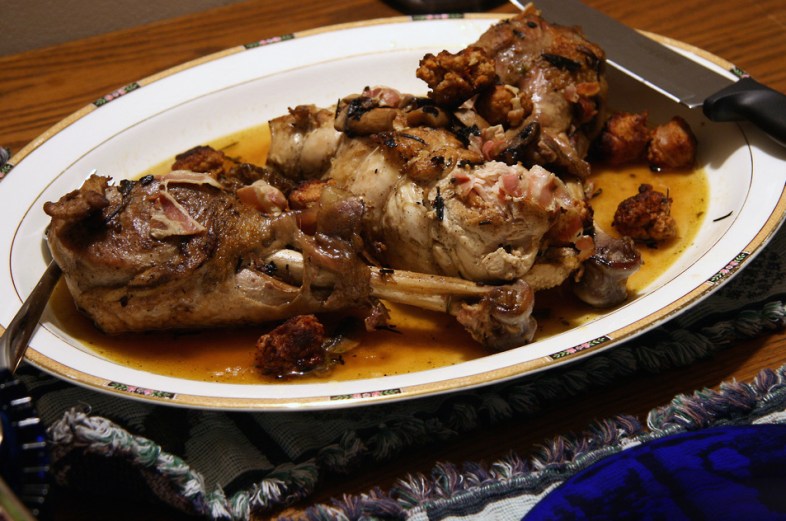 1. Easy on the leftovers
You want to dive in the day after Christmas, great. Then it's time to move on. If you're hosting, of course you want to have more then enough food. Just don't plan on having a week's worth of leftovers in the process.
The sooner those leftovers are out of your fridge, the better.
2. Go nuts during those holiday meals
Eat to your hearts content. Seriously. Just eat healthy the days leading up to it and earn those fatty credits.
A doctor friend of mine says alternate healthy days with unhealthy days. Again, eat healthy the day before and after Christmas, and go nuts on the holiday meal. Medically speaking, you're better off having 3 Big Macs in one meal and then eating healthy the next two days, over eating 1 Big Mac a day for three straight days.
3. Join a gym now
And workout now. Don't wait till after New Years. It's easier to prevent weight gain now than take it off later. You can't exercise yourself out of a bad diet, but it helps. Hit the gym the day before and after the holiday meals and you'll enjoy them even more. You earned it.
Plus, most gyms have holiday specials going on.
4. Never go up a clothing size
I learned this from my mother. If your pants are getting tight, they're sending you a message. Dial back the eating and drinking. Think of your pants as your external lap band. Like your personal Battle of the Bulge: if you're pants are bulging, you need a counter attack. And that would be more exercise and a few healthy days of eating.
5. Finish eating earlier
If Christmas dinner is done at 5, don't hit the couch for 2 hours, then have dessert. Have dessert right after dinner, then don't eat again for the rest of the day. Give your body a few hours to digest before going to bed.
6. Drink a lot of water
It's good for you, it's good for the skin and it helps you feel full.
Plus, lets face it…we're drinking over the holidays. For your non-alcoholic beverages, choose water over soda. It has 0 calories and is much better for those hangovers. Which means an easier trip to the gym the next day.
7. Have more sex
There are many pluses to this…
First off…you're having more sex. And that's awesome.
Second, you're burning calories.
Third, when in a relationship, it's keeps things intimate. We've all eaten so much that we couldn't have sex after. If you have something to look forward to, you might turn down that third helping.
Plus, by keeping things intimate during the holidays, you'll take better care of yourself. Yes, it's the holidays, and we must spoil ourselves. But this can motivate us to put healthy effort in between those holiday meals and parties.