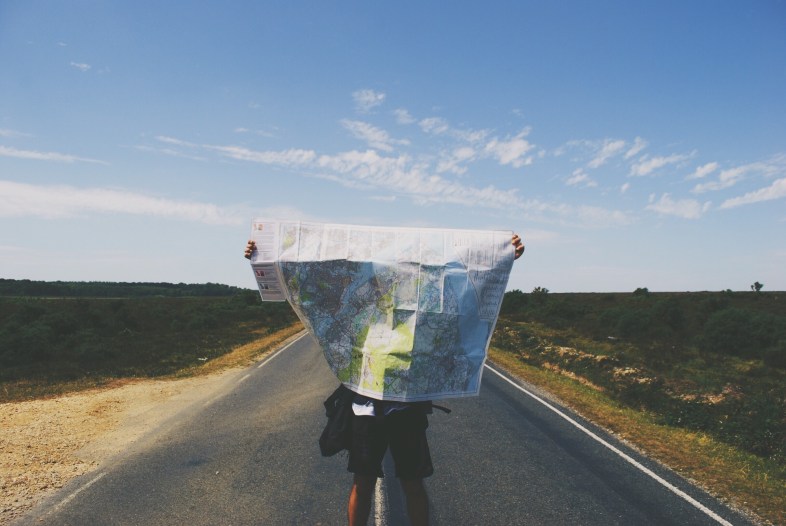 1. Over-Confidence!
You got this! Only 10 hours to go! Just You, The Road, and Your Thoughts! What could go wrong? Nothing, that's what!
2. Sing At The Top Of Your Lungs!
Nobody can hear you, so sing loudly! Sing horribly! No one cares! And IiiiiiIII-EEEEE-IIiiiIIIII will always love UUUUUUUUU
3. Lip Sync At The Top Of Your Lungs!
That volume of singing really wasn't sustainable, so this is second best.
4. Talk To The GPS!
What up, Amy? We're in this together for the next 9 hours! What a lovely accent you have! Where are you from? The UK? Australia? I want to know your soul.
5. Make Friends With All The Other Cars!
You and that blue Jetta are having a grand ol' time passing each other. You'll be sad when they exit the highway. But no worries, you'll always have Route 66. What memories.
6. Get Lost?
You definitely just missed your exit, and your GPS hasn't rerouted yet. Will it ever? When's the next exit? In twenty minutes? OH GOD.
7. Yell At The GPS!
GOD DAMN IT, GET IT TOGETHER AMY. I TRUSTED YOU. I JUST WANT TO GET BACK ON THE HIGHWAY AND NOW I'M ON SOME BACKROAD TO NOWHERE. MACHINES WILL NEVER SURPASS HUMANS. NEVER.
8. Forgive The GPS!
I'm so sorry, Amy. It was a shortcut, and I see that now. I'll never doubt you again.
9. Marvel At Nature's Beauty!
What scenery. Truly Instagrammable. If only you had a passenger to take a photo. Oh well. Life is fleeting, sometimes you just have to live in the moment.
10. Deep Thoughts!
Have I ever actually been in love? What if I die without ever reconciling with my dad? Oh god. We all die alone, nothing matters.
11. Spontaneous Crying!
You weren't even sad before this trip began, but Frank Ocean came up on your shuffle, and you can't. stop. all. the. tears.
12. Realize This Trip Is Never Going To End!
You figure you're probably pretty close to your destination at this point, so you check the clock… and three hours and 47 minutes have passed. Of ten hours. How is this possible.
13. Go Stir Crazy!
You're not in a car, you're in a moving coffin. You're going to die here, in this car, on this highway, and no one's going to be able to find you. Hell is probably an endless road trip. This is Hell. You're already dead.
14. Yearn For Human Interaction!
You stop at a rest stop expressly for the purpose of buying some chips and chatting with the cashier. How is their day going? What are their hopes and dreams? TALK TO ME FOREVER PLS.
15. Develop Newfound Appreciation For Truck Drivers!
They do this for a living. How?? They're the real MVPs. Respect.
16. Remember Why You Don't Do This Very Often!
Yep. You're definitely going to have to split this trip into two driving days next time. Your legs aren't meant to be in this position for this long. Will they remember how to walk when you get out of the car?
17. Remember Why You Do It!
You've arrived at your destination, and you're a different person from when you got in the car ten hours ago. You're exhausted, refreshed, exhilarated. What a day. Cheapest therapy you've ever gotten.