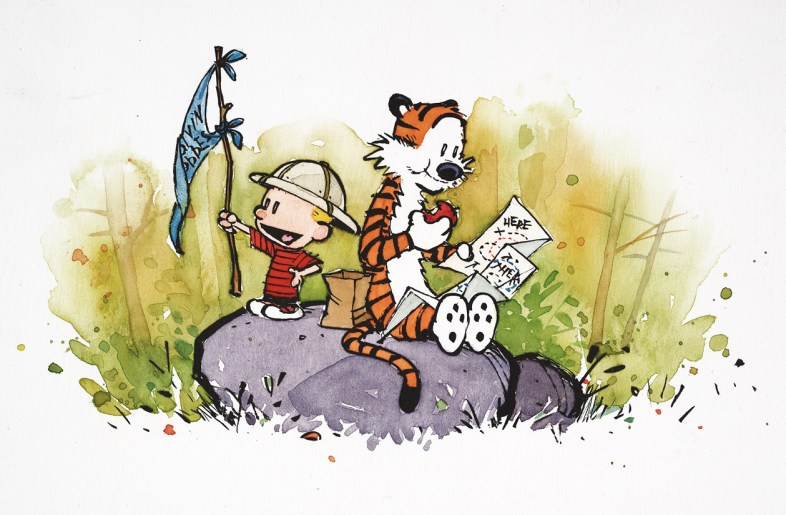 1.
"If more of us valued food and cheer and song above hoarded gold, it would be a merrier world."
–J.R.R. Tolkien, The Hobbit
---
2.
"It does not do to dwell on dreams and forget to live, remember that."
–J.K. Rowling, Harry Potter and the Philosopher's Stone
---
3.
"They say the world is a stage. But obviously the play is unrehearsed and everybody is ad-libbing his lines."
–Bill Watterson, Calvin and Hobbes
---
4.
"Unless someone like you cares a whole awful lot, nothing is going to get better. It's not."
–Dr. Seuss, The Lorax
---
5.
"Isn't it nice to think that tomorrow is a new day with no mistakes in it yet?"
–L.M. Montgomery, Anne of Green Gables
---
6.
"Listen to the MUSTN'TS, child,
Listen to the DON'TS
Listen to the SHOULDN'TS
The IMPOSSIBLES, the WONT'S
Listen to the NEVER HAVES
Then listen close to me-
Anything can happen, child,
ANYTHING can be"
–Shel Silverstein, Where the Sidewalk Ends
---
7.
"Here is my secret. It is very simple: It is only with the heart that one can see rightly; what is essential is invisible to the eye."
–Antione de Saint-Exupéry, The Little Prince
---
8.
"Now, here, you see, it takes all the running you can do, to keep in the same place. If you want to get somewhere else, you must run at least twice as fast as that!"
–Lewis Carroll, Through the Looking-Glass, and What Alice Found There
---
9.
"Today you are You, that is truer than true. There is no one alive who is Youer than You."
–Dr. Seuss, Happy Birthday to You!
---
10.
"You must never feel badly about making mistakes … as long as you take the trouble to learn from them. For you often learn more by being wrong for the right reasons than you do by being right for the wrong reasons."
–Norton Juster, The Phantom Tollbooth
---
11.
"Never do anything by halves if you want to get away with it. Be outrageous. Go the whole hog. Make sure everything you do is so completely crazy it's unbelievable"
–Roald Dahl, Matilda
---
12.
I'm not afraid of storms, for I'm learning how to sail my ship.
–Louisa May Alcott, Little Women
---
13.
The moment you doubt whether you can fly, you cease forever to be able to do it.
–J.M. Barrie, Peter Pan
---
14.
"A person who has good thoughts cannot ever be ugly. You can have a wonky nose and a crooked chin and stick out teeth, but if you have good thoughts they will shine out of your face like sunbeams and you will always look lovely."
–Roald Dahl, The Twits
---
15.
So many things are possible just as long as you don't know they're impossible.'
–Norton Juster, The Phantom Tollbooth
---
16.
"You have brains in your head. You have feet in your shoes. You can steer yourself any direction you choose. You're on your own. And you know what you know. And YOU are the one who'll decide where to go…"
–Dr. Seuss, Oh, The Places You'll Go!
---
17.
"The true courage is in facing danger when you are afraid."
–L. Frank Baum, The Wonderful Wizard of Oz
---
18.
"Inside all of us is Hope.
Inside all of us is Fear.
Inside all of us is Adventure.
Inside all of us is… A Wild Thing."
–Maurice Sendak, Where The Wild Things Are
---
19.
"It's a magical world, Hobbes, ol' buddy…Let's go exploring!"
–Bill Watterson, Calvin and Hobbes

---