No one is immune to the dazzling beauty of celebrities, not even other celebrities. So next time you're creating an elaborate plan to make Joseph Gordon-Levitt fall madly in love with you, just be aware that you've got some famous competition.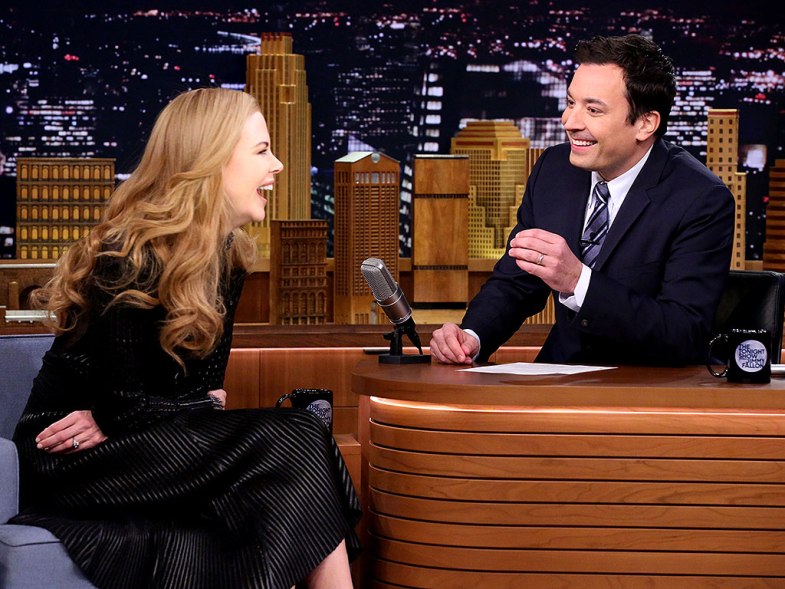 1. Idris Elba on Jennifer Lawrence
Idris admits that he has "a little bit of a crush" on Jennifer Lawrence at the moment. Please let this one happen. They're too beautiful to not be together.
2. Jack Black on Amy Poehler
During his interview, Jack Black traces his crush on Amy Poehler back to her days doing guest spots on Conan O'Brien.
3. Emma Watson on Tom Felton
Here, Emma Watson talks about a two-year period while filming Harry Potter when she had a huge crush on her costar, Tom Felton. Even though that would have been ten years ago, fandoms can still hope that these two could get together, because that would be a dream come true.
4. Ariana Grande on Jim Carrey
About a year ago, Ariana Grande posted an Instagram video of herself breaking down into tears when she finally met her childhood crush. She tweeted about it later, saying, "Met my childhood crush Jim Carrey could [not] even speak. He was kind, warm and human. I'm so happy."
5. Jake Gyllenhaal on Kerri Green (Andy from The Goonies)
Jake Gyllenhaal recalls his childhood crush on Kerri Green, and gets a little too overwhelmed when thinking about a scene where she plays tennis.
6. Dax Shepard on Brad Pitt
Both Dax and Kristen Bell have talked about his love for Brad Pitt, but he reaffirmed it on an interview with Ellen recently where he marvels at a photo of Brad and remarks, "it just keeps getting better."
7. Jennifer Lawrence on Justin Timberlake
In true Jennifer Lawrence fashion, she describes to Yahoo that she had a huge crush on JT during his 'NSYNC career. She liked him so much that hung his CD photo packet on her wall.
8. Kat Graham on Jeff Goldblum
While playing Entertainment Weekly's version of the Newlywed game, Vampire Diaries costar Nina Dobrev revealed Kat's secret crush on Jeff Goldblum. Kat's expression when she finds out about Nina's big mouth makes it clear that that information was never supposed to reach the light of day. Oh well.
9. Nicole Kidman on Jimmy Fallon
We've all seen this interview, where Nicole Kidman confesses that she had a crush on Jimmy Fallon when they were younger. Jimmy's astonishment that he accidentally went on a date with her is an internet classic.
10. Ashton Kutcher on Jennifer Aniston

While on The Graham Norton Show in 2011, Ashton admits that to fulfill a childhood fantasy, Ashton asked Brad Pitt (when he was Jennifer's husband) for permission to ask her on a date. Unfortunately for Ashton, she declined. But now he's with Mila Kunis, so I don't think he's too broken up about it.
11. Selena Gomez on Billy Crudup
Selena Gomez admitted to Jimmy Kimmel that she had a crush on Russell Hammond during her "Almost Famous phase" as a kid, which became a problem when she worked with him recently on Rudderless.
12. Matthew McConaughey on Susan Sarandon
After taking a minute to think in his interview with W Magazine, Matthew McConaughey declares that he thinks Susan Sarandon is, "one of the sexiest women." He then goes on to talk about how great her pores are…. Ok Matthew, thanks. You probably could have left it at "sexy."
13. Jennifer Lawrence on John Stamos
Lawrence tells Conan about a party where she saw Stamos and turned into a "perverted guy," by following him around and "staring at his ass." Really though, who didn't have a crush on Uncle Jesse?
14. Carey Mulligan on Mario Lopez
While promoting Never Let Me Go Carey Mulligan describes how frazzled she becomes whenever she's around Mario Lopez on the red carpet.
15. Rebel Wilson on Channing Tatum
During an interview with Ryan Seacrest, Rebel Wilson talks about how excited she was to work with Channing Tatum for a promo, and that she used her influence with the people making the promo to ensure she could straddle him. Oh Wilson, you clever minx.
16. Amy Adams on Colin Farrell
Amy Adams describes Colin as the "perfect, working-class Irishman," during her interview with W Magazine.
17. Brie Larson on Val Kilmer
Brie Larson briefly admits that she's "always had a thing" for Val Kilmer.