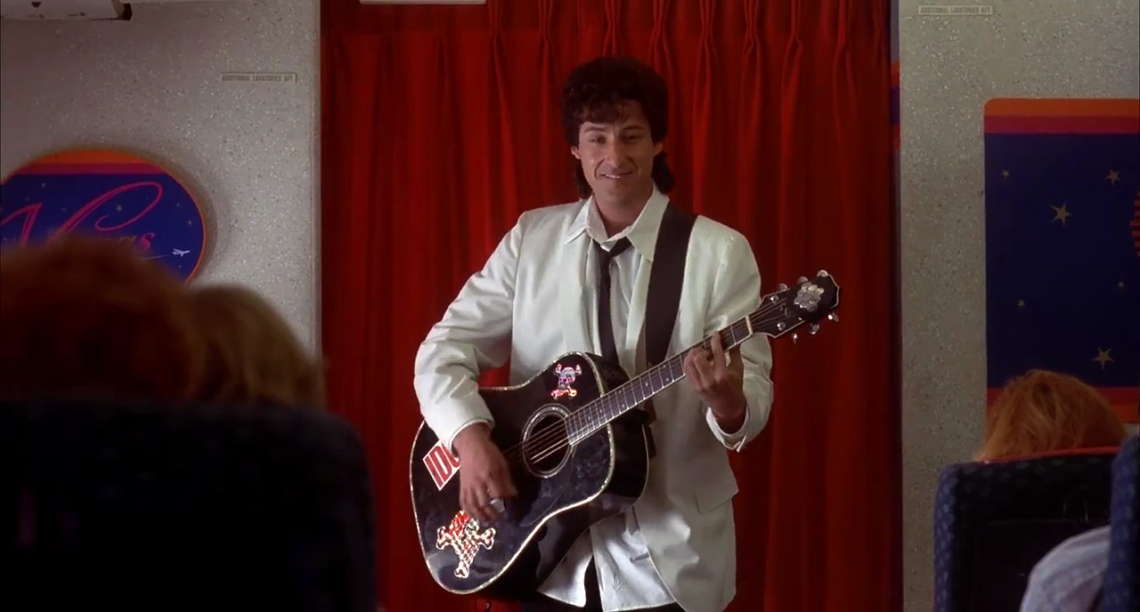 1. Bridget's Birthday Dinner from Bridget Jones's Diary (2001)
Two words. Colin Firth. The man that makes every man question his sexuality and every woman second-guess her marriage. It's the first time we see Mr. Mark Flipping-Perfect Darcy loosen up, and it's endearing as fuck. The look he gives Bridget during the dinner toasts is absolutely Swoon City, Population: Me.
2. Pier Scene from My Big Fat Greek Wedding (2002)
Toula's in the middle of breaking up with the non-Greek Ian, so Ian does some major sucking up to make sure he's still on the path to her pants, err I mean, love. He's listing off all the things he likes about her, but one item stops Toula in her tracks. He calls her beautiful. For some women, these words are a dime a dozen, but for former Plain Jane's like Toula? It's probably the first time anyone other than her Big Fat Greek Family has said that to her. You go, Glen Coco.
3. Sleepover Scene from Big (1988)
This movie stirs some weird emotions in me. I love it because Tom Hanks is, well, Tom Hanks, but it's awkward to watch when you realize the romance is between a grown woman and a (basically) twelve-year-old boy. What's great about this scene is it walks the line between twelve- and thirty-year-old romances in a cute, hilarious way. Boy-man Josh invites grown woman Susan over for a good old fashioned slumber party, while Susan thinks she's coming over for some meaningless hanky-panky. To her surprise, the night's completely innocent, and Josh gives her a glow-in-the-dark compass ring "so [she] won't get lost." Dawww twelve-year-old me would have totally fallen for that, boy-man Josh.
4. Teddy Bear CPR from Lars and the Real Girl (2007)
An emotionally stunted Lars (aka unattractive, but still weirdly attractive Ryan Gosling) finally opens up to someone other than his girlfriend/sex doll Bianca, by performing mouth-to-mouth on Margo's fallen teddy bear. And as weird as Lars/attractively-unattractive Ryan Gosling is, the look on Margo's face at the end of the scene shows that she's completely head-over-heels for him anyway.
5. The Airplane Song from The Wedding Singer (1998)
So simple, yet so relatable. There aren't any huge expectations placed on the relationship, just the desire to grow old together. And share the remote control. Seriously, I JUST WANT SOMEONE TO SHARE THE REMOTE CONTROL WITH. IS THAT SO MUCH TO ASK?
6. Pre-Wedding Basketball from Father of the Bride (1991)
OKAY, YOU CAUGHT ME. Not a romantic moment, but still completely sweet, so it counts. The whole movie revolves around Steve Martin flipping the fuck out because he's losing his little girl, so here he finally gets his one-on-one daddy-daughter time on the night before her wedding. Hearts warm across America. Plus, it's Steve Martin, aka everybody's back-up dad.
7. Sick Kathleen Scene from You've Got Mail (1998)
Here's the basic plot of the film: Tom Hanks hates Meg Ryan. Ryan hates Hanks. Cyber Hanks likes Cyber Ryan and vice versa. Cyber Hanks discovers Cyber Ryan is Real Ryan and starts to like Real Ryan, but Real Ryan still hates Real Hanks, so Real Hanks has to convince Cyber and Real Ryan to like Real Hanks. It works, the end. *Deep breath*
Okay. So this scene is the first of Real Hank's attempts to sway Real Ryan, by laying on the patented Hanks' charm. There's a moment right before the end of the scene when he stops Ryan from saying something she'll regret. Classic Cyber Hanks. Ryan has a moment of recognition that Real Hanks is nice in a way that reminds her of this guy she met online that she's totally into.
8. IKEA Scene from (500) Days of Summer (2009)
Who hasn't wanted to play house in a giant IKEA? Especially whilst a Chinese family watches from the bathroom? ZD + JGL = OTP. Just saying.