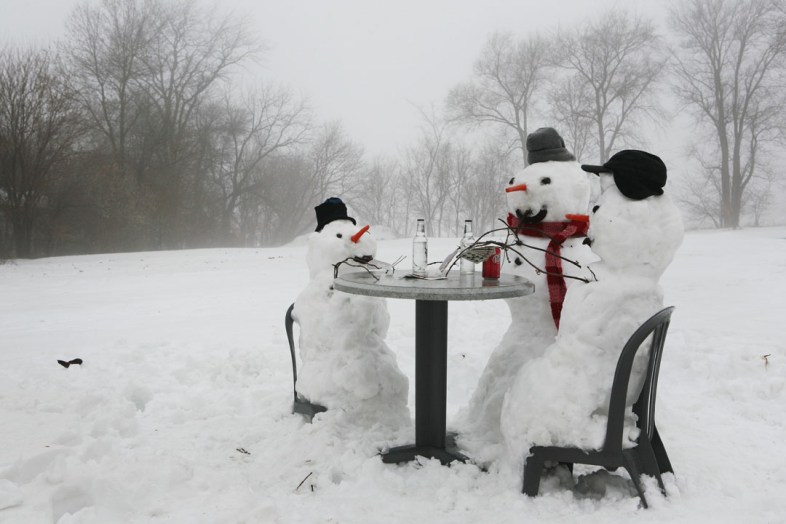 Winter Stormageddonpocalypse '15 is bearing down on the Mid-South. As local meteorologists prepare for inordinate amounts of screen time, you should make ready for the coming storm. Here are some important tips to help you survive the storm of the century.
1. Stock up on jokes about milk and bread. There's going to be a lot of opportunity to make jokes about people running to the store for necessities in the face of winter weather. You're going to want cutting edge, fresh jokes so that yours can stand out on social media. Don't be stuck with just one "Guess we're going to need bread and milk!" quip for Facebook. Go get those jokes ready now so you can be at the forefront of obvious comedy.
2. Winterize your house. Cover the entire house with a Styrofoam teepee. If it's good enough for your outdoor faucets, it's good enough for your whole house.
3. Determine which family members you will eat. If trapped by ice for more than two days, you may need to decide which family member the rest will eat in order to survive. It's best to make those plans now when you can do it rationally and without letting emotions get in the way during a crisis. The Donner party didn't plan, and reports say they had a really hard time deciding who would be lunch. And don't even get me started on that soccer team. Those guys had a really tough time due to lack of planning!
4. Purchase a salt truck and 50 tons of salt. This will be incredibly useful. And if the storm does not show up, you've got enough salt to last for your meals for at least a week!
5. Mock people. If you are from the North, now is your opportunity to make fun of and be condescending to your new neighbors. Make as many insulting, rude and annoying statements about how we just don't understand snow down here and that it's quaint that we react to winter weather the way we do. We love that.
6. Gather costumes. Prepare for the winter weather by stocking up on supplies to make costumes of local weather personalities. Treat weather reports like The Rocky Horror Picture Show. Throw bread or something at your TV anytime there's a weather crawl! Shoot each other with water guns anytime the weather guy or gal says "occluded"! Make it fun!
7. Prepare entertainment. Remember, if the power goes out, you won't be able to access programming on your TV, radios, Netflix, or even your old Magnum P.I. DVDs. So prepare for some non-electric based entertainment. Like puppets or something. I don't know what people did for fun in the dark ages, but I assume puppets were involved.
8. Prepare a shrine to Ithaqua. Just in case the storm is caused by Old Ones, it won't hurt to do what you can to appease Ithaqua lest he devour your soul or send you to the brink of gibbering madness.
9. Get a sled. Call it Rosebud and yearn for it as you lay dying, allowing it symbolize your lost youth and innocence. Spoiler alert. Sorry.
10. Say "Cold enough for you?" over and over again. This will help make the decision in number 3 easier for the rest of the family.
Originally published at www.thehowlingmonkey.com on February 15, 2015. This is parody, which, frankly, should be obvious.

This post originally appeared at Medium.