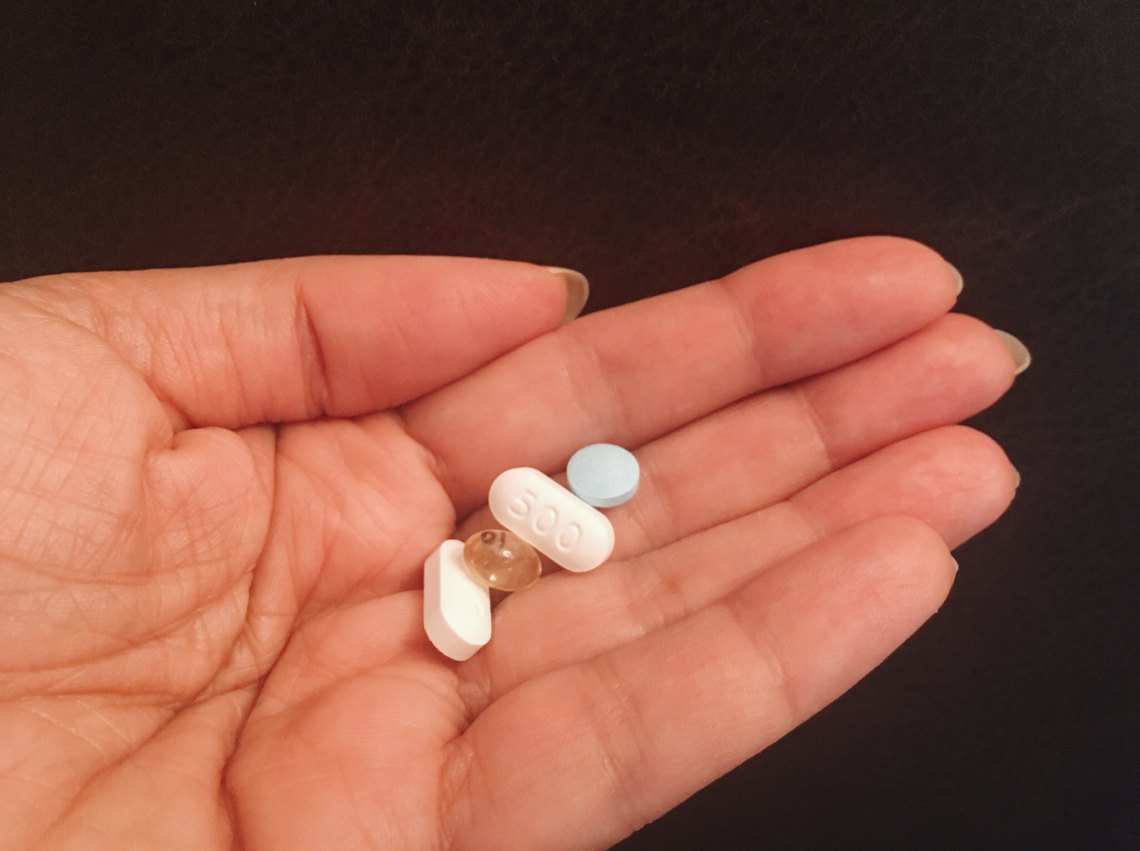 We were set up by a mutual friend, my dear Licensed Clinical Social Worker.
She told me that Z was quite a hot item on the psychiatric market, notorious for wooing people of all genders and ages with its go-to seduction move, selective serotonin reuptake inhibiting.
She sensed that Z and I would balance each other out beautifully, decreasing my anxiety and fears, while improving my mood and energy levels. Together, we could tackle the world!
Butterflies immediately fluttered in my stomach as my heart raced with desire.
Could this really be it? My ideal life partner? I so wanted it to be true!
(She did also warn me that Z had some alarming baggage — a history of causing upset stomach and nausea. But that sounded like most of my exes.)
I was eager to meet Z as soon as possible so that I could finally live the life I was meant to be living. I mean, I wasn't getting any younger!
But first, I had to seek approval of our relationship from the pill's strict family gatekeeper.
His name was Dr. Carter, M.D. and he didn't hold back, grilling me with questions, a test of my bachelorette eligibility. The doc had honed a clear set of expectations that needed to be met in order for him deem anyone worthy of his precious Z.
Fortunately, I was easily able to win him over with my recent history of sleeplessness and years of experience with anxiety. I also bragged a bit about my lifestyle habits — non-smoker, rarely a drinker— which assured him that I'd be able to take good, responsible care of his darling antidepressant.
Dr. Carter didn't hesitate; he phoned Z at its home, a large but affordable urban drugstore, to tell the pharmacists to get a bottle ready; I'd be picking it up for a dinner date within the hour.
I arrived at the drugstore at 6:03pm.
I swiped on a layer of lip gloss, slammed the door of my 2015 Honda Civic and practically skipped — no, floated — into the CVS. I was delighted to see the tasteful decor of Z's space; chip bags smiled at me, water bottles beamed, nasal spray value packs glistened. A tired pharmacist held a finger up to me at the counter. It would be just a minute!
As I waited, I noticed a gaggle of celebrities smiling at me from their magazine covers. "Yes," I thought. "I get it. I will soon feel as boundlessly gleeful as your team of designers and publicists forced you to look!"
"OK, miss." the pharmacist beckoned me. "I'll need your last name, first name, and date of birth."
The moment had arrived. I took a deep breath, pouted my lips just a tad, and give him the answers he sought.
A few agonizing seconds later, a saw it. Z.
It was wearing a translucent bright orange tube — a bold, yet playful look. A white paper wrapped around its alluring cylinder form spouted free verse poetry: "take 1 tablet by mouth per day."
I fervently reached into my purse and whipped out my wallet. Ordinarily, I'd anticipate my partner footing the bill — or at least valiantly offering — but I didn't mind. I could tell Z was worth any price (at the insurance-reduced rate at least).
The final hurdle was then met; the one thing still keeping us apart in our Romeo & Juliet style romance was paid for.
The pharmacist handed Z over to my awaiting left hand and as I clutched the RX bottle and the miraculous 50-milligram capsules in my un-manicured fingers, I knew.
I knew I had found the one.
The one who would make me feel whole. Complete. The one who'd care for me, calm me, comfort me, and only sometimes reduce my appetite and make my dreams extra vivid and weird.
There, in that oddly cold Pittsburgh CVS, my fairy tale romance/antidepressant success story began.
And we lived happily — or least less anxiously — every after.