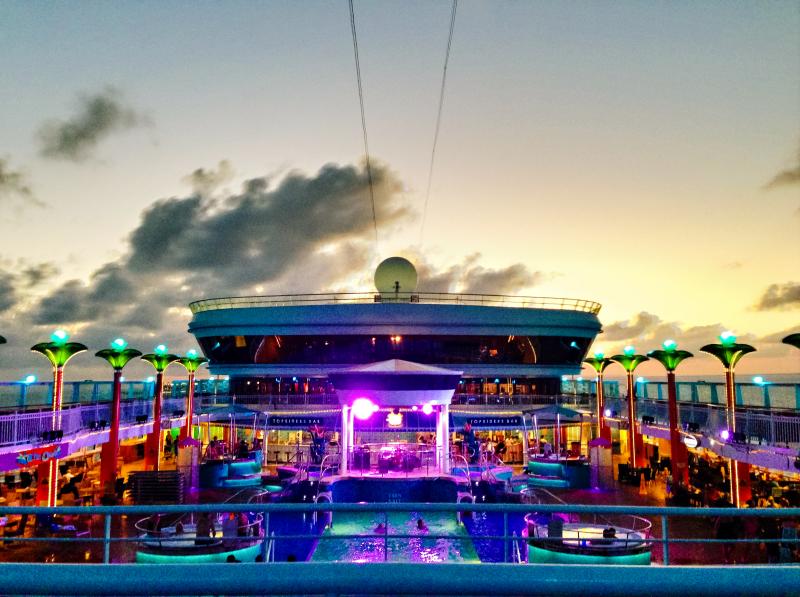 Cruises are awesome, but at the same time they can be a little overwhelming in terms of planning if you don't know exactly what you need to do. This post will go over pretty much everything you need to think about while booking and planning a cruise and hopefully be helpful in the planning process! I personally have only cruised with Royal Caribbean thus far, so these tips are from my experience with that cruise line so keep in mind booking with other companies may have differences.
Booking
First and foremost, MAKE SURE YOUR BROWSER IS IN INCOGNITO MODE. Cruise company websites are just like other websites that track your cookies. I paid $200 more per person when I booked a cruise for my mom and I due to being naive about website cookies and tracking. I panicked with the increasing prices every time I came back to check on the cruise I wanted and booked it, instead of clearing my cookies or having my browser on incognito mode. Rookie move, so now I preach this like crazy.
There are a variety of ways to turn your cruise trip into budget-friendly while booking as well. I saved money by booking an interior stateroom, meaning I had no windows which ended up being fine because we only came to the room to sleep and shower. An interior stateroom is normally substantially cheaper than a balcony room and I found our room to actually be quite spacious all things considered. State Room Pro tip: almost everything is magnetic in state rooms, so bring some magnetic hooks or magnets to create some extra space!
You can also book cruises months in advance, I'm talking like… almost a year in advance. On Royal Caribbean right now, I can book a cruise into 2018 if I wanted! By booking early, the cruise line usually has some kind of promotion going on like being provided with an on-ship spending credit (free money, woo!), picking a better room for a better price, discounted drink packages and so much more. AND with booking early, you only have to put a small amount down as a deposit and can pay monthly up until you leave, or pay all at once as embarkment day approaches. Cruises really do provide options for every kind of budget.
Edit: Another great traveller informed me that specifically with Royal Caribbean, their promotions change every month. She booked her cruise for $4600 and a few months later it was on sale for $3600, as long as it's before your final payment they will give you the discounted price if you call in and let them know! That's awesome! Make sure after you've booked to continue to check back on your cruise price to see if it's changed
After you've booked, I highly suggest downloading the app Shipmate. I talk more about Shipmate on my Travel App blog post here but this app was absolutely essential to me during my cruise experience. You can check in to your cruise, chat with other cruise-goers and ask questions (this was super helpful for me while packing, like asking if I needed a beach towel… fyi, you don't) and check out the ports of each location you will be stopping at.
Airfare
My biggest suggestion when booking airfare is to arrive the day before your cruise leaves. I chose to arrive the day of and yes, we arrived on time… but six hours early. Meaning we sat in San Juan International Airport for six. hours. This is definitely a more budget friendly option because you don't have to pay for accommodation overnight, but just be aware you run the risk of arriving late to the airport or being ridiculously early. When we cruised, we arrived at 6 am and weren't allowed to start boarding the ship until 12. It made for a really, really long morning. Sorry mom.
Royal Caribbean offers an Air2Sea program (that I did not know about when I booked my flights) that guarantees the lowest airfare or they credit you back 110% of the difference as an on-board spending credit. There is also guaranteed arrival (so you know, you don't miss your boat because that would suck) and honestly, a service like this makes it a billion times easier for you while planning.
Preparing for your Cruise
Dining
Literally, you will eat so much. There is food everywhere and you can eat as much as your stomach and heart desires. Cruise ships tend to have the general dining room, a buffet and several other restaurants not included in your ship fare. As previously mentioned, my experience has been on Royal Caribbean so make sure to check with your desired cruise line for more specific details on dining.
For breakfast time, I personally tended to hit the buffet because there was a variety of options of food, juices and unlimited coffee. It was also the quickest option to get out on dock as fast as possible to start exploring! This breakfast buffet tended to change over at lunch time for lunch, but my mom and I usually ate some lunch on the port we were exploring that day.
Dinner time is the best time. For the general dining room, I used My Time dining. My Time Dining allows you to chose your own dining time and table companions on a daily basis. You have the ability to choose a different time everyday to accommodate your day. With My Time dining, we tended to eat dinner at 6:45 pm since shore days usually ended around 4 pm. You also have the ability to choose to be sat with other cruise-goers or with your party. We did a combination of My Time dining and reservation by asking to eat at the same time everyday, and we would get put at the same table with the same serving staff. This was so great as part of the dining experience because we got to know some of the staff on a more personal level and felt super comfortable our entire trip! Dining Pro tip: YOU CAN ORDER AS MUCH FOOD AS YOU WANT. I did not know this until the person sitting next to me on one of the last nights literally ordered two entrees. 
Drink Packages
I'm going to be completely honest here, I did not find my drink package worth the price. I'm not a huge pop drinker and tend to stick to water, coffee and wine, therefore when I paid for a basic refreshment package it ended up just being a cost I personally could have avoided. I was never asked for my cruise card for water, apple/orange juice or coffee. If you are an avid pop drinker or plan to drink a lot of alcohol, then yes I would definitely recommend a drink package. Also be aware that you don't have to book that right now (unless there's a deal!), on your first day on the cruise there will be several staff selling drink packages and have an abundance of information to help you make the right choice. If you are planning to buy buy on the cruise ship, I recommend researching the available drink packages beforehand so you generally know what you're getting into.
Pro Tip: Something I didn't know was that YOU CAN BRING TWO BOTTLES OF WINE WITH YOU. You can opt to have it in your state room and enjoy a nice glass of wine in the evening, or take it to the dining room and have it carried over several days until the bottle is done. Be aware however that bringing it to the dining room will probably have a cork fee, but I think that's a way bigger bang for your buck then paying over $30 for one bottle of wine. If you are buying other alcohol at the ports (because hello Duty Free) be aware they will take the alcohol when you are boarding the ship at the end of the day and return it to you on your final day.
Gratuities
When I booked the trip for my mom and I, I chose the option for pre-paid gratuities to be included in my cruise price. I chose this option because then I personally didn't have to worry about giving a good tip to the staff. At the end of the cruise, my mom and I chose to give an additional gratuity to the staff that truly went above and beyond for us such as our room cleaner, state room attendant and serving staff. Trust me, I truly have never been so well treated than on a cruise. The staff work so incredibly hard to make sure you're having a good time.
Formal nights
Depending on your length of cruise, you will have formal nights. On my seven day cruise we had two formal nights. It's actually super fun to dress up and see everyone else dressed up as well! Formal nights are for those attending the general dining room, so if you're not into that there are other options for dining such as some of the speciality restaurants or hitting up the buffet. Now be aware "formal" doesn't necessarily mean you need to wear a ball gown and tux – though you will see people wearing that. One night I wore a nice cocktail dress with wedges and the second night I wore a nice maxi skirt with wedges. My mom wore nice cocktail dresses. Men, you can get by with a nice dress shirt, tie and dress pants.
Our formal night outfits, I apologize for the lighting of the one photo but you get the gist!
Wifi
Is stupidly expensive and not free on the ship. I chose to pay for wifi to communicate with some people back home but found it to be very spotty at times while at sea. Being from Canada, I did not have a phone travel package and my phone did not work. However, there were several US citizens on our cruise who were covered by their phone provider (I cruised in the Caribbean) so just check with your phone company! I also managed to find free wifi while out and about exploring on port.
Shore Excursions
When you book your cruise, you will be able to search through all of the incredible activities to do at each port. There is literally something for everyone from adrenaline-seeking, to beach-going to family activities. I'll be honest again here, I did not book my excursions through the cruise line. NOW, be aware this can be very risky. If you book an excursion through the cruise line and the excursion is running late, the cruise will wait for you and you are unlikely to miss departure. If you choose to go off the beaten path, you do run the risk of missing departure. That being said, I just planned my day. When we arrived to port, there were always local businesses promoting their own excursions. Here are my pro-tips for non-cruise line excursions:
Do your research. I researched the ports we were going to both on Shipmate (legit, the best app ever and no I am not sponsored, it's that great!!) and Google. Some ports may not be as developed as others and you may need to book an excursion if there is not much to do on port
Read Reviews – I tended to look up the best beaches or top activities for each location and see what other tourists had to say
GO EARLY. I aimed to be off the boat almost as soon as we arrived to port to allow for time to be back in time to not miss departure. I had such authentic experiences at each location with real locals, all while supporting local businesses! It was fantastic.
If you are going to go with locals, don't go by yourself. Almost on every island we took a local tour company around, it's not uncommon for locals to approach you with their services. Once I found one that interested what I wanted to do (based off what I had researched), I said I would go if the local found other tourists. This ensured I was with a group of people and not just me and my mom with some random local.
I chose to not book excursions through Royal Caribbean solely due to budget, it was substantially cheaper. For example, in St. Croix my mom and I paid $40 USD for both of us to take a 4 hour taxi tour with 8 other cruise-goers around the island. We stopped at a local rum distillery (this was $8 USD) and literally drove from one end of the island to the other and got such an authentic experience I don't think I could have had through the cruise company. Or another great example, was I got to swim with Sea Turtles in Barbados and snorkel two ship wrecks for $15 USD! I highly recommend locals, but always air on the side of caution.
On Ship Activities
Cruising is a great option because there is just so much choice. Whether you're docked on a port, you can stay on the cruise ship if you don't feel like getting off. The days you are at sea or evenings after port, there are SO MANY ACTIVITIES for literally ALL AGES. On Royal Caribbean, every day you are provided with a Cruise Compass which is essentially a comprehensive hourly guide of activities going on on the ship. My mom and I loved the ship theatre and seeing all the amazing shows the cruise line had to offer. There is literally no way you can be bored. Pro Tip: Bring a highlighter to make note of what you activities you want to check out the following day.  
Spending on the Cruise
When you arrive to check in, you get a card that is literally your everything on the cruise. It is your room key, your spending and even tells you where you need to be if there is an evacuation. You have the option to link this card to a credit card (which is what I did) or put cash on it for spending instead. You use this card for on-ship purchases and you are able to keep a tally of how much you spend by checking your account either at the information desk or on your TV in your state room.
Motion Sickness
I thought I would add this in here because one of the most common questions I get asked when I mention cruising is "don't you get sea sick?" and the answer was no. Though the waters were super calm when I was at sea and we were extremely lucky because of that. There are a variety of things you can do to help motion sickness such as Sea Bands (TONS of people had this on the cruise, but I didn't have any) or motion sickness medication. I also found the front of the ship I was able to feel the swaying a little bit more, so if you are prone to motion sickness I would recommend not booking a room towards the front.
Luggage
When you confirm your cruise, you are sent luggage tags that you attach to your suitcases. When you arrive to dock on embarkment day, staff will take your luggage (since staterooms are usually not ready until a little later) and it will be delivered to your door. My mom and I brought carry ons, so we chose to keep them with us instead of have them delivered to our room though next time I would totally eliminate having to drag that around everywhere. Pro tip: Have a backpack with some change of clothes, sun screen and bathing suit so you can hit up the pool when you arrive on deck!
Your first day on the cruise
Here's a little snippet of what to expect when you arrive to port on embarkment day:
Be early because there will be lines
Have your online check in information printed and ready
Be prepared to not be able to go to your state room for a little while, so have what you need with you in a backpack
EXPLORE THE SHIP!!
Once everyone is on the ship, there will be a practice muster drill in case there is an emergency and everyone needs to be loaded onto life boats. There are several staff available to help you find where to go, but your meeting point will be on your cruise card
Bring a lanyard, for said cruise card because it is your life!
Prepare to have the trip of a lifetime and most importantly, have fun. Don't stress if you don't know what you're doing because guaranteed there are other first-time cruise go-ers feeling the same things and there are a ton of staff everywhere to help you out
Phew, that was a lot of information but hopefully this makes things as clear as mud for new cruise go-ers (or refresh for seasoned cruise go-ers)! I know my first time cruising was a little overwhelming and although there was an infinite amount of information in the internet I couldn't find something to fully answer all of my questions.
I definitely cannot wait to cruise again and I would say at this time, it's probably one of my favourite ways to travel. There is just so many possibilities and options!