Nearly everyone has heard of the Zodiac Killer, who left five confirmed victims in the San Francisco area in the late 1960s but has never been captured. But almost no one has heard of the Doodler—AKA the Black Doodler due to the fact that survivors described him as a skinny black male in his late teens or early twenties—who left five confirmed victims, all with a similar pattern of stab wounds and all of them gay white males, in San Francisco from 1974 to 1975. He is suspected of leaving up to 16 total victims.
The murders happened during a moment of flux in gay history, beginning only a year after the American Psychiatric Association stopped classifying homosexuality as a mental disorder and ending about six years before the CDC classified San Francisco resident Ken Horne as the first confirmed HIV patient. Although the mainstream press ignored the Doodler murders, San Francisco's gay alternative press diligently covered the case until the murders stopped, leads dried up, and they switched their attention to the corpses that AIDs was leaving in its wake.
The murders also happened during an era where homosexuality was still so largely stigmatized, three survivors of his attacks refused to testify against him for fear of being outed as gay. One was identified as a prominent San Francisco politician. Another was a foreign diplomat. The third was a famous entertainer.
Wait a minute—the "Doodler"?
His moniker sounds so supremely silly and unthreatening, almost as if he was called "the Cuddler." But he earned it after survivors described seeing him at bars and diners, sketching their portraits that he'd show them in an apparent attempt to flatter them before luring them away for a bout of gay sex, followed by an attempted violent stabbing murder.
Police have never released his sketches to the public, though. Instead, based on witness testimony, they released the following artist's rendering of the suspect in 1975:
In February 2019, San Francisco police announced that an artist had released a new sketch based on what he might look like today:
They also released an audio recording of an anonymous 911 call made in 1974 afer someone discovered the cadaver of the first victim, Gerald Cavanaugh:
I believe there might be a dead person on the beach. I thought I saw somebody lying there, but I didn't want to get too close to him because you never know what could happen….I just wanted to let somebody know. Maybe he needs help or something. But I felt it was my duty to report it.
Police asked for help identifying the caller's voice. They also say that they were searching for a therapist from the East Bay whose surname was "Priest" and who claimed that a young black male confessed to the murders during private therapy sessions in the mid-70s. The therapist also allegedly said that his client was struggling with his own homosexual impulses and may have turned to murder as an attempt to exorcise his inner demons.
Officials offered a $100,000 reward for anyone who could provide evidence leading to the Doodler's arrest and conviction.
Victim #1: Gerald Cavanaugh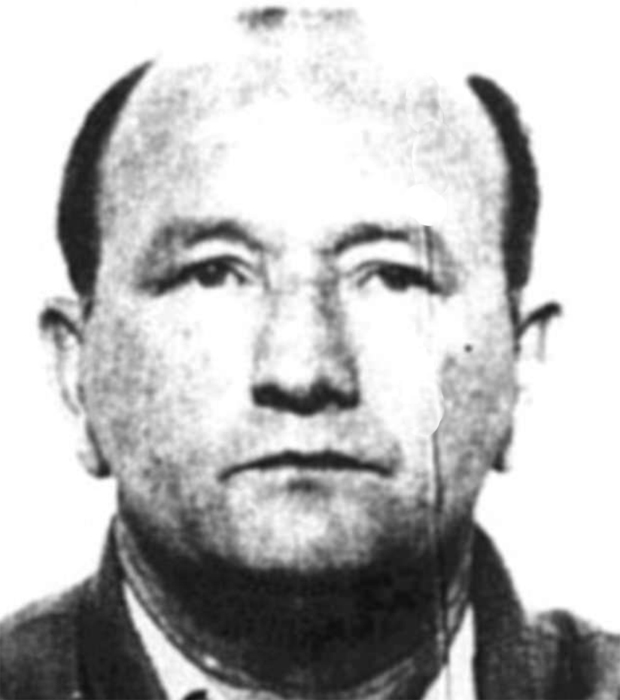 In the middle of the night in late January, 1974, the body of 49-year-old factory worker Gerald Earl Cavanaugh was found lying face-up at the water's edge on Ocean Beach in San Francisco. The chubby, balding Canadian immigrant had been stabbed sixteen times. He was Catholic, had never married, and was apparently closeted.
Victim #2: Joseph "Jae" Stevens
On June 25, 1974, a woman walking her dog in Golden Gate Park discovered the body of Joseph "Jae" Stevens, a 27-year-old drag queen, a profession which was more commonly referred to then as "female impersonator" back then. Stevens had been stabbed repeatedly. Police suspected that he had personally driven the Doodler to the park.
Victim #3: Klaus Christmann
Twelve days later, the cadaver of Klaus Christmann, a German national who was married with children, was found along Ocean Beach. His pants were unzipped. His throat had been slashed three times and he was stabbed at least fifteen times. Investigators say he was nearly decapitated and described it as one of the most vicious stabbings they'd ever seen. Because he was married to a woman and there was a tube of makeup on his person when he was killed, police suspected that he was closeted.
According to a gay newspaper called The Sentinel:
Police are aware of the similarities between the murder of Mr. Christman [sic] and the stabbing of Gerald Cavanaugh last January. … There also appear to be similarities between these two stabbings and the murder of Jae Stevens, whose body was found stabbed front and back at Stow Lake on June 25th.…
Victim #4: Frederick Capin
Nearly a year later, the next confirmed victim was found behind a sand dune near some San Francisco city streets. A decorated Vietnam veteran, Capin died from stab wounds to the aorta and heart. Based on markings in the sand, his body had been dragged at least 20 feet after being murdered.
Victim #5: Harald Gullberg
At 66, this Swedish immigrant was by far the oldest of the Doodler's victims. His decaying corpse, complete with maggots squirming all over his face, was found on June 4, 1974 in Lincoln Park almost two weeks after his murder. His pants were unzipped and the Doodler had taken his underwear.
Police interview the prime suspect, then release him
About a month after Harald Gullberg's murder, two gay men were attacked in separate incidents at the Fox Plaza Apartments in a manner that resembled the Doodler's MO.
By this time, enough witnesses had come forth that the police were able to release a composite sketch of the suspect. They arrested a man who resembled the sketch after he'd entered a Tenderloin bar and offered to draw some of the patrons. But not only did he have a sketchbook—he was also carrying a butcher knife.
In 1977, police revealed they had a prime suspect whom they'd been talking to for a year. They said he spoke freely but stopped short of confessing to the murders. They also spoke to a psychiatrist who said he'd treated the suspect in 1976 and that he'd confessed to the murders. They said that the suspect had a quiet personality, was of above average intelligence, and told them that he had studied commercial art in school.
However, this was not enough to convict him. Even the alleged foreign diplomat—who says he met the suspect at a restaurant and brought him back to his apartment after being asked if he had any cocaine, only to be stabbed six times—refused to testify for fear of being outed as gay.
The social stigma of being gay was so strong in the 1970s, even in the gay Mecca that is San Francisco, that three separate men chose not to prosecute the man who tried to murder them rather than being outed.
Police have hinted, though, that new DNA evidence may finally be what brings the Doodler to justice.