How did petty criminal, Richard Speck, become one of America's most notorious mass murderers?
Chicago, Summer 1966: Heroin, Murder, and Richard Speck
Over the course of four hours one night in July 1966, pockmarked drifter Richard Speck—high on heroin, armed with a knife, and dressed all in black—tied up and murdered eight Chicago nursing students one by one in their South Side townhouse. In 1978 during the only interview he ever granted to the press, Speck claimed he had only wanted to burglarize the place but became enraged after a defiant nurse spit in his face.
It was a crime unique in its unprovoked monstrosity. Coming on the heels of the highly publicized Boston Strangler case, it would make the acne-scarred, otherworldly-looking Richard Speck a household name and one of the most famous mass murderers in American history.
Speck received the death penalty but died of a heart attack in prison twenty-five years after his arrest and only a day shy of his 50th birthday. Five years after his death, a ghastly prison video emerged showing a shirtless Speck with surgically enhanced breasts rhapsodizing about how much he likes being fucked by men. He showed no remorse for the murders and bragged that if people knew how much fun he was having behind bars, they would release him immediately.
How does a petty criminal become one of America's most notorious mass murderers?
A Two-Bit Punk Who Wanted To Be A Star
Born on December 6, 1941—a day before the Japanese attack on Pearl Harbor that dragged the US into World War II—Richard Benjamin Speck was born in rural Illinois, the seventh of eight children. He was very close with his biological father, who had toiled as a logger, farmer, and factory worker. But his father died of a heart attack when Speck was three.
Within a couple of years, Speck's mother became enamored with a peg-legged alcoholic who had a 25-year history of arrests. Young Richard, an awkward loner with poor eyesight who was deathly afraid of people staring at him, endured ceaseless threats and insults from his new one-legged dad. The family relocated to the Dallas area, where they allegedly drifted between ten low-rent, flea-bitten apartments during the next dozen years. During one brawl with the drunken stepfather he'd grown to despise, Speck allegedly hit himself in the head with a hammer accidentally, causing him to speculate years later that he'd given himself brain damage.
Speck began drinking and skipping classes at age twelve. About a year later, he got the phrase BORN TO RAISE HELL tattooed on his left arm and proceeded to get himself arrested dozens of times for crimes ranging from disturbing the peace to a 1965 aggravated assault charge for threatening a woman with a 17-inch carving knife. Although he'd married a woman he'd met when he was fifteen and had a daughter with her, Speck was an absentee husband and father who dumped his wife and child to shack up with a woman who was a pro wrestler and bartender. Through his various scrapes with the underworld and the law, Speck often told people that one day he'd do something so heinous that he'd make headlines for it.
In January 1966, Speck was arrested for stabbing a man at the bar where his new girlfriend worked. His mother—who, like his sisters, was said to be overprotective to the point of enabling him—was able to get the assault charge pled down to a simple $10 fine for disturbing the peace. In March of 1966 after Speck burglarized a store and stole a car, police issued a warrant for his arrest. To help him avoid arrest, one of his sisters drove him to a bus station, where he took a one-way trip to Chicago.
8 Murders In One Night
Upon arriving in his hometown of Monmouth, Illinois, Speck became enraged to learn that his ex-wife had remarried only two days after granting him a divorce. Staying in boarding houses, he began roaming the town's dive bars, drinking himself into oblivion and obsessing about his feelings of betrayal. He was briefly detained at the end of March for threatening a man with a knife during a bar fight.
In early April, 65-year-old Mrs. Virgil Harris was blindfolded, bound, and raped by a tall white man she described as "very polite" who spoke "very softly with a Southern drawl." After committing the rape, her assailant absconded with the $2.50 she'd earned that night as a babysitter.
Only a week later, a female barmaid in Monmouth, IL was found dead behind the tavern where she worked. She had died from a ruptured liver caused by a blow to the abdomen. Speck was known to have frequented the bar. He was questioned repeatedly by police, finally packing his bags and evading further questioning on April 19, when police arrived at his room in a local flophouse to discover a radio and jewelry that had been reported missing from Mrs. Virgil Harris's house.
For the next few months Speck would bounce between living at the Chicago apartment of his married sister (a nurse), the Michigan apartment of a nurse's aide he'd befriended, and various low-rent facilities for transients. As summer raged and Speck found himself unable to secure employment, his sister and her husband finally booted the pizza-faced punk from their Chicago apartment on July 11. He spent that day drinking himself into a stupor, dragging a 53-year-old woman he'd met at one tavern into his room at the Shipyard Inn, where he raped her and stole her .22-caliber handgun.
At 11PM on July 13, 1966 after drinking whiskey all day and shooting up heroin for the first time in his life, Speck broke into a townhouse on E. 100th street in South Chicago that had been functioning as a nurses' dormitory, muscling his way past the Philippines-born nurse Corazon Amurao, who'd answered the door when he knocked. Holding the seven women he encountered at knifepoint, he tore a bedsheet into strips and bound them one by one. Speck later claimed that he only intended to rob the women but became enraged after one defiant nurse spit in his face and said she'd be able to identify him in a police lineup.
After marching one bound nurse into another room, Speck was startled at the arrival of two additional nurses. He went berserk, stabbing and strangling the three women to death. Over the next few hours, one at a time, he peeled off the remaining individual nurses, took them into a separate room, then tortured and killed them. He washed the blood from his hands after each murder.
He anally raped his final victim, Gloria Davy, with a foreign object before killing her. He left eight dead victims and a crime scene covered in his fingerprints.
What he failed to realize was that Corazon Amurao, the nurse who'd originally answered the door for him, had managed to wriggle under a bed and hide. She was discovered when she started screaming loudly after Speck's departure.
Having nearly no money and terrified to leave town on public transportation where police would be on high alert looking for the crater-faced culprit of this sensational bloodbath, Speck spent the next few days drinking heavily and consorting with three-dollar prostitutes. The night after the mass murder, he jokingly pretended to slit a bartender's throat. On July 16 after news hit the papers that Corazon Amurao had positively identified Speck to police, he attempted suicide at his Chicago rooming house. Speck was rushed to the hospital, where a doctor called police after identifying him from his BORN TO RAISE HELL tattoo.
In 1967, Speck was tried and convicted of all eight murders. Not only was the fingerprint evidence conclusive, he was sunk by the dramatic testimony of Amurao. When the prosecutor asked her if she could identify the killer, she got up from her witness seat, walked right in front of Speck, and, nearly touching him, said, "This is the man."
The Victims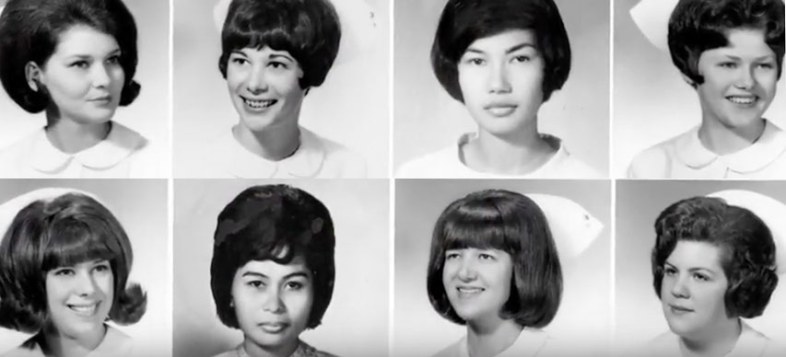 • Nina Jo Schmale With her name first pronounced "Nigh-nah," Schmale was a cat-loving Elvis Presley fan described as a "good student, well-liked, quiet but with a sense of humor."
• Patricia Ann Matusek Born to working-class immigrant parents on Chicago's Far South Side, Matusek was described as "sweet, assertive, funny, [and] full of life."
• Pamela Lee Wilkening Only days before her murder, Pamela called her mother to tell her she was too busy to come home and visit that weekend. It was the last he mother would ever hear of her.
• Mary Ann Jordan Friends described her as having "a wicked sense of Irish humor."
• Suzanne Bridget Farris Described as "pretty, perky, [and] popular," Suzanne's father lovingly called her "Cooky" and reportedly kept moaning "Cooky, Cooky, Cooky" after being informed of her death.
• Valentina Pasion One of three Filipina exchange students living in the dorm that Speck had terrorized, Pasion had only arrived in the USA two months earlier, where she described Chicago's weather as horrible and the hospital patients to be as large as water buffalo.
• Merlita Gargullo Another Filipino, Gargullo has been described as "quiet, shy, hardworking, efficient, pretty and blessed with a rich singing voice."
• Gloria Jean Davy Speck's final murder victim and the only one of the octet that he raped, Davy was remembered as "riven, independent, intelligent, headstrong, poised, creative and snippy when she didn't like what you were doing."
Speck's Only Interview
Speck, who claimed to hate attention and reporters, only granted one interview—in 1978 to Chicago Tribune columnist Bob Greene. It marked the first time he publicly confessed to the crimes. He also claimed to have an "effeminate homosexual" accomplice with him at the time who committed one of the murders and whom Speck later shot dead, but police say all the evidence proves this is impossible. Highlights from this interview, as well as other quotes from Speck, are on Quote Catalog.
It was just one of them weird coincidences. I was high on heroin that night. Heroin and whiskey. I'd never shot heroin before. So eight people got killed.
Yeah, I killed them. I stabbed them and I choked them. If that one girl wouldn't have spit in my face, they'd all be alive today.
I had no feelings at all that night. They said there was blood all over the place. I can't remember. It felt like nothing.
1988 Prison Video: Speck's Shocking Transformation
Although Speck received the death penalty, the US Supreme Court overturned capital punishment in 1972. He was re-sentenced with 150 years for each murder to be run consecutively—a 1,200-year sentenced. He settled into prison life by transitioning into a female, receiving hormone injections and jailhouse breast implants that are clearly visible in a 1988 undercover prison video that was finally leaked to the public in 1996, five years after Speck died of a heart attack one day shy of his 50th birthday.
The video shows a hideously aged Speck with a Beatles—era greying mop top rather than his trademark slicked-back blond pompadour sitting in silk panties next to a black inmate who asks him if he likes being fucked by men, to which Speck eagerly replies "Yes." At one point during the video, Speck is shown felting his cellmate. It is not known whether Speck was naturally gay or whether this was simply a ploy to avoid being killed by an inmate seeking to make a name for himself by murdering a superstar criminal. Some have speculated that Speck was subconsciously punishing himself by assuming the role of a female who was used only for sex, just as he'd abused so many of his rape victims over the years.
When his cellie asks Speck whether he committed the murders, he nonchalantly says "Yes." He shrugs his topless shoulders and says he had "no feeling" while raping, torturing, stabbing, strangling, and killing the eight women and is not sorry he did it.
When asked why he did it, his answer is as cold and flat as they come: "It just wasn't their night."