---
1. HE BARBECUED HIS VICTIMS AND ATE THEM WITH BLOODY SAUCE
A mildly retarded epileptic, Ottis Elwood Toole endured extreme childhood abuse. His mother dressed him in girls' clothes and called him "Susan." Other relatives sexually abused him from age five onward. His grandmother allegedly forced him to perform Satanic rituals involving self-mutilation and grave-robbing.
Upon reaching adulthood, Ottis became a gay prostitute and a drifter. He met Henry Lee Lucas in a Jacksonville, FL soup kitchen. Together they became one of America's most infamous serial-killing teams, with Toole claiming they'd committed over 100 murders in the service of a cult called "The Hands of Death." Although his claims may have been exaggerated, it is widely believed that Toole murdered Adam Walsh, son of John Walsh from the defunct TV show America's Most Wanted.
Henry Lee Lucas once told an interviewer that Ottis would crucify his victims, then barbecue and devour their corpses. A "recipe" for barbecue sauce allegedly handwritten by Toole includes one cup of blood as an ingredient. Lucas denied ever joining Toole in acts of cannibalism. "I don't like barbecue sauce," he explained.
(source)
---
2. HE TORE OUT A SEVEN-YEAR-OLD GIRL'S ENTRAILS AND GNAWED ON THE HALF-DIGESTED FOOD INSIDE THEM
Friends described Canadian lumberjack Dale Merle Nelson as "a regular guy." But on one highly irregular day in 1970 while drinking heavily, he killed eight people, including five children. He used a knife to tear open a seven-year-old girl's guts and gnawed on the partially digested food therein.
(source)
---
3. 'HOW SWEET AND TENDER HER LITTLE ASS WAS ROASTED IN THE OVEN'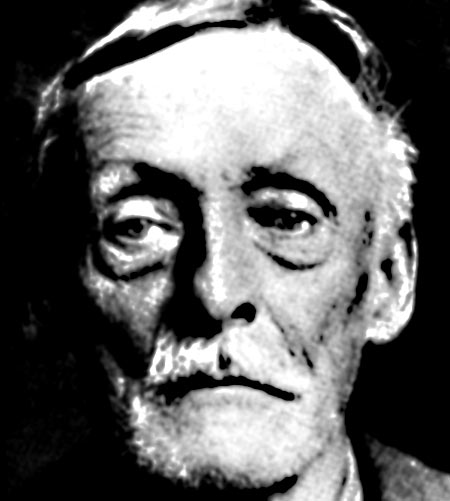 An odd bird by any measure known to mankind, Albert Fish had habits such as embedding needles in his scrotum and abdomen, torturing himself with a nail-studded paddle, and shoving wool doused in lighter fluid up his ass before setting it ablaze. He killed at least three—and possibly more than nine—children, selecting the mentally handicapped and African Americans because he figured they wouldn't be missed.
Especially audacious was his habit of bragging to his victims' parents about the hellish abuses he'd rained down on their children. After murdering 10-year-old Grace Budd in 1928, he flayed her flesh into strips and cooked it with carrots, onions, and bacon. In 1934, he sent a letter to Grace's mother that included the following passage:
I choked her to death then cut her in small pieces so I could take my meat to my rooms, cook and eat it. How sweet and tender her little ass was roasted in the oven. It took me 9 days to eat her entire body. I did not fuck her, though, I could of had I wished. She died a virgin.
A year before murdering Grace Budd, Fish slew four-year-old Billy Gaffney in Brooklyn. When Billy's mother eventually visited Fish in prison, he allegedly confessed the following:
I made a stew out of his ears – nose – pieces of his face and belly. I put onions, carrots, turnips, celery, salt and pepper. It was good. Then I split the cheeks of his behind open, cut off his monkey and pee wees and washed them first. I put strips of bacon on each cheek of his behind and put in the oven.…At frequent intervals I basted his behind with a wooden spoon. So the meat would be nice and juicy. In about 2 hr., it was nice and brown, cooked thru. I never ate any roast turkey that tasted half as good as his sweet fat little behind did. I ate every bit of the meat in about four days. His little monkey was as sweet as a nut, but his pee-wees I could not chew. Threw them in the toilet.
Fish fried in the electric chair at New York's Sing Sing prison in 1936.
(source)
---
4. IMPOTENT RUSSIAN BED-WETTER AND SERIAL NIPPLE-SWALLOWER
A chronic bed-wetter as a child and chronically impotent as an adult, Andrei Chikatilo was one of Russia's most prolific serial killers, with a confirmed body count of at least 52 women and children.
He confessed to feeling "chills" and shaking all over when tasting his victims' blood after ripping through their genitals, lips, tongues, and nipples with his teeth. He also said he chewed on the testicles of male victims and the extracted uteri of his female prey. Although he denied swallowing their genitals, he confessed to swallowing the nipples of several victims.
(source)
---
5. HE ATE HEARTS, LIVERS, BICEPS, AND THIGHS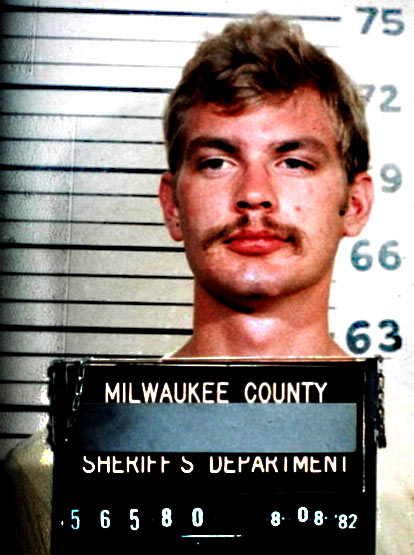 One of America's most infamous serial killers, Jeffrey "The Milwaukee Cannibal" Dahmer drugged, raped, murdered, and dismembered seventeen men and boys during a grisly spree lasting from 1978 to 1991. Marinated in self-hatred for being gay, Dahmer drowned his misery in alcohol and cruised Milwaukee's gay bars looking for prey: "I trained myself to view people as objects of pleasure instead of [as] people," he would later say.
Dahmer was a necrophile who kept his victims' body parts in various states of decay in his seedy apartment, often spurring complaints from building residents about the foul stench wafting from his abode.
Dahmer would later tell investigators that he'd feasted on the livers, hearts, thighs, and biceps of multiple victims in the year leading to his arrest. In 1994, another prison inmate beat him to death with a metal bar.
(source)
---
6. 'LOOKING FOR A WELL-BUILT 18- TO 30-YEAR-OLD TO BE SLAUGHTERED AND THEN CONSUMED'
In 2001 a German man named Armin Meiwes posted a personals ad on The Cannibal Cafe, a now-defunct website catering to the culinary proclivities of those who enjoy gnawing on human flesh:
…looking for a well-built 18- to 30-year-old to be slaughtered and then consumed.
A Berlin engineer named Bernd Jürgen Armando Brandes found this offer irresistible. In March of 2001 he paid a visit to Meiwes's home for his fatal soiree.
With videotape rolling, Meiwes attempted to bite off Brandes's schween, but to no avail. He then sliced it off with a knife. Finding the raw severed penis to be unsuitably "chewy," Meiwes pan-fried it in garlic and wine but burned it beyond the point where he deemed it edible, so he tossed the charcoal penis chunk to his dog.
Having plied the now-penisless Brandes with booze and painkillers, Meiwes read a Star Trek book for three hours while Brandes was bleeding to death in a bath.
Meiwes then butchered his victim's body, storing it in a freezer and eating an estimated 40-plus pounds of his flesh over the next ten months.
Meiwes later spoke about taking his first taste of human flesh:
I decorated the table with nice candles….I took out my best dinner service, and fried and piece of rump steak—a piece from his back—made what I call princess potatoes, and sprouts….The first bite was, of course, very strange. It was a feeling I can't really describe. I'd spent over 40 years longing for it, dreaming about it….And now I was getting the feeling that I was actually achieving this perfect inner connection through his flesh. The flesh tastes like pork but stronger.
I'll take your word for it, mein Freund.
Meiwes was sentenced to eight years in prison, where he became a vegetarian.
(source)
---
7. HE UPLOADED A VIDEO OF HIMSELF MURDERING HIS GAY LOVER
A young Canadian gay pinup model, porn star, kitten-torturer, and plastic surgery addict, Luka Rocco Magnotta rattled the Deep Web in 2012 with an 11-minute video called 1 Lunatic 1 Ice Pick posted on Bestgore.com. It showed a nude male bound to a bedframe being stabbed to death with an icepick and kitchen knife. His carcass was then sexually assaulted and then chopped to pieces. A dog is seen chewing on the murder victim's body. Police subsequently uncovered a longer, unedited version in which "cannibalism may have been performed."
The real-life murder victim was Jun Lin, reportedly Magnotta's gay lover. Magnotta fled to Germany, where the mega-narcissist was ultimately arrested in a Berlin Internet café while reading about himself online.
---
8. PCP-ADDLED RAPPER FOUND WITH HUMAN FLESH IN HIS STOMACH
Hip-hop MC Big Lurch was born Antron Singleton but earned his stage name due to the fact that he's six-foot-six. After a car accident left him permanently in pain, he developed a PCP habit to blunt his screaming nerve endings. During an all-night PCP smoking binge in April 2002, he stabbed and bit his 21-year-old female roommate to death, ripping her lungs from her chest cavity in the process. Police found him naked and blood-soaked outside, staring at the sky in the middle of the street. Chunks of human flesh were found in Lurch's stomach during an examination. He later said that during his rampage, he was trying to kill the Devil to prevent the end of the world.
---
9. HE LATER BECAME A RESTAURANT CRITIC
A mere five feet tall as an adult, Japanese cannibal Issei Sagawa was allegedly so small at birth that he could fit in his father's palm. Due to a savage inferiority complex because of his innate puniness, he targeted a five-foot-ten female classmate named Renée Hartevelt for murder, aiming to absorb her life energy and beauty by eating her remains.
In 1981, he invited Hartevelt to his Parisian apartment under the ruse that they would translate poetry together for a homework assignment. He shot her in the back of the head, raped her corpse, and ate her flesh for two days. Due to egregious legal bungling between French and Japanese authorities, Sagawa was able to check himself out of a Japanese mental hospital a mere five years after murdering, raping, and eating his victim.
He later became a restaurant critic and complained that his notoriety made it difficult for him to find writing gigs.
---
10. SHE COOKED HIM WITH POTATOES, PUMPKIN, CABBAGE, SQUASH, AND GRAVY
Having once slit the throat of a boyfriend's puppy while he watched, Australian woman Katherine Knight was what could fairly be termed a high-maintenance girlfriend. She also tried strangling her husband to death on their wedding night.
One day in 2000, she broke into another boyfriend's home, stabbed him 37 times, hanged his corpse from a meat hook, chopped off chunks of his flesh, and cooked them with potatoes, pumpkin, cabbage, squash, and gravy. She set a table and planned to serve his meat to his children, but the feast was interrupted by her arrest and eventual life imprisonment.