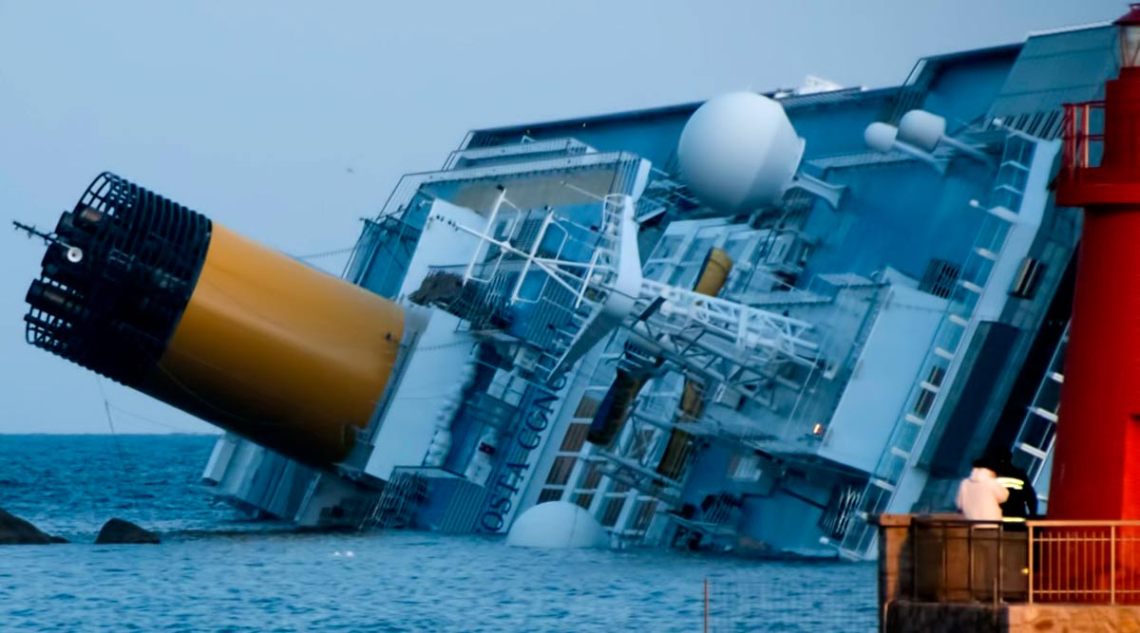 1. ASSHOLE CAPTAIN STEERS BOAT INTO ROCK, FLEES THE SHIP
While the Italian cruise liner Costa Concordia was sailing off the Tuscan coast in 2012, its captain Francesco Schettino—which is Italian for "shithead"—purposely guided his craft too close to shore, whereupon it hit an underwater reef and tipped over. According to witnesses, the Titanic theme song "My Heart Will Go On" was playing in one of the ship's restaurants when the boat smashed into the underwater rock. Thirty-two people died in the disaster. Captain Shithead fled the boat long before all the passengers had disembarked and was sentenced to 16 years in prison.
2. GIANT WAVES TOSS PEOPLE AROUND LIKE RAG DOLLS
Encountering a violent sea storm while 400 miles off the New Zealand coast in 2008, the Pacific Sun was tossed around by massive waves that sent people and furniture flying from one end of the boat to the other. Forty-two people were injured.
Here's what it looked outside the ship:
[youtube https://www.youtube.com/watch?v=deX7R9RbmX0%5D
And inside:
[youtube https://www.youtube.com/watch?v=ri8NtFGO2-0%5D
3. THE 'UNSINKABLE' TITANIC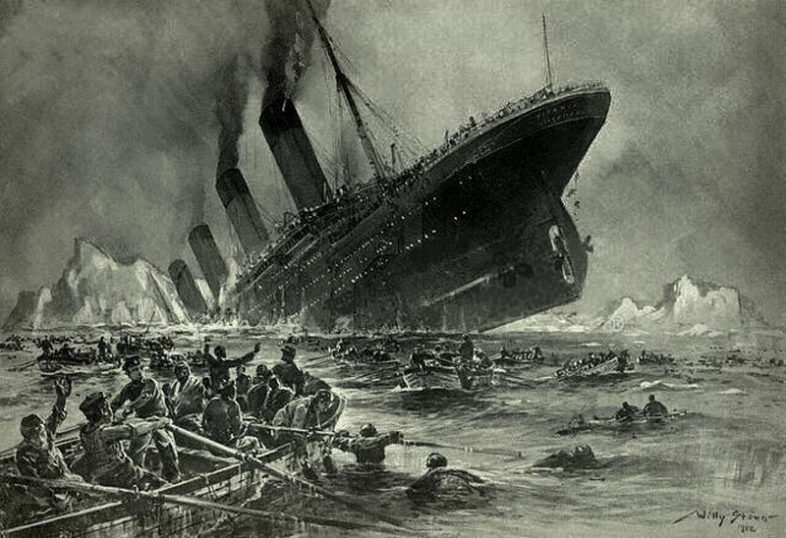 The epitome of industrial arrogance and human hubris, the Titanic was a titanic disaster. Touted as "unsinkable," it sank two miles to the bottom of the Atlantic Ocean like a 50,000-ton stone after crashing into an iceberg on its first voyage in 1912. One thousand five hundred and seventeen people perished in an icy, watery grave.
4. UNFLUSHED TOILETS AND BAGS OF VOMIT
Although the ship was called the Carnival Splendor, it was more like a carnival of poop and vomit for the 3,000+ passengers who were stranded at sea for "three days of hell" after the ship's engine room caught fire en route to Mexico in 2010. For over 13 hours there were no flushing toilets, meaning that people urinated and defecated into plastic bags, creating a stench that led to mass vomiting. The added aroma of vomit likely led to even more mass vomiting. "It was supposed to be this beautiful cruise and it turned into a nightmare," a newlywed passenger texted to her father. "Nothing like this was advertised in the brochure."
5. SHOT AT BY PIRATE MACHINE-GUNNERS ON SPEEDBOATS
[youtube https://www.youtube.com/watch?v=1SsY7nEuJDs%5D
While innocently cruising 100 miles off the Somali coast in 2005, a cruise liner named Seabourn Spirits was suddenly attacked by two speedboats filled with Somali pirates blasting machine guns and rocket-propelled grenades at the mighty craft. The ship's crew fooled those dimwitted pirates by emulating the sound of return fire using a "loud acoustic bang," and disaster was averted. That year saw nearly two dozen attacks on ships by Somali pirates.
6. SEVENTY-FOOT TIDAL WAVE SMASHES INTO SHIP
At dawn in 2005 on a cruise from New York City to the Bahamas, a 70-foot monster wave smashed into the side of the Norwegian Dawn, flooding 62 cabins. Despite the fact that the ship was almost gobbled whole by a monster wave, only two people suffered injuries, and minor ones at that.
[youtube https://www.youtube.com/watch?v=xWLIfYB41AU&w=1280&h=720%5D
7. GIGANTIC CRUISE LINER TIPS OVER WHILE AT CHICAGO PORT
In July 1915 while presumably docked safely in a Chicago harbor, the S. S. Eastland suddenly tipped over, drowning at least 800 people.
8. OVER 400 BODIES DREDGED FROM CHINA'S YANGTZE RIVER
Out of 456 passengers on a Chinese cruise ship called the Eastern Star in June 2015, only 14 survived after a violent storm caused the ship to sink. Authorities alerted citizens to look for floating bodies as far as 600 miles downstream. "I wish this was a nightmare," said a Chinese woman whose parents died in the catastrophe. "But nothing happens when I wake up."
9. DEADLIEST PEACETIME SHIPWRECK IN EUROPEAN HISTORY
In 1994, the Norwegian cruise ship MS Estonia encountered rough winds and high waves in the Baltic Sea en route to Stockholm. The sea proved stronger than the ship—of 989 passengers, 852 of them died.
10. NEARLY 2,000 DROWN IN THE MUDDY MISSISSIPPI
The worst maritime disaster in US history occurred in 1865 as the Civil War was winding down. Four boilers suddenly exploded on the steamboat paddlewheeler Sultana, and an estimated 1,800 passengers sank to their deaths at the bottom of the muddy Mississippi River.