Illustrations by Daniella Urdinlaiz of the most ironic deaths of all time.
1. 'GRIZZLY MAN' EATEN BY BEAR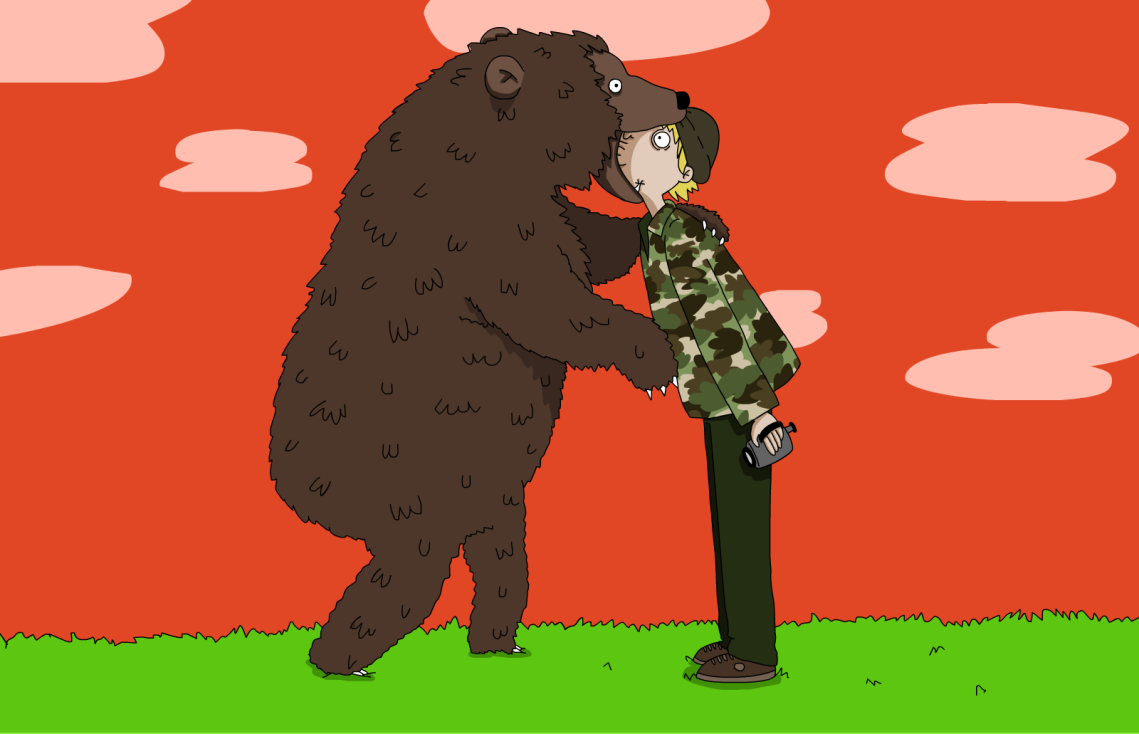 Timothy Treadwell loved bears. The problem is, bears didn't love him nearly so much.
Blonde-haired and a trifle feminine, young Timmy loved animals as a boy, then overdosed on heroin as a young man, and subsequently devoted his adult life to living among bears. Every summer for 13 years he'd have a bush pilot drop him off amid the savage wilderness of Alaska's Katmai National Park to live among the giant grizzlies. He never got too close to them, but he made up names for them and sang songs for them and filmed them and claimed he loved them far more than he loved filthy humans and their stupid so-called "civilization."
But of course it was the end of the 13th year that would prove unlucky for the rabid bear enthusiast.
Timothy thought he understood bears. What he clearly failed to understand is that bears are highly capable of killing him, not to mention frequently more than willing to do so.
He stayed a week later than normal as the summer of 2003 started crashing into the Alaskan fall. During his final days, while he was camping out with his reputed girlfriend Amie Huguenard, he mentioned seeing a new bear that for some reason he didn't quite trust. Perhaps it was this new interloping brown bear that devoured Timothy and Amie on that fateful autumn morning as they screamed in vain. Treadwell's camera recorded the sound but not the video because the lens cap was still attached.
German director Werner Herzog turned Timothy's tragically ironic story into the brilliant 2006 documentary Grizzly Man. In the film, Herzog listens to the death audio on headphones and decides that not only shouldn't it be included in the film, the tape should be destroyed.
But it appears that the ultra-ghoulish soundtrack of Timothy and Amie's death has surfaced online. If you dare, you can hear Timothy and his girlfriend's dying screams here. WARNING: This audio is EXTREMELY upsetting:
[youtube https://www.youtube.com/watch?v=g9lCkFygaaQ&w=854&h=480%5D
2. MAN DROWNS AT POOL PARTY OF 100+ LIFEGUARDS

As the summer of 1985 drew to an end, the New Orleans Recreation Department was so proud that there were no drownings that season at the city's swimming pools, they threw a huge poolside party for about 100 lifeguards, 100 more guests, and even four active lifeguards who were assigned to guard the pool and prevent something embarrassing from happening—like, you know, someone drowning to death. But the revelry continued for hours while 31-year-old Jerome Moody, a party guest but not himself a lifeguard, was lying lifeless at the pool's bottom. His body wasn't discovered until the party started winding down.
3. OWNER OF SEGWAY COMPANY DRIVES SEGWAY OFF A CLIFF
Segways, those annoying and inscrutable electronic sideways skateboard/pogo-stick self-propulsion "Human Transporter" devices that I must confess scare the shit out of me for reasons I cannot quite articulate, have never been more ironically tragic than on that day in 2010 when British investor Jimi Heselden, who'd purchased the company earlier that year, careened a Segway test model off the road and down an 80-foot cliff to his death. A coroner ruled that Heselden had died of "multiple blunt force injuries of the chest and spine consistent with a fall whilst riding a gyrobike."
4. PRISONER ESCAPES ELECTRIC CHAIR, ACCIDENTALLY ELECTROCUTES HIMSELF

After being convicted of sexual assault and murder, Michael Anderson Godwin was sentenced to death in 1983, which in South Carolina during the 1980s was administered via the electric chair. He successfully appealed his sentence and had it changed to life imprisonment. One night while sitting naked on a wet metal toilet and wearing headphones that were connected to his TV, he bit into a wire and accidentally zapped himself to death on his own makeshift prison-cell electric chair.
5. WOMAN AWAKES IN COFFIN, PANICS AND DIES OF HEART ATTACK
Fagilyu Mukhametzyanov—no, I don't know how to pronounce it, either, and probably like you, my eyes just sort of skip over names that complicated—was a Russian woman whom doctors had declared dead in June of 2012. But during an open-casket wake, she awoke screaming in panic. She was rushed to a local hospital, where physicians declared she'd died of a heart attack.
6. SLEEP RESEARCHER FALLS ASLEEP AT THE WHEEL
Eugene Aserinsky is considered one of the pioneers of modern sleep research and is most famous for discovering REM (rapid-eye movement) sleep in 1953. Forty-five years later he slammed his car into a tree north of San Diego. It is suspected that he had fallen asleep while driving.
7. JOGGING GURU DIES WHILE JOGGING
With his cereal commercials and best-selling books such as The Complete Book of Running, Jim Fixx was the inescapable face of the 1970s' jogging revolution. But in 1984 he fell down dead of a heart attack while performing the act that made him famous. An autopsy revealed one of Fixx's coronary arteries was 95% blocked, while another was 80% clogged and still another was crammed with 70% fatty plaque.
8. ANTI-SEATBELT ADVOCATE KILLED IN CAR ACCIDENT

A Nebraska man named Derek Kieper was so passionate about the idea that seat-belt laws violated his sacred individual liberties, he wrote an opinion column about it. Less than four months later, he died in a car accident. Two of his friends in the car survived. They were wearing seatbelts.
9. ANTI-HELMET-LAW ADVOCATE DIES FROM MOTORCYCLE ACCIDENT HEAD INJURY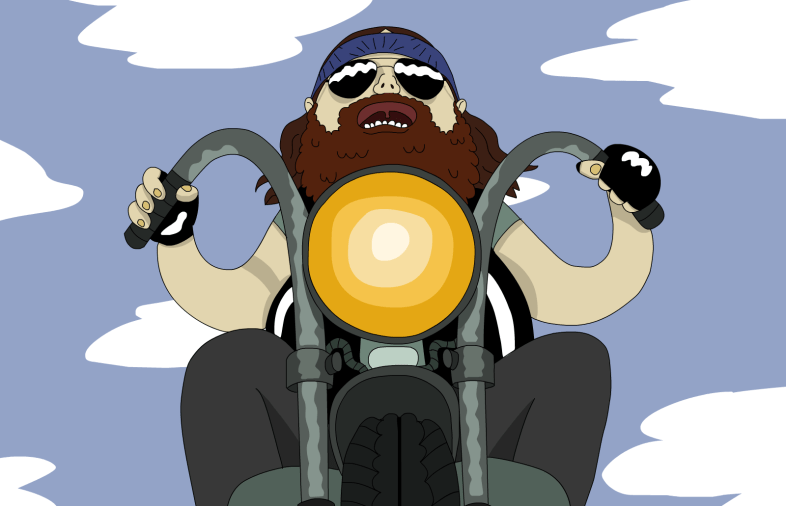 While proudly riding his roaring Harley down the road with his un-helmeted head exposed to the whistling winds of freedom during a 2011 protest ride against helmet laws, New York biker Philip Contos was flung over his handlebars and onto the sidewalk, where he died of a fatal head injury. A State Trooper claimed that a medical examiner told him Contos would have lived if only he'd been wearing a helmet.
10. DEATH ROW INMATE ESCAPES, IS BEATEN TO DEATH THAT NIGHT IN A BAR FIGHT
Troy Leon Gregg was a plucky and wily and crafty convicted murderer who along with three other Death Row inmates managed to escape the Georgia State Prison in Reidsville in 1980 one day before Gregg was to be put to death. Unfortunately, that night Greg was beaten to death during a bar fight in North Carolina.
11. BEACH BOY DROWNS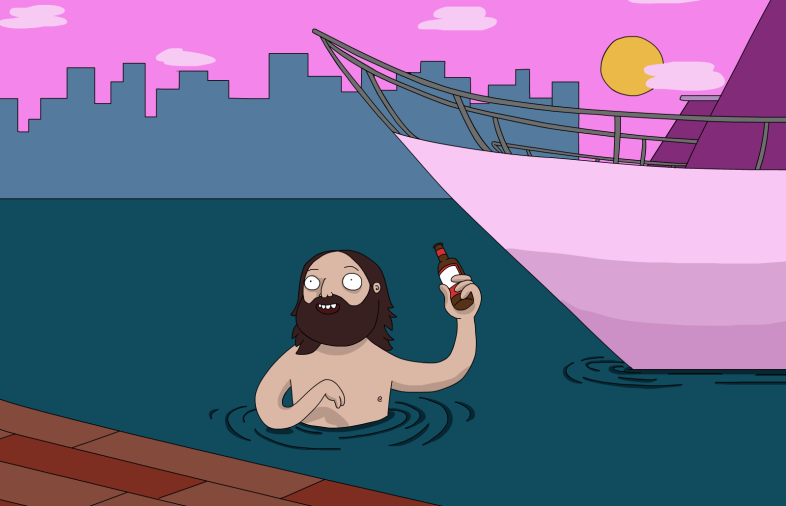 Of the five Beach Boys, only drummer Dennis Wilson could legitimately claim the name, for he was the only surfer in the bunch. Late one afternoon in 1983 he drunkenly went diving in Marina Del Rey to fetch some items he'd tossed overboard his yacht a few years earlier. He drowned to death, and the US Coast Guard buried his body at sea.
12. TV HOST KILLED IN THE OCEAN WHILE FILMING 'OCEAN'S DEADLIEST'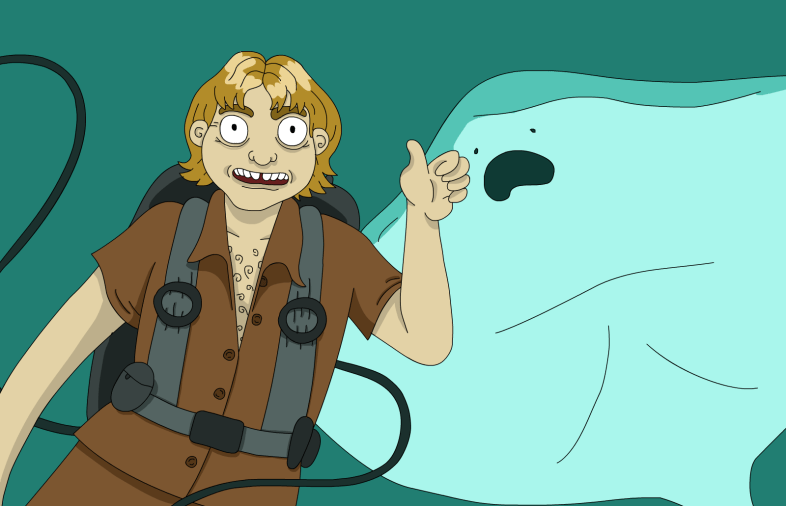 Steve "The Crocodile Hunter" Irwin was a charismatic, khaki-wearing, danger-seeking Aussie who gained infamy by pressing his luck with all manner of ungodly beasts. His luck ran out in September 2006 while filming an episode of Ocean's Deadliest in the Great Barrier Reef. An eight-foot-wide stingray struck him several hundred times with its tail spine. It pierced his heart and he bled to death.
[youtube https://www.youtube.com/watch?v=vnSegu4A5Uc&w=854&h=480%5D
13. LAWYER ACQUITS HIS DEFENDANT BY SHOOTING HIMSELF TO DEATH IN COURT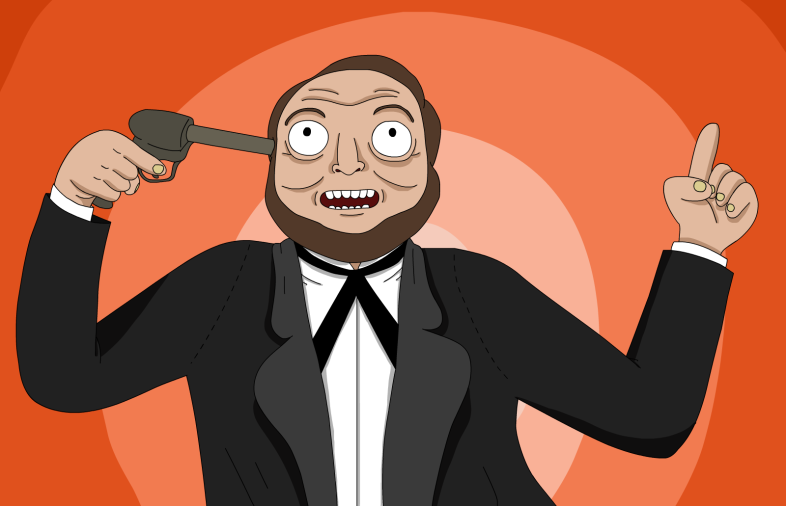 Clement Vallandigham was a valiant and noble Ohio lawyer who in 1871 defended a man named Thomas McGehan on murder charges. Vallandigham's theory was that the victim had actually shot himself while in a kneeling position. To demonstrate that this was physically possible, Vallandigham recreated the event in the courtroom using a pistol he thought was unloaded. To his extremely brief dismay, it was loaded, and he accidentally shot himself to death, proving his legal theory and leading to his client's acquittal.
14. MAN 'PROVES' GLASS WINDOW IS UNBREAKABLE BY FALLING THROUGH IT TO HIS DEATH
From most accounts, Garry Hoy was a brash, confident Toronto lawyer—perhaps too brash. One day in July 1993, as he had allegedly demonstrated so many times before, he showed a group of visitors that the glass window in his 24th-floor office was unbreakable by running headlong into it. Unfortunately, this time the window popped out of its frame and Hoy fell to his death in an act of autodefenestration. The glass, however, did not break, so technically he proved his point. But at what cost?
15. SHIP CAPTAIN KILLED BY A CANNON THAT WAS FIRING IN HIS HONOR
In the salty old year of 1794 somewhere off the Hawaiian islands, Captain John Kendrick's ship the Washington fired a thirteen-gun salute at another ship called the Jackal, which saluted back. Unfortunately, one of their cannons was actually loaded with grapeshot, killing Kendrick as he sat at his table on deck.
16. ACTIVIST DIES OF STROKE AFTER READING A PREMATURE OBITUARY OF HIMSELF
Marcus Garvey was a pioneering black nationalist with a penchant for wearing extremely complicated hats. As the story goes, he died in June 1940 when he suffered two strokes after reading a negatively slanted premature obituary of himself in the Chicago Defender. Written in January of that year, the obit claimed that Garvey had died "broke, alone, and unpopular," which proved fatally upsetting to him.
17. ROCKER ELECTROCUTES HIMSELF WITH ELECTRIC GUITAR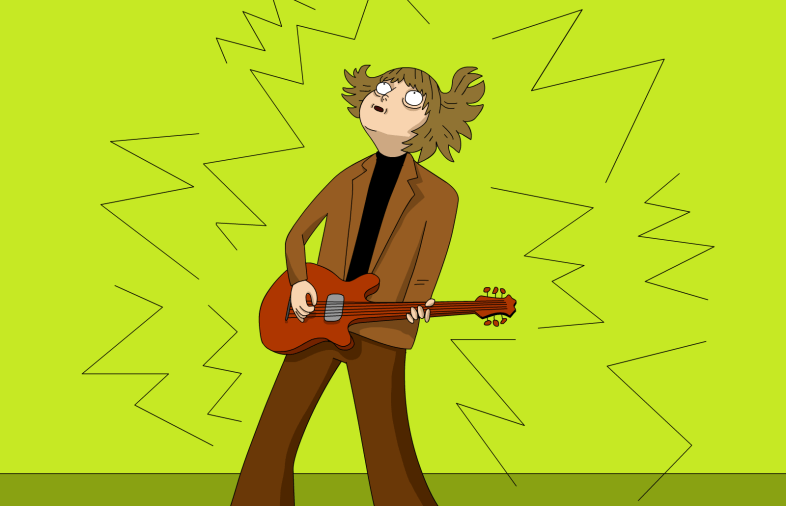 Keith Relf is best known as the singer of British Invasion band The Yardbirds, which spawned the legendary guitarists Eric Clapton, Jeff Beck, and Jimmy Page. One day in 1976 while practicing in his basement, Relf accidentally fried himself while playing an electric guitar that had been improperly grounded.
18. RADIATION PIONEER DIES OF RADIATION
Madame Curie is the first woman to ever win a Nobel Prize and is still the only woman to ever win it twice. She discovered polonium and radium but unfortunately spent so much time dabbling in radioactive materials that she fatally succumbed to aplastic anemia.
19. SNAKE HANDLER DIES OF SNAKEBITE
The Gospel of Mark clearly states that believers in Christ will be able to "pick up serpents" without being harmed, and the almost entirely Caucasian Pentecostal phenomenon of snake-handling is perhaps most vibrant in the tiny, beautiful state of West Virginia. Even though Mack Wolford's father had died from picking up serpents, Mack forged ahead to prove his faith in the Lord. After surviving three bites on three separate occasions, he fell dead from a fatal rattlesnake bite in May of 2012.
20. OVEN REPAIRMAN ROASTS TO DEATH IN OVEN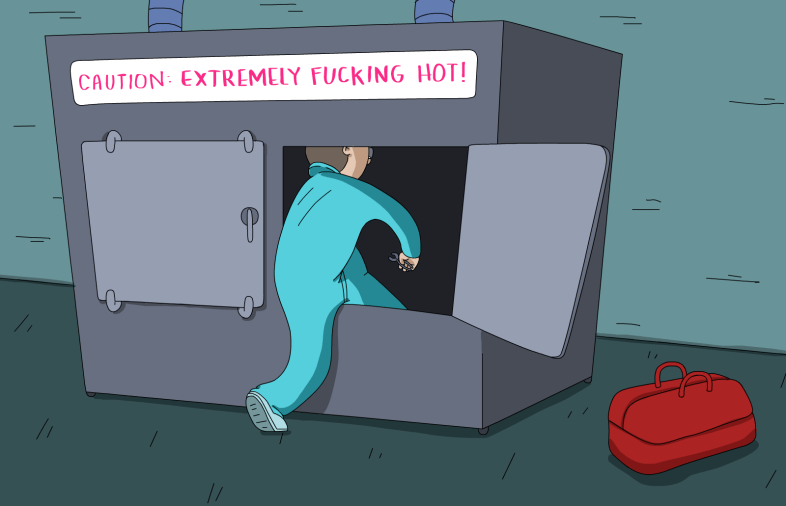 Two days before Christmas in 2010, a 54-year-old Liverpudlian named Alan Cattarall entered a giant industrial oven that baked plastic at 280 degrees to make kayaks. He sought only to make a minor repair, but the oven's operator—his future son-in-law, Mark Francis—accidentally locked him in and flipped on the switch. While burning to death, Cattarall screamed for help but the sounds were muffled by the factory's industrial noises.
21. GRANDSON OF GOLDEN GATE BRIDGE SUICIDE-BARRIER ADVOCATE JUMPS TO HIS DEATH FROM GOLDEN GATE BRIDGE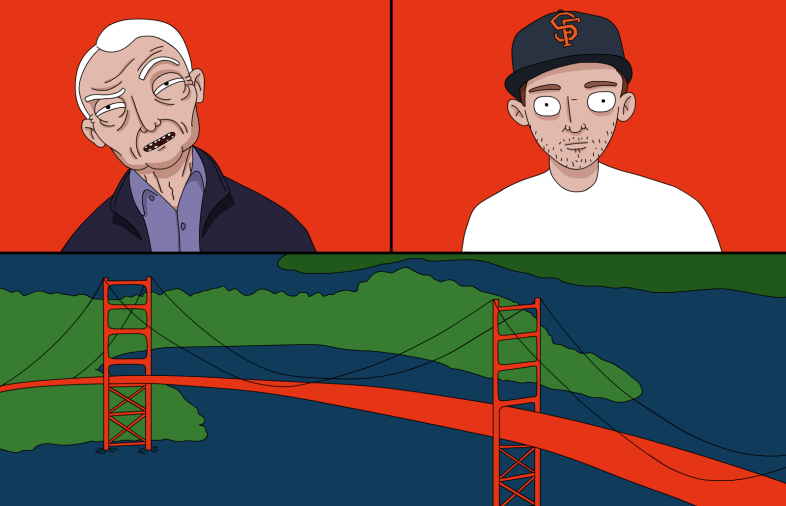 As a longtime member of the board of directors for San Francisco's Golden Gate district, John Moylan had agitated tirelessly to erect suicide barriers on the Golden Gate Bridge, which to date has been the site of at least 1,600 suicides. In 2014—six years after the barriers were erected—Moylan's grandson Sean successfully evaded the barriers and jumped to his death from the bridge.
22. WOMAN DIES DURING 'DYING IN CONSCIOUSNESS' SEMINAR
In 2011, a 35-year-old Canadian woman named Chantal Lavigne participated in a "detoxification" seminar called "Dying in Consciousness" that involved her being daubed in mud, wrapped up in plastic, swaddled in blankets, and having her head placed in a cardboard box for nine hours. She wound up being "cooked to death" after her body temperature raised to 105 degrees Fahrenheit.
23. HIS FATHER SHOT HIM WITH THE GUN HE BOUGHT TO PROTECT HIS FATHER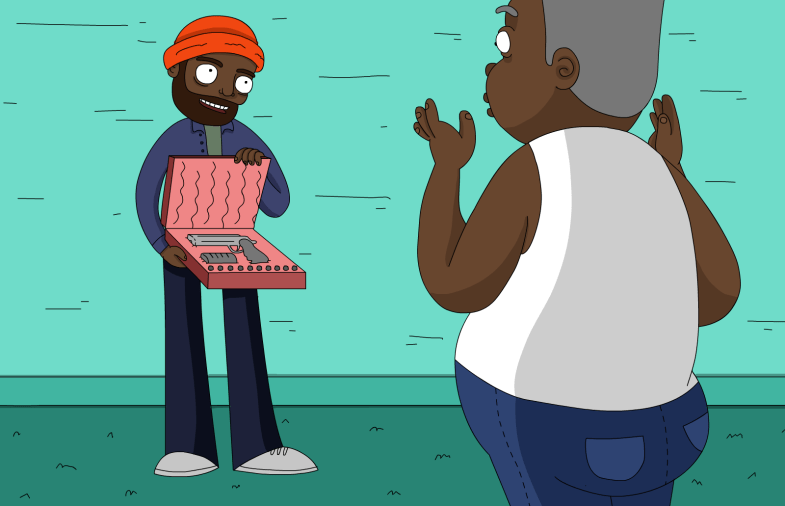 Soul singer Marvin Gaye possessed a rare talent, but he also hailed from a family that was unusually dysfunctional. Having developed extreme paranoia due to insufflating an estimated one million dollars worth of cocaine, Gaye took to wearing a bulletproof vest onstage and surrounding himself with armed bodyguards. For Christmas 1983 he gave his father a .38 pistol, ostensibly to protect himself from those who sought to prey upon the Gaye family fortune. Four months later after a violent domestic scuffle, his father used that pistol to fatally shoot his son.
24. HEALTH-FOOD PIONEER DIES ON LIVE TV
Jerome Irving Rodale earned a fortune as the publisher of numerous health-food books and Prevention magazine. During a taping of The Dick Cavett Show that never aired, the 72-year-old Rodale allegedly told the host that "I never felt better in my life" and that he intended to live to 100. But he died of a heart attack while the show was taping.
25. PRO-DRUNK-DRIVING COMEDIAN KILLED BY DRUNK DRIVER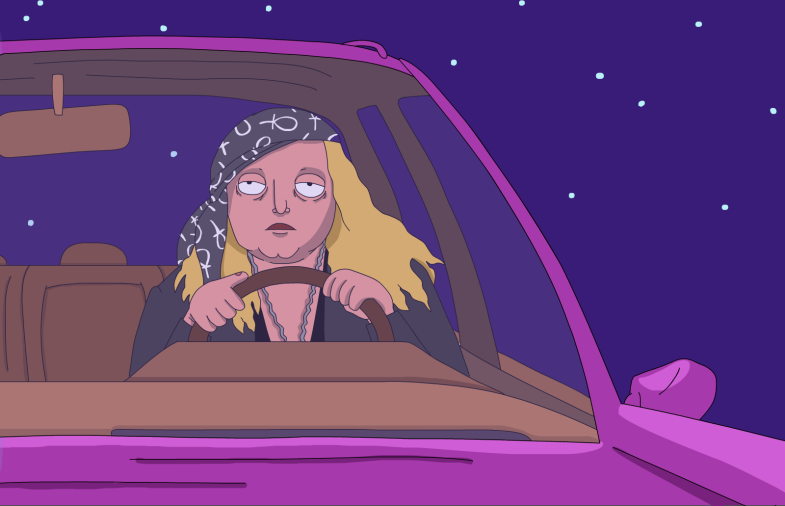 Ex-preacher Sam Kinison built a huge following in the late 1980s as the "screaming comedian." One of his routines involved a comic defense of drunk driving:
We don't WANT to drink and drive.…But there's no other way to get the fucking CAR back to the HOUSE!! How are we supposed to get fucking home?
In April 1992—less than a week after marrying his third wife and while driving to Nevada for a show—Kinison was killed by a 17-year-old drunk driver.