The female black widow spider devours the male after copulating. In other words, she finds him, fucks him, and then eats him.
Women who are known as "Black Widow killers" devour their mate's assets after killing him. She finds him, fucks him, kills him, and then treats herself to his bank account and insurance payouts.
According to the Internet Journal of Criminology:
Black Widow killers murder those close to them, usually those who they have some form of romantic association with, such as a husband or lover, however, they also prey on their own relatives….[They] murder for the purpose of financial gain, through using romance to initiate the process.
The following 17 cases involve women who killed their lovers in order to inherit their wealth.
1. YOU CUT OFF HIS HEAD…HOW COULD YOU, MRS. DICK?
Evelyn Dick is known as the "Canadian Black Widow" and the "Torso Killer." Considered beautiful and sexually insatiable, she allegedly never worked a day in her life yet covered herself in lush furs and glittering jewels.
She was arrested on suspicion of murder after children found her husband's hacked-up, headless torso near where they'd been playing. They'd been married for less than five months. She was convicted of his murder in 1946 but was soon acquitted on a technicality. In 1947 she was tried and convicted of murdering her infant son after his mummified body was found encased in cement in a suitcase found in her attic. The fact that she murdered her son casts reasonable suspicion on Evelyn for her husband's brutal dismemberment. She served only 11 years in a Canadian prison before being released and forever disappearing from the public eye.
Her case was so infamous in Canada that it led to a popular schoolyard song:
You cut off his legs…
You cut off his arms…
You cut off his head…
How could you, Mrs Dick?
How could you, Mrs Dick?
2. SHE COOKED HIM AND TRIED FEEDING HIM TO HIS KIDS
Katherine Knight has been called "Australia's most notorious psychopath," and from all accounts she was quite the nasty piece of work. A trained butcher prone to violent mood swings where she'd "snap like a biscuit," she raged at her male lovers and her children with knives, irons, axes, and saucepans as she smashed teeth, cracked heads, and sliced flesh. She even slit the throat of one man's eight-week-old puppy in an eruption of bloody vengeance. Her violent spurts were so frequent and extreme, she earned a reputation as "the town psycho."
In October 2001 she stabbed her male lover John Price 37 times, puncturing several vital organs and leaving his house looking like the slaughterhouses where she toiled. She completely removed his skin and hanged it from a hook in the house's entrance. She chopped him to pieces, fed some of his flesh to his dog, and boiled part of Price's dead flesh in a stew along with potatoes and vegetables. She then set a dinner table for Price's children featuring their father's meat as the main course. She also individually scribbled out sadistic notes to each child and left them at their placemats. She was arrested before the children ever got to see—much less eat—this gruesome meal, however. Knight became the first woman in Australian history to be sentenced to life without parole.
3. THE QUEEN OF COCAINE
A Colombian-born member of the Medellin drug cartel, Griselda Blanco was perhaps Miami's most influential drug gangster in the 1970s and 80s, earning such sobriquets as "La Madrina," "The Black Widow," "Cocaine Godmother," and "Queen of Narco-Trafficking." At one point in the 1980s her business was bringing in an estimated $80 million every month.
Blanco allegedly shot someone for the first time when she was only 11 years old. According to Colombian media, she personally ordered the deaths of anywhere between 40 and 250 people.
When learning that her first husband had been taking more than his fair share of the financial cut, she ambushed him in a parking lot with a pistol she'd hid in her ostrich-skin boots, blowing away him and shooting a half-dozen of his bodyguards. The lady was hardcore.
The law finally caught up with her in 1985 and she spent 20 years in prison, only to return to her Colombian homeland. In 2012 at age 69, she was gunned down by a pair of drive-by motorcyclists, which is ironic since she helped pioneer that mode of assassination.
4. BRITAIN'S FIRST SERIAL KILLER?
Starting in 1852—a full 36 years before Jack the Ripper rained holy terror on London—Mary Ann Cotton started poisoning people with arsenic in order to collect their belongings and cash out their insurance policies. Her alleged death toll included three husbands, her mom, a boyfriend, up to eight of her own children, and seven stepchildren. She was eventually convicted of one stepson's murder and was hanged to death. As with Evelyn Dick, her saga helped inspire a children's rhyme:
Mary Ann Cotton, she's dead and forgotten,
Lying in bed with her bones all rotten.
Sing, sing, what can I sing?
Mary Ann Cotton, tied up with string.
5. HER KIDS HELPED BURY THE BODIES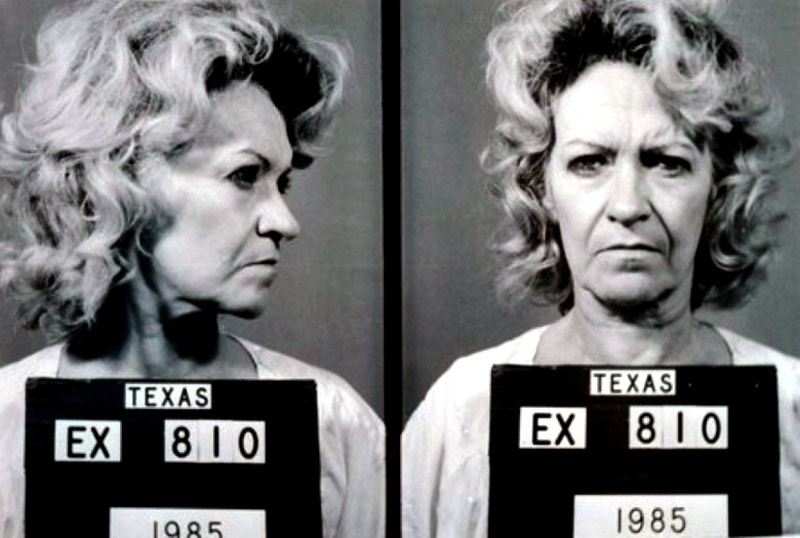 The daughter of poor tobacco farmers, Betty Lou Beets led a hard, brutal life. She lost her hearing at age three after getting the measles. She was also allegedly raped by relatives and attempted suicide at age 16.
An alcoholic who drank to chase away her loneliness, she married multiple times, running over one husband with a car but failing to kill him. She shot and killed her fifth husband, Doyle Wayne Barker, in 1981. She murdered her sixth husband, Jimmy Don Beets, in 1983. She killed Barker so she could gain ownership of his trailer home in Gun Barrel City, TX. She killed Beets for his insurance money and pension benefits. She buried both men in her own backyard.
Betty Lou's son and daughter were complicit in the murder coverups and testified against their mother at trial. Her response was to blame them for the murders. This strategy didn't work, and she was put to death by lethal injection in 2000.
6. THE 'PSYCHIC' WHO MAGICALLY PREDICTED HER HUSBANDS' DEATHS
According to legend, Polish immigrant Tillie Klimek posed as a "psychic" who predicted the deaths not only of three husbands for insurance money, but of several neighborhood dogs, a neighbor woman who was suspicious about her husbands' deaths, and three children who belonged to a family with whom she'd been quarreling. Whether or not the 'psychic' angle is true, she allegedly taunted her third husband by telling him, "It won't be long now," "You'll be dying soon," and telling neighbors that he only had "two inches to live." When arrested for the latter husband's death, she told the arresting officer, "The next one I want to cook a dinner for is you."
7. SHE WORE A SPIDER IN HER BRIDAL HEADDRESS
Blonde and curvy, Linda Calvey was quite the hot pocket when she was younger. She fell in with British gangsters and raked in an estimated one million British pounds helping them pull off armed robberies. She was convicted of murder for shooting a former lover in the head after ordering him to kneel. A police officer who'd dealt with Calvey remarked that "every man she has ever been involved with is either in prison or dead." After being released from prison and suspected of killing at least two former male lovers—earning her infamy as a "Black Widow"—she married a third man in 2009. Sadistically playing on her reputation, Calvey had the audacity to wear a fake spider in her bridal headdress for this marriage to a man fifteen years her senior. Of course he died five years later.
8. THE MURDER MYSTERY WEEKEND KILLING
For months, Maryland surgical technician Kimberly Hricko had complained to coworkers that she wanted her husband dead. She reportedly offered a coworker $50,000 to do the job and boasted that an insurance payout of anywhere from $200,000 to $400,000 awaited her the moment her husband was buried.
To help repair their failing marriage, her husband—unaware that Kimberly had already started fucking around with a younger man—invited her to a Valentine's weekend in 1998 at a nearby hotel that featured a Mafia-themed murder mystery play involving the audience where the groom dies from drinking poisoned champagne. Early the next morning, the charred corpse of Hricko's husband was found dead in their burned-down motel room. Detectives concluded she'd killed him with a muscle paralyzer and then set the room ablaze. She was found guilty of arson and murder and is serving life plus 30 years.
9. SHE WANTED TO 'FEED HIM TO THE HOGS' AND 'LAUGH ALL THE WAY TO THE BANK'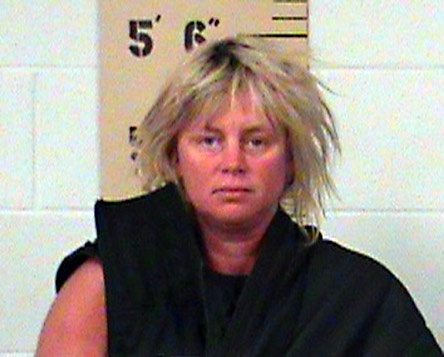 During a long, lazy afternoon of drinking in July 2013, Karra Trichele Allen of Llano, TX texted to her friends that she wanted to kill her husband Brian, "feed him to the dogs," and "laugh all the way to the bank." She also texted Brian that she hoped he'd die in a car crash before he got home. She shot him when he got home, and when she was on the phone with 911, the idiot told her dying husband that he was a piece of shit and would "die knowing that." This of course startled the 911 dispatcher. Allen was convicted of murder and sentenced to life in prison.
10. KILLED HER HUSBAND WITH ANTIFREEZE, TRIED FRAMING HER DAUGHTER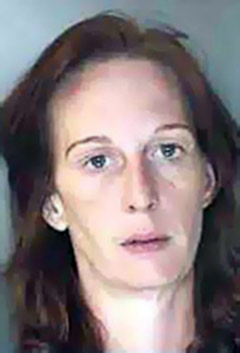 Stacey Castor of upstate New York intentionally force-fed her husband David a lethal dose of antifreeze via a turkey baster one day in 2005. It was the second husband she'd fatally poisoned with antifreeze, and she buried David in a cemetery plot right next to her first husband. She told the police she thought David had committed suicide. Two years later she contacted her daughter Ashley, suggesting they should drink together to mourn David's passing. She crushed some pills into her daughter's drink, whereupon Ashley fell into a coma for 17 hours. Castor then busied herself writing a "murder confession" wherein Ashley confessed to the crime. Police saw through the ruse, though, and Castor was convicted of murdering David and attempting to murder Ashley. David's son, whom Stacey had cheated out of the will, called her a "monster and a threat to society." A judge called her "a ceiling in terms of evil."
11. 'KILLER GRANNIES' WHO PREYED UPON HOMELESS MEN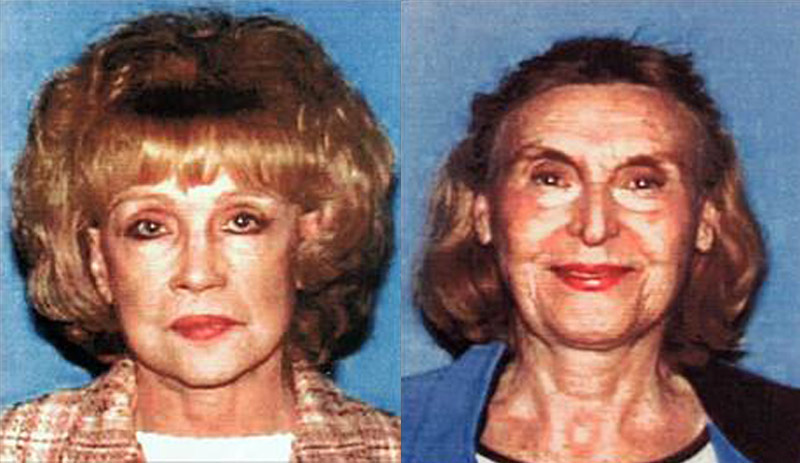 Helen Golay and Olga Rutterschmidt are the only two women on here who killed men who weren't their lovers, yet still their rancid and calculated attacks on LA's homeless men were dubbed the "Black Widow Murders." Their modus operandi was to befriend elderly homeless men with offers of help, have them sign multiple insurance policies, kill them in hit-and-run accidents, and then collect on the policies. They allegedly reaped over $2 million in insurance payouts before they were caught and convicted in 2008 of two murder counts.
12. GREAT AT BEING A WIDOW
From 1994 until 2013, Japanese woman Chisako Kakehi lost seven husbands and collected around $8 million worth of insurance payouts as a result. Her seventh marriage only lasted a month before her unfortunate suitor croaked. Police found traces of cyanide in more than one of her husbands' corpses as well as in a trash bag at her home. To this day Kakehi insists she's innocent, claiming instead that she's been "doomed by fate" to accidentally lose seven husbands in a row.
13. CONSPIRED WITH HER FIFTEEN-YEAR-OLD BOY TOY TO KILL HER HUSBAND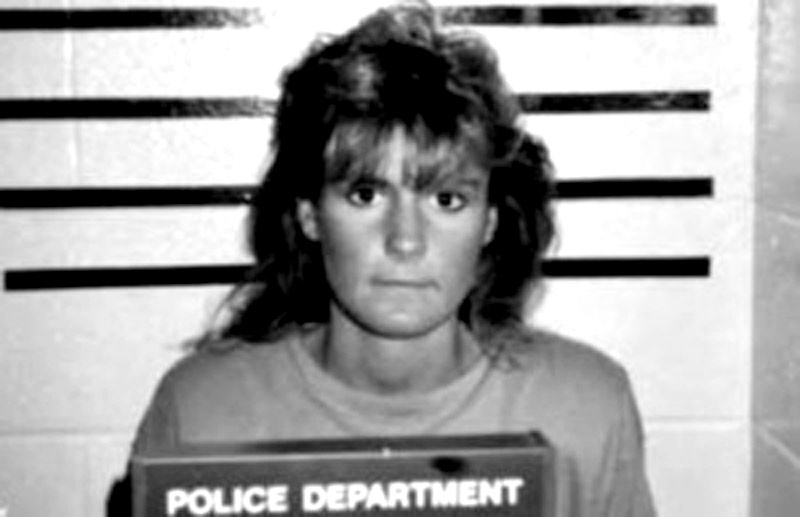 At her trial for being an accomplice to first-degree murder, heavy metal aficionada Pamela Smart was described as "an evil woman bent on murder" by the prosecutor. At age 22, seeking $140,000 from her husband's life-insurance policy, Pam convinced her 15-year-old boy lover, Billy Flynn, to kill her husband in 1990. Along with three teenage accomplices, Flynn got the job done on May 1, 1990. Pam insisted that it was Billy's idea to kill Greggory Smart, but the jury wasn't convinced. Smart is serving a life sentence, while Flynn was paroled last year.
14. THE 'JEWISH LIZZIE BORDEN'
Rita Gluzman was a Jewish expatriate of the Soviet Union who resettled in the USA with her Ukrainian-born husband, prominent cancer researcher Yakov Gluzman. But after Yakov filed for divorce citing Rita's abusiveness and lavish spending, she began plotting her revenge. She contacted her cousin Vladimir Zelenin and explained she wanted to murder Yakov in order to inherit his company, ECI Technologies. They both ambushed Yakov, with Rita bludgeoning him about the head with a pair of axes and Vladimir finally dismembering his corpse. Vladimir was caught by police while dumping garbage bags containing Yakov's body into the Passaic River. Since she used an axe to murder her husband, the New York tabloids began referring to her as the "Jewish Lizzie Borden." A letter from Yakov Gluzman's parents regarding her sentencing read, in part:
For 25 years she gradually demolished him emotionally and in the 26th year she dismembered him physically.
15. POISONED EXCEDRIN CAPSULES
When her husband Bruce came home from work one day in June 1986 complaining of a headache, thrill-seeking bored housewife Stella Nickell fed him four Extra-Strength Excedrin capsules she'd laced with cyanide. She had taken out a huge insurance policy on Bruce and had even forged his signature on the documents. She allegedly even once told her daughter that they'd have fun spending his insurance money were Bruce to suddenly drop dead. To cover her tracks and make it appear that Bruce was the victim of product tampering à la the Chicago Tylenol murders, she placed bottles of tainted capsules in nearby grocery stores. A local bank manager, Susan Snow, died from ingesting one of the capsules. Detectives traced the capsules back to Stella when it was revealed they also contained traces of an algaecide she used in her fish tank. Stella Nickell was convicted of product tampering and sentenced to 90 years in prison.
16. THE DEVIL'S ROOMING HOUSE
As the proprietress of a Connecticut nursing home, Amy Archer-Gilligan aroused suspicion when literally dozens of her boarders wound up dead shortly after naming her in their wills. Between 1911 and 1916, a staggering 48 of her residents died in this manner—this includes five of her husbands, all of whom were found dead of arsenic poisoning. She'd taken out "sizeable insurance policies" on all five husbands before murdering them. Amy's story became the inspiration for the play and movie Arsenic and Old Lace.
17. FRESH SANDWICHES FOR THE NEW HUSBAND'S FUNERAL
British serial killer Mary Elizabeth Wilson was known as the "Merry Widow of Windy Nook" and saw four husbands die in rapid succession in the mid-1950s. She inherited their money with every funeral she attended. She was sentenced to death in 1958 for murdering two of these husbands with beetle poison in 1956 and 1957. At her fourth wedding reception she reportedly "joked" that her husbands were dropping off so quickly, she would be able to use the fresh sandwiches from the prior husband's funeral for the next one's funeral.