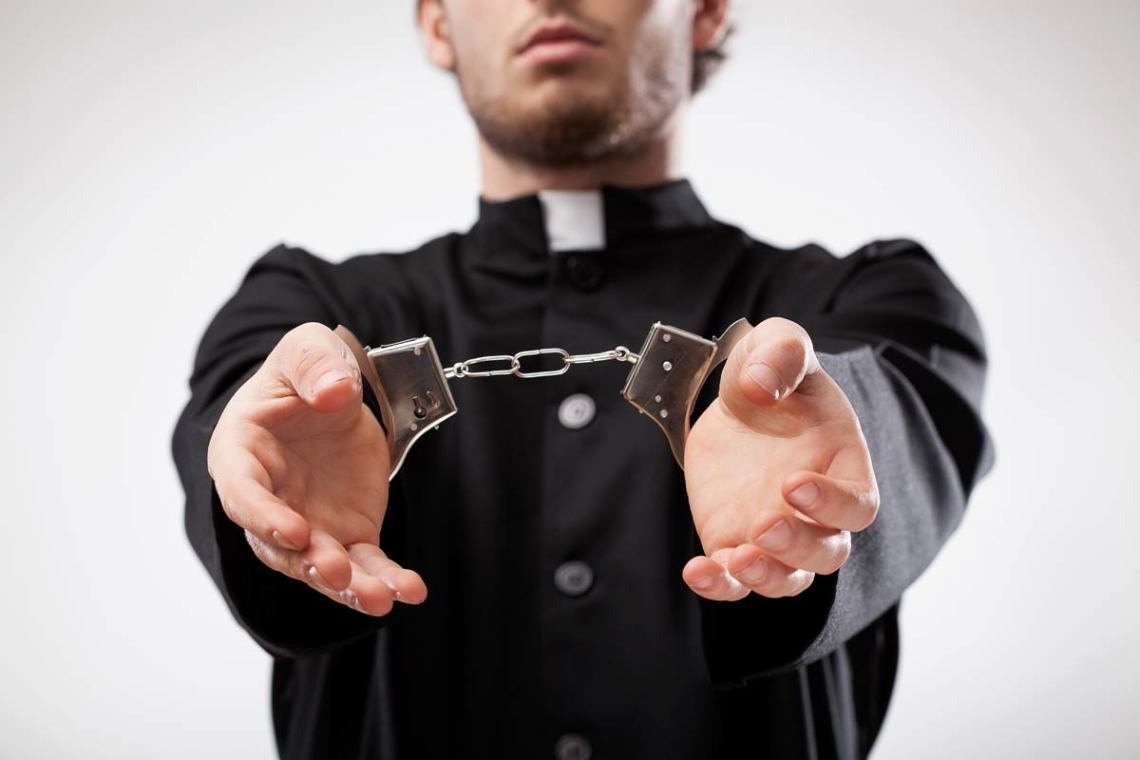 The Greek Orthodox Church has just told Rev. George Passias to go defrock himself.
In October, leaked video clips showed the 67-year-old priest sitting in a motel room wearing only a T-shirt while his longtime mistress repeatedly squashed her ample ass down on a slice of banana bread until it was completely flattened. This odd fetish is known as "cake crush" or "cake sitting." Another clip showed his Peruvian mistress—who is 22 years his junior and currently five months pregnant with his child—rubbing her feet all over his face as he moans in ecstasy.
Disgraced and defrocked, Passias joins a long, toilet-paper-roll-length list of priests who fell from grace after their private misdeeds were made public.
1. THE DOWNFALL OF "MONSIGNOR METH"
To his Catholic parishioners in Bridgeport, CT, Monsignor Kevin Wallin was a gifted orator and a charismatic leader. But as he grew thinner and his behavior became more erratic, church workers reported that throngs of men were passing through his, er, "rectory" at all hours and that both Wallin and some of his visitors were seen cross-dressing. He was suspended from his public ministry in 2012, whereupon he took residence in a small, seedy apartment and became a full-on meth dealer who bothered neighbors with loud, speed-fueled sex parties. At the time of his arrest he either owned or was in the process of buying an adult toy store which investigators suspect Wallin intended to use as a front for money laundering. Earlier this year he received a five-and-a-half-year prison sentence. (source1) (source2)
2. THE "INJECTION BROTHER" SUSPECTED OF PURPOSELY ADMINISTERING FATAL OVERDOSES TO 37 HANDICAPPED BOYS
Technically the Dutch man known as "Brother Andreas" was only a Catholic brother rather than a fully ordained priest, but his story is so sickening it demands inclusion. According to a report released by a Dutch prosecutor only a few years ago—around sixty years after the alleged abuse and about 15 years after Brother Andreas died—Andreas was known at a halfway house for severely disabled boys as the "Injection Brother" who purposely injected boys with fatal doses of morphine or Phenobarbital in a "death room" designed to "put them out of their suffering." Boys who were deemed not sufficiently disabled to fall victim to Andreas's warped euthanasia scheme were reportedly "slammed against walls, choked, and hit in the face with a ring of keys." When they weren't being abused, they worked like slaves in a cellar helping to produce light bulbs. (source)
3. THE "BISHOP OF BLING"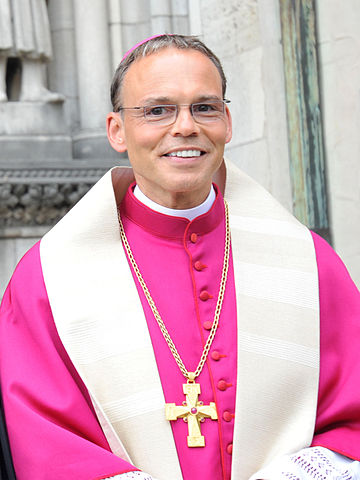 Because there's a new Pope who gives lip service to Marxist wealth redistribution so long as, you know, the Catholic Church isn't required to pay any taxes or divest itself of the billions and possibly trillions in land and assets it reaped from soaking peasants of their money for 2,000 years, it was a public-relations disaster for the Church when it was revealed that a German bishop named Franz-Peter Tebartz-van Elst had used a whopping $33 million in church funds to build himself a happy little personal palace. In 2014 the man the press dubbed the "Bishop of Bling" was forced to resign his post due to his shameless extravagance. (source)
4. HIS NAME WAS "ALAN WOODCOCK"
A New Zealand priest named Alan Woodcock was suspected of sexually assaulting a string of boys in the 1970s by "enticing them to his bedroom with cigarettes, pretending friendship and concern." He was criminally convicted of indecent assault of one 17-year-old boy but only received a suspended sentence. But above all, the most important thing is that his name was "Alan Woodcock." (source)
5. A PRIEST'S FALL FROM GRACE IS LINKED TO A STUDENT'S FALL TO HIS DEATH
Except for a single allegation in 1986 when he allegedly ran his hand up a male student's leg, Rev. Henry Krawczyk was never accused of being a sexual predator. Instead, he was more like the lonely old uncle who hangs out with younger guys in a sad quest to appear hip. His MO was usually to provide teenage males at the University of Pittsburgh with alcohol and marijuana merely for the privilege of getting drunk and stoned with them. His world came crashing down on him in 2003 when a teenage football player that Krawczyk had plied with alcohol fell 25 feet through a church ceiling to his death. Krawczyk was arrested and pled guilty to involuntary manslaughter. (source)
6. FORMER TV HOST ACCUSED OF MOLESTING HIS OWN SON
A Franciscan priest who hosted a show called Life on the Rock on a Catholic TV network, Father Francis Mary Stone befriended a woman at the network named Christina Presnell in 1998. Three years later they began having sex, which eventually led to her impregnation. Stone was defrocked, yet his relationship with Presnell didn't last. As part of a long and ongoing custody dispute over their son, Presnell accused him in court papers of shoving his finger up his infant son's anus, causing the child to defecate on the bed. Stone was criminally charged in 2013 but his case is ongoing. Still, going from TV host to accused infant-anus-violator is quite the fall from grace. (source)
7. THE ONLY PRIEST IN AMERICAN HISTORY TO BE EXECUTED FOR MURDER
Just a little over 100 years ago, Hans Schmidt—a German-born priest serving in New York—started an affair with an Austrian housekeeper named Anna Aumüller. They were even "married," although not legally, in a ceremony that Schmidt performed himself. But when he found out she was pregnant, he slashed her throat, chopped her body to pieces, and dumped her remains in the East River. He was fried in the electric chair in 1916 at Sing Sing prison and remains the only priest executed for murder in American history. (source)
8. FONDLED A WOMAN DURING A CROSS-COUNTRY FLIGHT
During a flight from Philly to Los Angeles last year, Father Marcelo De Jesumaria could have easily watched a Disney movie or played FarmVille on his iPad. Instead, he groped a woman's "breast, groin, and buttocks" and was found guilty of abusive sexual conduct during a trial. (source)
9. MURDERED BY AN INMATE WHO HATED PEDOPHILES
One of the numerous priests arrested and convicted of sex crimes against children in the Boston Archdiocese about a dozen years ago, John J. Geoghan's case was remarkable for the sheer number of times the Catholic Church hurriedly moved him to a new location every time new allegations of child abuse emerged. He fondled boys from the mid-1950s all the way up until a 1991 criminal conviction for groping a boy's buttocks in a swimming pool. After being sent to prison, it was Geoghan's fate to be celled up with a lifer convict who had a murderous animus toward pedophiles. Geoghan was strangled and stomped to death in his cell. (source)
10. THE ASSHOLE PRIEST WHO DELIVERED A NASTY SERMON AT MY DAD'S FUNERAL
The Reverend Richard G. Jones was a religion teacher at my Catholic high school in Pennsylvania. For reasons known only to him and his God, Jones delivered an acutely nasty sermon at my father's funeral. He prattled on for at least ten minutes about what a despicable asshole my father had been. None of this is to imply my father was a saint, but for fuck's sake, there was no need to kick him while he was ready to be planted in the ground. So it is with a glorious sense of vengeance and comeuppance that I announce he was eventually defrocked as the result of a lawsuit accusing him of fondling, raping, and sodomizing a teenage boy over the course of three years. (source)