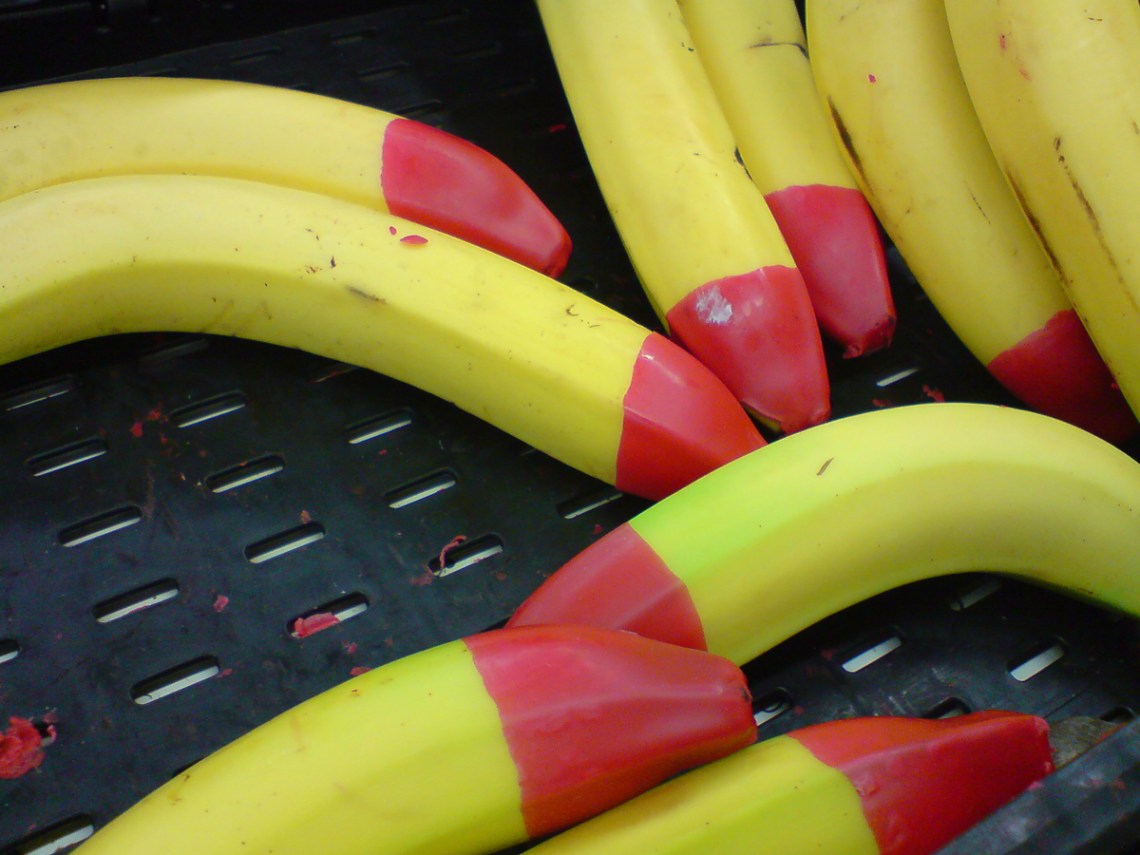 1. HELP! THERE'S A BABY FORESKIN IN MY FACIAL CREAM!
While you may have assumed that circumcised foreskins languish in a hospital dumpster before being eternally consigned to a landfill, the medical and cosmetics industries swoop down like buzzards on these discarded penile skin flaps and make money by using them to heal wrinkles and burns.
Newborn foreskins contain human growth factors that make them ideal for anti-wrinkle skin creams. Face creams that use baby foreskins include SkinMedica and HydraFacial. (source)
Baby foreskins are roughly the size of a postage stamp—yes, I guess someone actually took the time to measure one—but "can grow to the size of three basketball courts in less than a month" under the proper laboratory conditions. The skin is then used for grafts to aid in the healing of burn victims. (source)
2. WOMEN HAVE FORESKINS, TOO
What is known as the "foreskin" in males is called the "clitoral hood" in females. Both are designed to protect these pleasure centers from harm. If gender-neutral is your thang, both foreskins and clitoral hoods are known as prepuces.
3. THE 4,400-YEAR-OLD FORESKIN
An Egyptian bas-relief from 2400 B.C. depicts a flint-knife circumcision and is thought to be the earliest historical mention of foreskin removal. (source)
4. OVER 100 AMERICAN MALE INFANTS DIE FROM CIRCUMCISION YEARLY
On average, 117 American boys die yearly from post-circumcision complications, most of them involving blood loss or infections. (source)
5. MORE FORESKIN = MORE PLEASURE
The average male foreskin contains 20,000 nerve endings. According to one study, the least sensitive part of the foreskin is more sensitive than the rest of the penis. During intercourse, the foreskin produces a "gliding action" that reduces friction and enhances lubrication. On the downside, having a foreskin feels so good that uncut men are more likely to develop premature ejaculation, a condition which will always be hilarious regardless of context. (source1) (source2)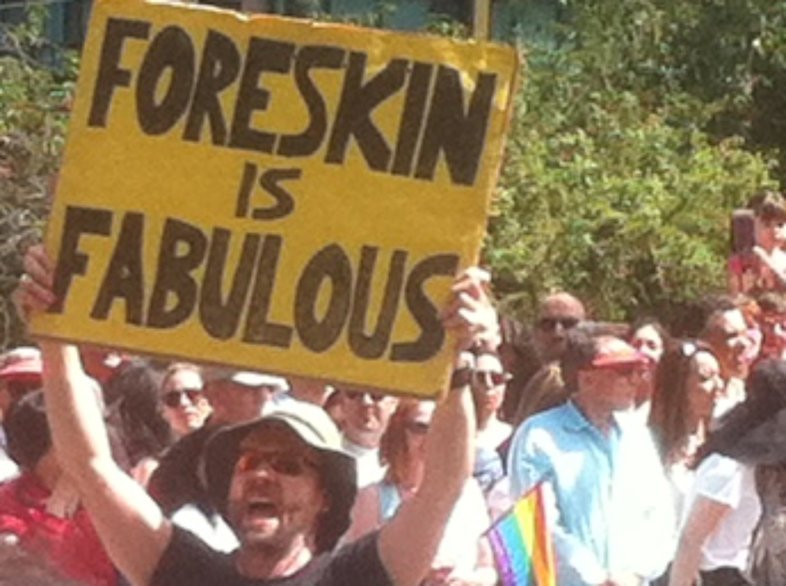 6. PRO-FORESKIN ACTIVISTS CALL THEMSELVES 'INTACTIVISTS'
According to an anti-circumcision group called Bloodstained Men, an "intactivist" is
Someone who believes that every child, regardless of their gender or parents' beliefs, has the right to their intact genitals, as they're born.
Other groups that see circumcision as a barbaric, unnecessary, and nonconsensual mutilation of infant genitals are Brothers United for Future Foreskins (BUFF) and National Organization of Restoring Men (NORM).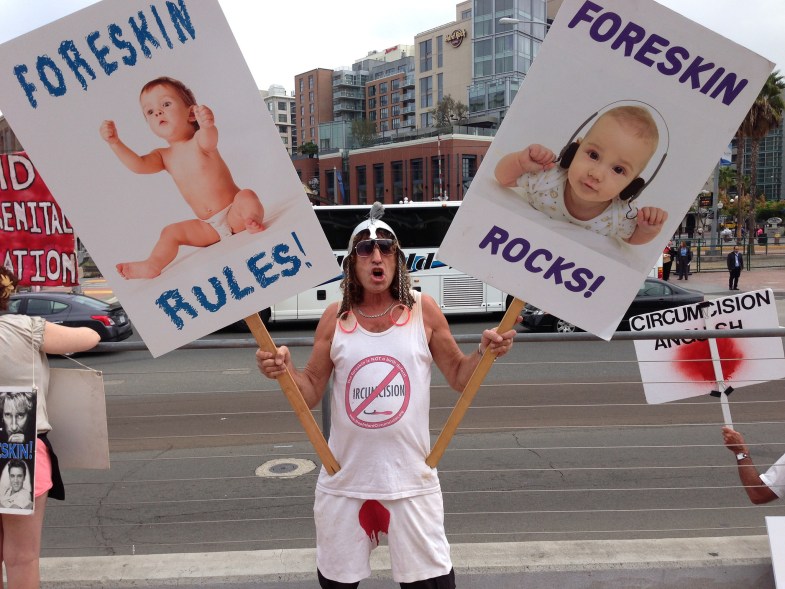 7. HAVING A FORESKIN CAN LEAD TO MEDICAL PROBLEMS…
According to Dr. Brian Morris of the University of Sydney, uncircumcised men are fifty times more likely to develop penile cancer than men who've been "cut." (source)
Intact foreskins contain what are known as Langerhans cells, which facilitate HIV transmission. As a result, uncircumcised men are 60% more likely to acquire HIV than men who've been snipped. (source)
Uncircumcised men can also develop a condition called phimosis in which the foreskin envelops the penis too tightly, which can lead to urine getting trapped in the foreskin and turning the entire shlong into a swollen pee balloon. (source)
8. …BUT SO CAN BEING CIRCUMCISED
Men who've been circumcised are nearly five times as likely to develop erectile dysfunction as those who've never undergone the tortures and torments of postpartum penile mutilation. They are also said to be 60% more likely to develop a psychological disorder known as alexithymia, which makes it difficult to express one's emotions. (source)
9. SOME GIRLS HATE 'EM
On an episode of Seinfeld, Elaine admits to sleeping with an uncircumcised man. "It had no face, no personality," she kvetches about his penis.
[youtube https://www.youtube.com/watch?v=sH2Jg5soZig&w=854&h=480%5D
According to one woman, "I believe uncircumcised penises have a very off-putting odor!" Another says, "I've found that uncircumcised penises tend to have a stronger smell and more greasy/sweaty feel to them." (source)
10. SOME GIRLS LOVE 'EM
One US study found that 85% of women who'd had sex with both cut and uncut men preferred men with foreskins. One of the main reasons they offered is that foreskins aid in the production of that nasty excretory paste known as smegma, which acts as a natural lubricant. (source)
Other women find cut penises to be visually revolting: "I think circumcised penises look like mutilated, skinned mushrooms, and there's that ugly scar on it," gripes one foreskin-lovin' lass. (source)
[youtube https://www.youtube.com/watch?v=JbTdkWV89Ak&w=854&h=480%5D
11. THERE WAS A PUNK BAND CALLED 'THE 4-SKINS"
The 4-Skins were a quartet of London East Enders who played Oi! Music and were associated with the skinhead scene. I never met them, so I cannot confirm whether any of them retained their foreskins into adulthood.
[youtube https://www.youtube.com/watch?v=pnMP1OQhAP0&w=854&h=480%5D
12. THE INVENTOR OF CORN FLAKES RECOMMENDED SEWING BOYS' FORESKINS SHUT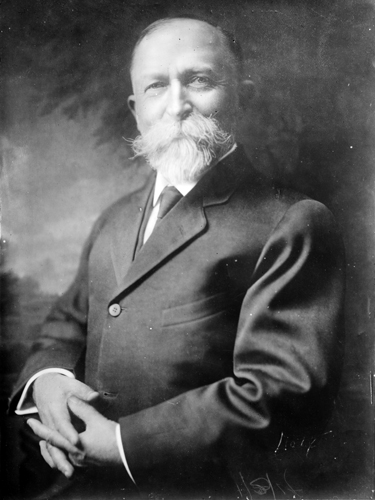 John Harvey Kellogg—he of cereal fame—was intensely concerned about the fact that boys and girls all across America were furiously masturbating without his consent and approval. One of the methods he recommended for discouraging masturbation among uncircumcised boys was sewing their foreskins shut with a metal wire. (source)
13. THE QUEST FOR THE HOLY FORESKIN
Throughout much of the Christian era, rumors spread through Europe of a "Holy Foreskin" that had been clipped from Jesus at birth. The first reported Holy Foreskin sighting was in 800 A.D. when Emperor Charlemagne bequeathed the alleged divine prepuce to the Pope. According to an expert on Catholic relics, "Depending on what you read, there were eight, twelve, fourteen, or even 18 different holy foreskins in various European towns during the Middle Ages." Perhaps they'd been multiplying like fishes and loaves. Embarrassed by the whole topic, in the year 1900 Pope Leo XIII ordered the immediate excommunication of any Catholic who even mentioned the Holy Foreskin. (source)
14. TUGGING YOUR WAY BACK TO SQUARE ONE
Foreskin restoration is all the rage among men who feel that they were cruelly, painfully, and unnecessarily mutilated as infants by a foreskin-phobic society. This can be accomplished surgically by using skin from the scrotum, which everyone can agree is an ugly human body part with an exceedingly ugly name. For those who prefer to take the natural route, a sometimes years-long process of stretching the skin both manually and with weights is known as "tugging."
15. THE RABBI, THE WALLET, AND THE SUITCASE
There's an old joke about a rabbi who keeps all the foreskins from circumcisions he's performed and makes them into a wallet. The rabbi's friend remarks that it seems like he went through an awful lot of trouble just to make a wallet. "I know," the rabbi replies, "but when you rub it, it turns into a suitcase."