1. ONE OF THE FIRST 'MILK-CARTON KIDS'
It was a fateful May morning in 1979 when six-year-old Etan Patz's parents finally felt safe letting him walk to the bus stop alone in Manhattan. They'd given him a dollar for lunch, and he said he wanted to buy a soda with it. Wearing an Eastern Airlines cap and clutching his dollar, he skipped off toward the bus stop, never to be seen again.
Etan's face was one of the very first—if not the first—to be used on milk cartons in the early 1980s in a nationwide campaign to help locate missing children.
In 2012, 53-year-old Pedro Hernandez told police that he had lured little Etan into his bodega with the promise of a free soda, whereupon he dragged him down to the basement, choked him to death, wrapped the boy's cadaver in a body bag, stuffed it in a banana box, and dumped him in the trash. Hernandez later recanted his confession, and a trial this past May ended in a hung jury.
"Etan is larger than his very little important life," Assistant District Attorney Joan Illuzzi-Orbon had said during the trial. "He represents a moment in this city where there was a loss of innocence." (source)
2. ONE HOUSE FIRE, FIVE MISSING KIDS
On Christmas Eve in 1945, a blaze erupted at the West Virginia home of the Sodder family. Five of the ten Sodder children were trapped upstairs and presumed dead when the house collapsed to the ground 45 minutes after the fire started.
Family patriarch George Sodder had tried to grab a ladder to rescue his burning children, but the ladder was mysteriously gone. He tried calling the police, but the phone wires had been cut. He attempted to start his truck, but the engine wouldn't crank.
Even more mysteriously, the bones of the five missing children were allegedly never found.
Speculation emerged that the Sodders were victimized by Mafia arsonists, one of whom had warned George Sodder that he'd burn his house down and kidnap his children in retaliation for unflattering comments he'd made toward Italian dictator Benito Mussolini. Witnesses in the tiny Appalachian town of Fayetteville, WV reported seeing four of the five missing children at a restaurant, surrounded by "Italian-looking" adults who forbade the children from speaking. (source)
3. THREE AUSTRALIAN KIDS VANISH FROM A BEACH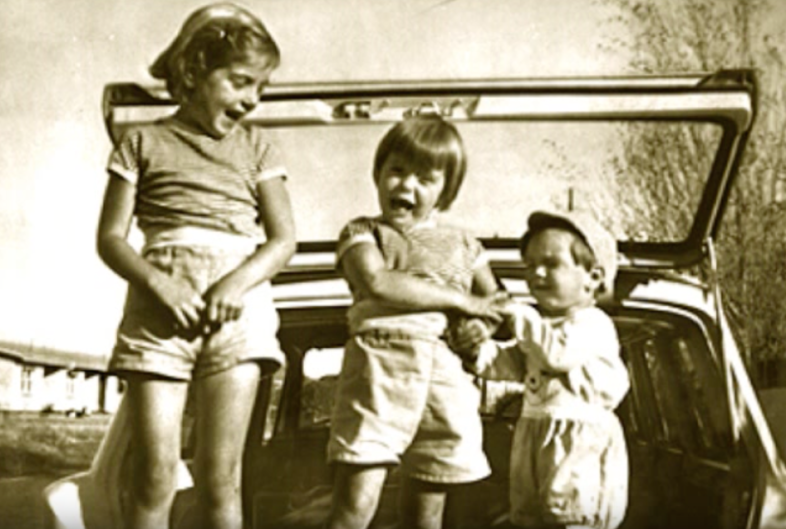 On Australia Day in 1966, Jane (9), Arnna (7), and Grant (4) Beaumont went playing on a beach near their house. Witnesses reported seeing them speaking to a tall blond man at the beach. At around 3PM, a postman says he saw the children walking back toward their home alone. And that's the last anyone ever saw of them. Their disappearance "has become symbolic of the day Australia lost its innocence." (source)
4. DECAPITATED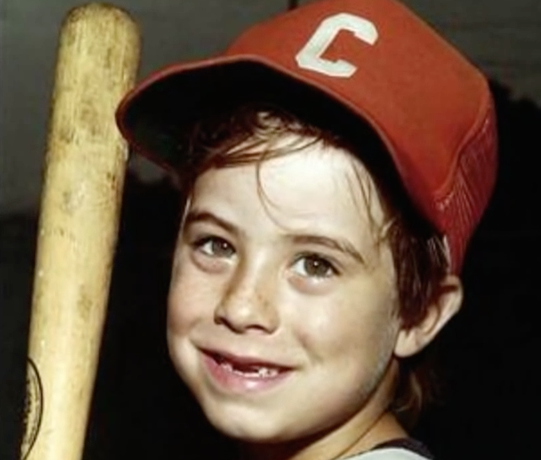 Little Adam Walsh was only six on the July day in 1981 when his mother took him shopping at a Florida Sears store. She claims she left him at an Atari 2600 kiosk as she went browsing for lamps a few aisles away. When she returned, he was gone. His head was found in a river canal about two weeks later.
Serial killer Ottis Toole confessed to the crime but was never tried and convicted of it. Toole and his sometime serial-killing pal Henry Lee Lucas had been known for stretching the truth, so there's scant evidence he actually killed Adam Walsh. However, enraged by the killing, Adam's father John Walsh became a lifelong crusader against violent criminals and is best known as the host of TV show America's Most Wanted. (source)
5. WRONGLY IDENTIFIED AS ALIVE
Paul Joseph Fronczak made headlines when he was kidnapped out of a Chicago hospital in 1964 when he was only a day old. Two years later, "Paul" was found in a stroller and was reunited with his parents. I put "Paul" in quotes, though, because a DNA test more than 40 years later revealed that the baby who'd been returned to the Fronczaks was not even remotely related to them. (source)
6. THE IMPOSTER
Thirteen-year-old Nicholas Barkley was last spotted playing basketball in San Antonio, TX on June 13, 1994, but he never made it home that night. Three years later, a young man from Spain who claimed he was Nicholas contacted police and told him that he'd escaped from a kiddie sex-slave ring. He was flown from Spain and reunited with the Barclay family in Texas. Problem was, "Nicholas" was actually a French conman named Pierre Bourdin, who had an odd habit of impersonating missing children because he said he needed to find a family that would love him. Bourdin was sentenced to prison but later returned to Europe and continued impersonating missing children. A 2012 documentary about Bourdin was called The Imposter. (source)
7. SOLD INTO A PEDOPHILE RING?
A freckly 12-year-old Iowa paper boy, Johnny Gosch went missing in September 1982. His parents became alerted to his disappearance after receiving an angry string of calls from customers demanding to know why they hadn't received that day's newspaper. Johnny's little red wagon that he'd used to deliver papers was discovered only two blocks from his home.
Gosch's mother claims she received a letter in the mail containing several photos of a bound-and-gagged young male that was reputed to be Johnny.
A 24-year-old convicted sex offender named Paul Bonnacio confessed to helping kidnap Johnny and selling him into a child-prostitution ring. He correctly identified several distinguishing birthmarks and scars on Johnny's body. However, Johnny was never found and along with Etan Patz, he became one of the country's first "milk-carton kids." (source)
8. SHADY MOM
Two-year-old Trenton Duckett disappeared from his Florida home in 2006, vanishing "without a trace and without signs of a struggle." Duckett's parents had been embroiled in an acrimonious divorce and custody dispute at the time of Duckett's disappearance. Evidence emerged that Trenton's mother Melinda had hacked into her husband's email and attempted to frame him for the kidnapping. She was also a student of criminal psychology and was being investigated for bank embezzlement. But before she could be charged with abducting her own son, she blew her head off with a shotgun. (source)
9. SHADY STEPMOM
One day in June 2010 after delivering a science-fair presentation about frogs, seven-year-old Kyron Horman of Oregon went missing on his way to his next class. He was never found. His stepmother Terri was never charged with his kidnapping, but she made inconsistent statements to the police about her whereabouts on the day of his disappearance. Six months earlier, Kyron's father had filed a restraining order against her after learning that she'd offered a hit man money to murder him. So instead of murdering Kyron's father, it's speculated that she may have played a role in Kyron's disappearance. (source)
10. PICKING FLOWERS IN A FIELD
Described as "tiny…blue-eyed and red-headed," four-year-old Marjorie West of Pennsylvania was seen picking flowers in a field one day in 1938. Near midnight the same day, a girl fitting her description was spotted riding in a dark sedan with an unidentified man in West Virginia. Neither Marjorie nor the man in the sedan were ever found. It remains Pennsylvania's oldest unsolved missing-persons case. (source)
11. AN END OF INNOCENCE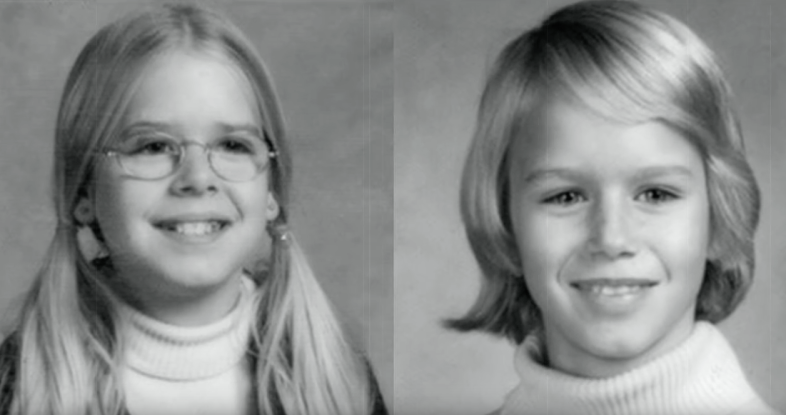 The Lyon sisters—Katherine (10) and Sheila (12)—were spotted by acquaintances eating at a mall in DC suburb on March 25, 1975. One boy told police that he saw them talking into a tape recorder held by an unidentified man. The girls were never seen again.
"That's when parents started walking their kids to school," remarked a local TV reporter. "It was an extraordinary coming-out time. Everyone became much more suspicious," he says. "It was an end of innocence." (source)
12. HE IS SAFE AND WILL NEVER BE FOUND
One day in May 2011, six-year-old Timmothy James Pitzen—yes, his parents spelled it with an extra "m"—was taken out of school by his mom, who proceeded to whisk him around to local water parks and zoos in Wisconsin. The day they went missing, his mother allegedly called family members, who claim they heard Timmothy in the background complaining that he was hungry. Three days after the pair vanished, Timmothy's mom was found dead in a motel room. She had killed herself and left a note that said, "Timmothy was safe & would never be found." (source)
13. SNATCHED FROM THE CRIB
Near Thanksgiving in 1997, five-month-old Sabrina Aisenberg went missing from her crib. There was no sign of a break-in. According to a local journalist:
This frightened a lot of people, terrified a lot of young parents. It was chilling for people who lived in that community. It was a quiet, safe, out-of-the-way place. And then a baby disappears.
Sabrina's parents were never tried nor convicted in their infant daughter's disappearance, but they remain the prime suspects. Suspicion was deepened when they made a video pleading for Sabrina's return that featured them smiling incongruously. (source)
14. EYES BURNED OUT WITH ACID
Six-year-old Dorothy Ann Distlehurst of Nashville, TN went skipping toward school one September morning in 1934 "wearing a blue and white plaid dress and [holding] a pink lunchbox." But she never returned for her expected 1PM lunch break. Her parents received a postcard from Georgia about a week later promising to burn Dorothy's eyes out with acid if ransom money wasn't delivered.
Dorothy's decaying body was found two months later by a pair of men who were digging flower beds. She had been gagged. Her skull had apparently received multiple blows from a hammer. She was naked and in a "crouching" position. Acid had been poured on her face. Her murderers were never found. (source)