Sometimes lovers can bring out the best in one another; other times, not so much.
Deep love is a form of madness that can inspire extreme behavior. In many cases, neither partner exhibited the merest inkling of such behavior before meeting and becoming entangled with their lover. If one or both partners has underlying mental disorders, an intense love affair may unmask or even multiply the psychiatric damage. In severe cases, one partner may be able to transmit their psychosis to another. This is technically known as "shared psychotic disorder," but the French also have a term for it—folie à deux, or "a madness shared by two."
All of the following cases combine love and murder—a madness shared by two.
1. The Ballad of Bonnie and Clyde
Deep amid the bleak starving pits of the Great Depression, Bonnie Parker and Clyde Barrow's murderous love story captivated a nation disillusioned by authority figures and hungry for antiheroes. What seemed most fascinating was that although Clyde was mostly pulling the trigger, Bonnie appeared to be calling the shots.
Bonnie was a tiny ball of fire—a 4'11", 90-pound, 19-year-old former honor-roll student who was already married to a man imprisoned for murder on that portentous day in 1930 when she met petty criminal Clyde Barrow and they instantly fell deep off a cliff for one another.
From 1931 to 1934 Bonnie and Clyde, as well as other members of the Barrow Gang, terrorized the south central USA with a blazing and brazen series of bank and store robberies that often left lawmen and passersby dead in a locust swarm of lead.
But it was their penchant for self-mythologizing—as expressed through Bonnie's poetry and selfies that were uncovered at one of their hideouts—that made them American folk heroes as they consistently frustrated and evaded the law:
An excerpt from Bonnie's poem "The Ballad of Bonnie and Clyde":
They call them cold-blooded killers
They say they are heartless and mean
But I say this with pride, I once knew Clyde
When he was honest and upright and clean.
But the laws fooled around and taking him down
and locking him up in a cell
'Til he said to me, "I'll never be free,
So I'll meet a few of them in hell."
From 1931 to 1934, they are thought to have killed at least 13 people in shootouts that peppered their endless robberies and burglaries. In 1934 they were finally ambushed on a lonely Louisiana road by six armed lawmen who shot over 100 bullets into their car. They loved together and died together.
The 1967 film Bonnie and Clyde starring Warren Beatty and Faye Dunaway made them folk heroes to a new generation, with a hit single by Georgie Fame & The Blue Flames and a ballad by Merle Haggard adding to the legend.
2. Two Teen Misfits Go On A Weeklong Winter Murder Spree Across Nebraska's Badlands in 1958
Charles "Little Red" Starkweather was a runty James Dean wannabe who'd been bullied while growing up for his poor vision, speech impediment, and pigeon toes. He would later remark, "They say this is a wonderful world to live in, but I don't believe I ever did really live in a wonderful world."
At age 19 he fell pompadour-over-heels for 14-year-old Caril Ann Fugate. In December 1957 he robbed and killed an attendant at a gas station where he'd reportedly been denied in an attempt to purchase a gift for Caril on credit.
On January 21, 1958, toting the rifle he seemed to carry with him everywhere, Starkweather paid a visit to the Fugate house, but Caril was not home. An argument about his gun escalated into murder when Starkweather shot both of Fugate's parents to death and fatally bludgeoned her two-year-old sister using his rifle. When Caril Ann finally arrived home, seeing three dead family members left her unfazed—she reportedly watched TV while Starkweather made sandwiches and wrapped the corpses in newspaper. They placed a sign outside the door stating that everyone in the house was sick with the flu.
With police and neighbors growing suspicious after several days, they finally fled the house in a car. On January 27, they picked off a farmer and two teenagers—the latter pair were killed over a grand total of $4. They murdered three more people the next day and then killed a shoe salesman on January 29. They even managed to slip past a two-hundred-strong Nebraskan National Guard barricade before being apprehended on a lonely Wyoming road. All in all, the blood-soaked spree that had begun in Fugate's house claimed 10 lives. Starkweather died in the electric chair at age 20, while Fugate was finally paroled in 1976.
The deadly duo's exploits were immortalized in the 1973 film Badlands and the Bruce Springsteen song "Nebraska."
3. Canada's "Barbie & Ken" Killers Rape And Murder Three Girls On Videotape—Including Barbie's Sister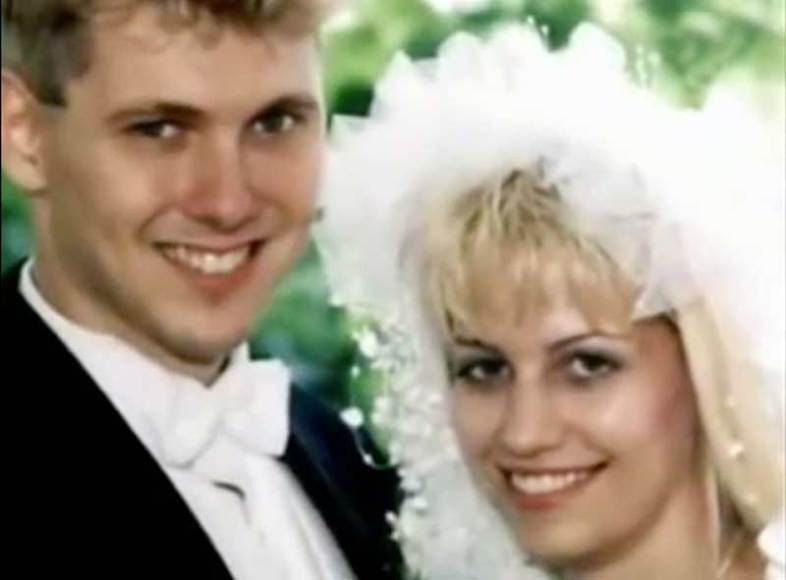 They seemed like the perfect couple—far too good to be true.
This pair of toothy Canuck yuppies committed all three of their murders shortly before getting married, after which they applied to have their last names changed to "Teale" in honor of a serial killer from a fictional book.
Paul Bernardo—superficially charming, handsome, and hell-bent on success—was actually the "Scarborough Rapist," who committed an estimated twenty or more sexual assaults of escalating severity on Canadian women in the late 1980s. When he met Karla Homolka—a veterinary assistant with a pretty yet emotionally flat face—she became the first of his girlfriends to egg on his sexual proclivities. She nicknamed his penis "Snuffles" and made it her duty to find young virgins for Paul to forcibly deflower.
Their first victim was Karla's youngest sister Tammy, offered up because Tammy was still a virgin. In July of 1990, Karla fed Tammy some spaghetti sauce that had been laced with crushed Valium. Paul was able to rape Tammy for about a minute before she became conscious. Then in December, Karla knocked Tammy out with anesthetics she'd stolen from the veterinary clinic. The couple then proceeded to film themselves raping Karla's unconscious sister while her parents slept upstairs. Tammy eventually choked to death on her own vomit, whereupon her killers cleaned her up and notified the authorities, who ruled it an accidental death.
On one of the many videotapes they made, Homolka performs oral sex on Bernardo while rubbing his genitals with her younger sister's panties. She tells him:
I loved it when you fucked my little sister. I loved it when you fucked Tammy. I loved it when you took her virginity. I'm glad you made me lick her cunt….I want to rub Tammy's underwear all over your body.
They would drug, rape, and kill two more girls who were in their mid-teens, all while videotaping it. Bernardo would later claim that it was Homolka who actually killed both girls.
Homolka was a seasoned manipulator skilled at playing the public's presumption of innocence when it comes to female predators. An examining psychologist once said that "there is a moral vacuity in her which is difficult, if not impossible, to explain." A Canadian reporter suggested that Homolka "simply lacks the moral gene." Karla was able to plea-bargain to a sentence of only 12 years for her role in the murders. She was offered the deal before prosecutors became aware of all the videotapes that suggested her role in the murders was at least equal to that of Bernardo's. She was released from prison in 2005 and now reportedly lives in Canada with at least three children she bore after her release.
4. Lovebirds Murder At Least 17 Women By Answering "Lonely Hearts" Ads
Raymond Fernandez was a brain-damaged Latin lover who allegedly believed he had magical powers to seduce women. Martha Beck was a morbidly obese mother of two who fell immediately under Fernandez's magical powers when they started corresponding through a Lonely Hearts Club, which was the pre-computer era's equivalent of Tinder.
Fernandez was impressed that Beck abandoned her two children to move in with him. He then laid out his scheme—she would pose as his sister while he seduced other women through Lonely Hearts ads. Then they would rob and kill the women before going on to their next victim.
From 1947-1949 they murdered at least 17 lonely, love-starved women. Most of the victims were poisoned, although Martha hammered one woman to death and drowned another woman's young daughter. Raymond also boasted that he'd killed another woman during a long bout of forced sex in which the poor lady suffered a heart attack.
Beck and Fernandez proclaimed undying love for one another until March 8, 1951, whereupon they both were fried in the electric chair.
5. Drug-Addled California Hippie Duo Fancy Themselves "Witch Killers" And "Vegetarian Muslim Warriors"
James and Suzan Carson dove so deeply into hallucinogenics that their brains apparently melted out of their ears. They took it upon themselves to save the world by eliminating it of those who emanated what they perceived to be "evil energy." (It's no coincidence that people who are simple-minded enough to actually believe in the objective existence of "evil" are prone to committing the most unimaginably twisted acts.)
Their first murder victim came in 1981, when they attacked a roommate with a frying pan and stabbed her thirteen times before stashing her body in the basement. They would later claim that their prey had been "draining Miss Carson of her health and yogic powers."
A second victim was dismembered and immolated. Their third was shot to death and dumped in a valley.
Impenitent, the Carsons held a press conference to confess to their misdeeds while complaining that they hadn't received sufficient press coverage. They are both still in prison.
6. Black Couple Terrorizes Other Blacks Across The Midwest During 1984's "Summer Of Death"
Alton Coleman was facing trial for raping a 14-year-old girl when he hooked up with Debra Brown—who was said to have a low IQ and a dependent personality—and launched into a six-state Midwestern killing spree in 1984 that became known as the "Summer of Death." It was speculated that they befriended and then murdered black victims out of a twisted sense of racial self-loathing.
Just like Bonnie & Clyde and Starkweather & Fugate, the pair roamed free and evaded justice while terrorizing an entire region with their murder spree. They bludgeoned and strangled their way to a total of eight slayings, including a victim as young as seven years old. Regarding one female victim, Debra Brown said, "I killed the bitch and I don't give a damn. I had fun out of it." But since she was judged to be mentally disabled, she evaded the death penalty while Coleman died via lethal injection.
7. Sexually Psychotic Husband-And-Wife Team Rapes, Tortures, And Kills 10 Victims
Gerald Gallego was born smack-dab into a life of crime, as his father was executed in the gas chamber for killing a cop and a prison guard. By the time he was thirty, he'd already been divorced six times. Charlene Williams was a raging cokehead who'd recently divorced a heroin addict who'd complained of her lesbian proclivities.
When she met Gallego, their neediness and psychoses were multiplied through one another. After Gerald became enraged upon finding Charlene having sex with a woman, Charlene allegedly hatched a scheme where she'd appease his rage by helping him prowl for female sex slaves.
From 1978 to 1980, they lured 10 teens and young adults into their van at local California shopping centers. Their first pair of victims were raped, beaten in the head with a crowbar, shot to death in the head, bound, and dumped in a ditch. Charlene would later tell a cellmate that this kidnap-rape-murder had excited her beyond belief. They also buried a pregnant woman alive. During a murder in which Gerald swung a shovel at a young girl's head, Charlene recalled "a loud splat like a flat rock hitting mud, and the girl sank to her knees and slowly toppled over on her face."
Upon their arrest, Charlene testified against Gerald. She plea-bargained to sixteen years while he received the death penalty. He died in prison of rectal cancer. She was released in 1997 and is now living under a new identity.
8. The Oldest Couple In America To Receive The Death Penalty
In 1990 when they were sentenced to death for murdering five drifters, 76-year-old Ray Copeland and his 69-year-old wife Faye became the oldest couple in American history to receive the death penalty.
The Copelands owned a farm where they ran a scheme by hiring men to buy cattle at local auctions using bad checks. After hastily selling the cattle and pocketing the cash, one by one each hapless homeless stooge would be shot in the back of the head with Ray's .22-caliber Marlin rifle. They were then buried in shallow graves on the farm.
Faye initially claimed to have no knowledge of the murders, but this was contradicted by the fact that she'd knitted a quilt made of the dead men's clothing. Ray died on Death Row in 1993. Faye was paroled in 2002 and died a year later.
9. Caregivers Collect Money From Unwed Mothers, Then Murder Their Infants
Away back yonder in ye olde moldy 1800s, John and Sarah Jane Makin were an Australian pair of "baby farmers," which means they ran makeshift orphanages out of their home where they'd collect payments from unwed mothers to take care of their tots around the clock. Shortly after receiving a hefty new down payment, they'd either deflect the mothers' requests to visit their babies or they'd pull up their stakes and move elsewhere without a forwarding address.
In 1892, a sewer worker found the remains of two dead infants clogging a drain. Police searched the Makins' previous ten residences and found several additional baby corpses. In addition to the one infant murder for which the Makins were convicted, police found at least 11 other dead babies littered about their prior abodes. They were both sentenced to death. John was hanged in 1893; Sarah was paroled in 1911.
10. Jealous Girlfriend And Her Boyfriend—Both Of Them Satanists—Take A Girl Into The Woods And Smash In Her Skull
Eighteen-year-old Christa Pike was a high-school dropout from West Virginia who'd met Tadaryl Shipp in the Job Corps. They bonded over mutual attraction and a shared fascination for the occult. In 1995, she fell under the suspicion that a girl named Colleen Slemmer was plotting to seduce Mr. Shipp and take him away from her. So one evening Pike, Shipp, and a friend took Slemmer out into the woods under a false promise of smoking weed and making peace. Instead, they tortured her over the course of a half-hour, carving a pentagram into her chest in the process. Pike ultimately crushed Slemmer's skull with a large block of asphalt. She kept a piece of the skull in her pocket and even showed it around school. Dumb move. Shipp received a life sentence, while Pike was sentenced to death. While in prison, she allegedly attempted to choke another inmate to death with a shoelace.
11. Female New Orleans Cop Falls In Love With Criminal, Shoots Three People Dead With Him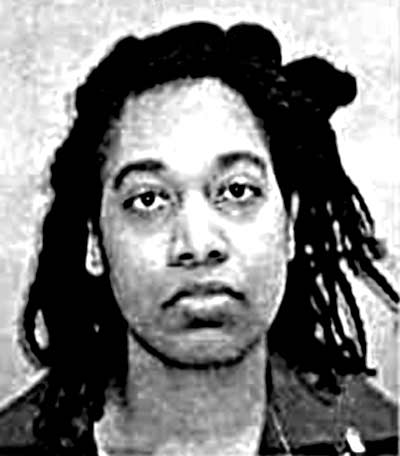 Although Antoinette Frank had failed two psychiatric screenings and had been caught in numerous lies on her application to become a police officer, she was eventually hired anyway because the New Orleans Police Department was seeking to diversify their squad. She eventually became smitten by drug dealer Rogers Lacaze and reportedly started taking him with ride-alongs in her police car as they both robbed victims at gunpoint.
In the early morning hours of March 4, 1995, Frank and Lacaze broke into a Vietnamese restaurant using a key she'd stolen and proceeded to murder two restaurant workers and another police officer. Both Frank and Lacaze were convicted of murder, and Frank is currently one of only two women on Louisiana's Death Row. It is also thought that Frank murdered her own father and buried him under her house, but charges were never pursued in this case. A detective would later describe Frank as the most cold-hearted person he'd run across in 30 years on the job.
12. Sadistic English Lovebirds Torture The Fuck Out of Mentally Disabled Man And Send Him Plummeting To His Death
Sarah Bullock reportedly laughed as she stomped on the fingers of a mentally disabled man who was clinging desperately to a ledge. He lost his grip and fell 100 feet to his death. Bullock was only 16 at the time of this murder.
Thirty-nine-year-old Steven Hoskin had an IQ lower than 99.5% of the population. He willingly accepted Bullock and her boyfriend Darren Stewart into his flat in the English town of St Austell. Instead of reciprocating his generosity with kindness, they proceeded to burn him with cigarettes, force him to wear a dog collar, beat him up, and take pictures of him sitting in front of a wall they'd painted with phrases such as SCUM BAG and SHOULD BE HUNG.
One night in July of 2006 they tortured Hoskin for an hour and a half, force-fed him 70 acetaminophen tablets, made him falsely confess to being a pedophile, and then marched him to the viaduct where he fell to his death after Bullock stomped on his fingers.
Stewart and Bullock then returned to Hoskin's apartment, had sex, and then notified authorities that Hoskin was missing.
Although Bullock was clearly the murderer, she only received a 10-year sentence while Stewart was sentenced to 25 years. The judge who oversaw their sentencing verbally eviscerated the pair:
Your victim was a highly vulnerable man with severe learning difficulties. He was subjected to substantial mental and physical cruelty in which he was violently assaulted, degraded and humiliated. A dog lead was put around his neck. He was dragged around and forced to lick spilt drink from the floor. Cigarettes were stubbed out on his head. He was then walked onto the railway viaduct where he was forced to climb over the rail and fell to his death. You literally bullied him to death.
13. Devil Worshipers Claim Satan Told Them To Stab A Man To Death And Drink His Blood
German Satanist Daniel Ruda was so completely, like, totally into Satan that he had his own teeth filed down so that he'd appear to have fangs. He met his eventual wife Manuela after placing this personals ad:
Vampire seeks princess of darkness that hates everyone and everything.
In July of 2001 they invited a coworker to their apartment. Daniel claimed they selected him to kill because he was "so funny and would be the perfect court jester for Satan." After he arrived at their flat, they smashed him with a hammer and stabbed him dozens of times. They then carved a pentagram on his chest, drank his blood, and engaged in sweet lovin' right next to his cadaver.
Manuela insisted that although they deliberately killed the man, it was not murder:
It was not murder. We are not murderers. It was the execution of an order. Satan ordered us to. We had to comply. It was not something bad. It simply had to be.
Although Daniel remains in prison, Manuela has been released and is living under a new identity. She has apparently cut off all ties with Daniel—and presumably with Satan as well. At press time, Satan was unavailable for comment.