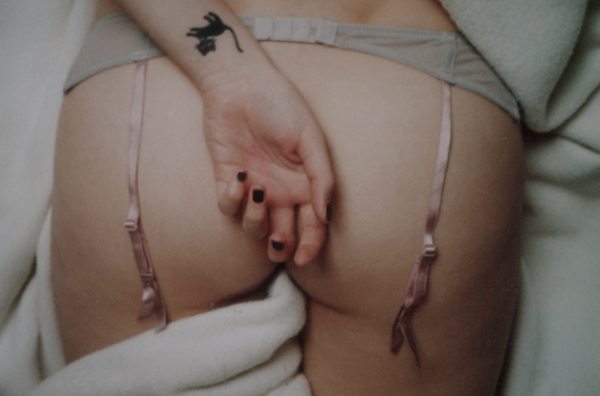 I spend as much time as the rest of you in mismatched bra and panty sets, if I even bother to wear a bra at all. That being said, I have an entire drawer filled to the brim with lingerie that I yank on for various occasions depending on what I'm fantasizing about. Do you want to spice up your sex life or at least have a few "costumes" on hand to surprise your lover, fuckbuddy or whatever? Good. You definitely should. Here's a primer on my favorite types of lingerie and when to wear them; I even polled a few dude friends for their faves. Of course, always wear what makes you feel sexy – is it any of these?
The cheaper and sluttier the better with this one. Wear this when you wanna talk real dirty in bed and keep it on hand for future sexy photos.
I wore a pair of split-crotch panties under a full skirt to a movie with a dude so he had easy, instant access. Have you ever been fingered in a public place? These make it easy and fairly discreet.
"If a girl wears stockings I will lick from bottom to top," says a dude friend. Be sure to get the ones with a sticky top so they don't slide down your legs the whole night. These are super fun because you can wear them out under your dress and "accidentally" flash him a peek or two. He'll be thinking about sexing you the whole night, so wear them to a party and make it 1000% more fun. A little torture never hurt. American Apparel's stockings are my favorite.
White cotton panties
I think high-waisted white cotton panties and nothing else is sexy as fuck. It's very "pinup girl at home." Wear them with tousled curls and throw his shirt on top the next morning for a wholesome, adorable look. I legit buy mine at Walmart. I'm talking Fruit of the Loom shit here.
What is it about red that makes men crazy? I think they must be like bulls. When they see it, they're like "I have to charge at this target and fuck it immediately." I like red lacy panties or a red lace cami and matching shorts; red can be classy or super trashy.
Only high heels
OK, so it's not lingerie, but showing up in the bedroom in nothing but heels has never, ever failed me. The higher the better.
A simple soft cotton romper is perfect for weekend mornings lounging around in bed. Are you making him post-hookup eggs? (Or is he making them for you? He should.) Do it in one of these.
Getting ready for a big night out? The kind of night where you spend an hour on your hair and makeup and your dude is just chillin' on the couch waiting? Wear a lacy slip while you primp. It's a little retro, a little sweet and totally sexy. You can get them for a few dollars at the thrift store, and they come in handy under sheer dresses.
Black lace thong and white tank top
This combination never fails. If you're not a thong girl, boyshorts in a lacy material will do. It's the "girl next door" look that literally ever man goes weak in the knees for. My friend's husband has stated many times that this is his favorite look.
There's a reason the old-school Calvin Klein sets are back in style. Sporty-style lingerie is hot in a tomboy-who-loves-to-fuck kinda way. Wear this under your comfy clothes when there's a big game on TV and surprise him with flashes at the commercial breaks.
Get a sheer white or nude bra just a teeeeeeeensy bit wet and watch his eyes pop out of his skull. Trust me on this. Wear it before (or after) shower sex.