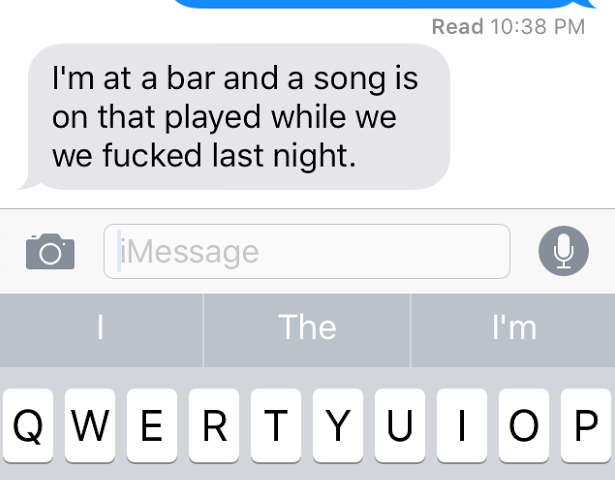 Last night I was awakened with a story idea, and the little bird of inspiration wouldn't be satisfied until I woke my ass up and wrote it down on my phone to revisit in the morning. What was that oh-so-important idea, the one that woke me from my slumber just so I could give it its due?
"The A-Z of sexting."
Yep, that's right. "Jillian, write about sexting again!" chirped the inspiration bird. "You know all about it! You're basically an encyclopedia of dick pics and easy ways to get a dude all turned on and shit! Why not share your wisdom with others?"
Not a bad idea, honestly. Open up your notebooks, students, and let's get to work.
A is for Angles.
If you're sending a sexy photo to someone, it's good to know your best angles. For girls, lying on your stomach and taking a photo of your ass in cute underwear always works. For dudes, figure out which poses make your junk look its most appetizing.
B is for Booty Call, which is what sexting often leads to.
Sometimes, though, sexting can replace the act of the booty call. You can get off "with" someone without having to have another person in your space.
C is for Critique my Dick Pic, the ultimate resource for taking the best dick shot you possibly can.
Run by @moscaddie, it's a crucial reference manual for literally any dude. She critiques dicks with love and a trained eye.
D is for Dirty.
Tell that dude you want him to drag his cum across your face. Why not?
E is for Enthusiasm.
No one likes having sex with a dead fish! And no one likes sexting with one, either. Don't be half-assed about it. E is also for Emoji; it's not nice to respond to nudes or sexy texts with only an emoji.
F is for Fun.
Because sexting is fun. It's pretty much the most fun you can have on your phone besides playing the Kim Kardashian Hollywood game. It's like foreplay that you can do (basically) alone, so it's perfect for introverts!
G is for Garters.
A flash of stockings and garters via photo or video is like an instant boner for most dudes. It's OK if you, like me, only wear them for about 5 minutes before yanking them off.
H is for Hard.
Dicks get hard, obviously, and talking about how hard you are/how hard a dude was is an easy, never-fail sext. But also, sexting can be kind of hard – don't resort to clichés like "I'm going to fuck the shit out of you." Don't get stuck in Hackneyed (HA HA) descriptions and similes.
I is for Initiate.
Who starts the sexting? How do you even start? Maybe you recently had really good sex with this person and you want to repeat it. Text them that you can't stop thinking about when they _____. If you look really good that day, send a little teaser photo and get the ball rolling by hinting at what's underneath.
J is for Jerkin It
AKA what you do with your favorite sexts and/or videos after the fact when you need extra masturbatory material. Plus, asking "Are you touching yourself?" is always hot.
K is for kinky.
One of my dude friends said the best sext he ever got from a girl included her requesting that he "tie me up and tell me what a dumb slut I am." Even if you don't actually carry this out, it's still fun to fantasize about.
L is for Lame Sexting.
Dudes, going "what would u do to me if I was there lol" is not sexy. It's boring, it's half-assed and it puts all the focus on you. Don't be a lazy ass.
M is for Mistakes.
Be sure you're sexting the right person and not your roommate, coworker or a family member. It can happen!
N is for Natural Light.
It's always best. Don't send me a pic of your dick in a dark room like you're a troll or a mushroom. Use light to your advantage.
O is for One-Handed Typing.
Which is what you're doing if your sext session is working.
P is for Privacy.
Don't put your face in your nudies if you're worried about the other party sharing them.
Q is for Questions.
A little sexy Q & A is fun and informative. You can figure out what your partner likes simply by playing a game of 20 Questions.
R is for Reciprocate.
Studies show that women are more likely to send sexy texts than men. Ladies, it's not fair that dudes get to receive all the fun photos and texts you're sending; they need to give it right back. Sexting is a two-person game.

S is for Spell Check.
Get it right, get it tight. (That sort of applies, right?)
T is for Tits.
They never fail. You've got a great pair, so show them off. A few classic poses include:
• Arm over bare chest
• Bra pulled down so just a little bit of nipple shows
• Bra half-on, half-off
• Tanlines. (This is my go-to.)
U is for Unique.
Sext like you talk. Don't get too flowery, because no one wants a Danielle Steel novel in their text messages. Be yourself!
V is for Videos.
Never underestimate the power of a sexy video. Another dude friend once got a video of a girl doing yoga poses naked and he "jacked it a million times to that one."
W is for "Wet."
Why is wet such a sexy word? Saying how wet you are/how wet you want to make your partner is simple and forthright. Also, sending photos when you're actually wet, like emerging from the shower or lying in the bath, is never a bad call.
X is for X-rated.
What else would it stand for? It's just texting, so get as dirty as you want. Use words you might not say out loud. Go crazy.
Y is for You're Hot!
Don't be shy. The person on the receiving end of your sexts thinks you're hot as balls, so embrace it!
Z is for … jiZZ? (OK, I tried.)