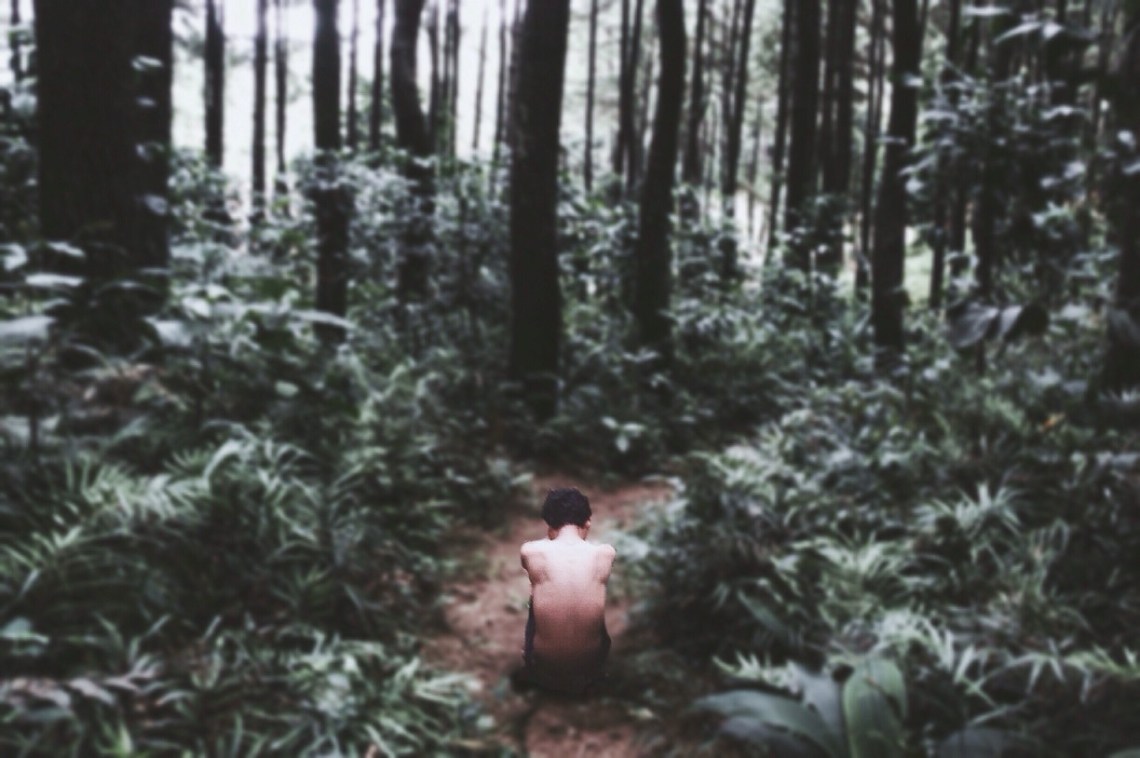 1. HOLY SHIT, I GOT RAPED
"We watch a movie at her place and begin to plan the rest of the night, when she called me up to her room. She had a knife to her stomach and told me that I didn't have sex with her, she would disembowel herself. Fear is one hell of a motivator, so I did what she asked and she figured it out. She could hurt herself and I'd do what I could to stop her. Hiding knives didn't work because she somehow got a fucking gun, then moved to threatening to crash the car if she couldn't go down on me. I did not tell anyone for a long time, because I didn't make the connection of rape. Two and two just never came together for me. Once I did, it kind of changed the entire aspect of it from 'She's nuts' to 'Holy shit, I got raped.' That does something to you."
2. SHE STARTED HITTING ME AND KICKING ME
"I go to slap her hand away, the other hand grabs it and pops it in. I try to pull out, but she has suctioned herself down on top and she's got her legs wrapped behind my knees. She starts to gyrate and I realize that I now need to change my strategy. I rolled us both over, feigning like I wanted to be on top. Then, at the opportune moment, I pulled out, shifted right (off of her), and plunked myself face down, peener safely trapped underneath my belly. She was quite angry about this sneaky move, and she started hitting me and kicking me. I tried to block these attacks with my hand, which she then grabbed and tried to use to 'finish herself off.' So I tucked that underneath me too. She told me off for a while, then went into the bathroom to puke again."
3. I WOKE UP IN THE NIGHT TIED TO HER BED
"I woke up in the night tied to her bed. I remember my dick being hard even though I didn't like constriction around my arms or legs. It's always been a boner-killer for me. My dick was rock-hard. I don't really remember what she said, but she cut her name into the bottom of my dick, tried to do her signature I think. She didn't cut very deep, but it fucking hurt. Her mom wasn't there, I screamed, she kept going. She then sucked on my bleeding dick and fucked me. It was rock-hard the whole time. I assume she had gotten some Viagra or something for that, and her mom had a prescription for muscle relaxers, so I also assume she used those. I beat the ever-loving fuck out of her when she untied me. No hits to face or neck, but if she were carrying a baby it would have miscarried. I cried and beat her but got weak and tired out. The way she looked at me through her sobs… I think she liked that too….Hard to type this."
4. THE COP LAUGHED AND HUNG UP THE PHONE
"So this happened to me 2 years ago. I was drunk on Bourbon Street in New Orleans. I lost my friends and started wondering down a side street. I was forced into the back of a black car. There was a dramatically overweight black woman in the back seat. She said, 'Let me see it.' Grabbed my crotch. I was really drunk so the details are a little fuzzy, the next thing I remember is being dropped of in the middle of nowhere with my dick out. I don't know what happened, but I wasn't hard when I realized what was going on. It took me 7 hours to stumble/beg/walk back to my friends' place. They took my wallet and phone. Spent 1,500 bucks. 150 at McDonald's and 130 at RedBox. How the fuck does someone even do that…I tried to tell the police the next day, the officer said, 'I am sure you wanted it.' Laughed, and hung up the phone…Even though this was 2 years ago, it still is upsetting to think about…."
5. SHE LITERALLY PINNED ME DOWN AND FORCED ME INTO HER
"She was a lot bigger than me. I can't exactly lift her up off me. She knew that. And she literally pinned me down and forced me into her. I kept telling her to get off but, she wouldn't so I just gave in and let it happen. I'm honestly conflicted by the whole thing. On one hand, I had sex with her a lot so what's the big deal that it happened again? On the other hand, it pissed me off. Being pinned down like that was so fucked-up.
6. I WAS NEVER THE SAME SINCE
"I was drunk and went home to bed and passed out….I woke up at one point with her on top of me. I woke up later and was more able to react and shouted at her….I started freaking out . Tried getting out of my room but in my drunken confusion I couldn't find the door. She left.…The girl never came back to hang out with us again. I was never the same since. Just a general distrust of women."
7. BEFORE I CAN COMPLETELY GATHER MY THOUGHTS, SHE HITS ME AGAIN
"She looks me in the eyes and tells me to fuck her. I've run out of excuses and stumble on my words…I attempt to explain, to reason why I don't want to but she has none of it. She hits me….Before I can completely gather my thoughts, she hits me again. I'm stunned, confused, and hurt that someone I trusted and like would do this to me. Why? I'm still hard from before, so she grabs me and puts me into her. I don't really remember a lot of what happened next—how long it lasted or if I said much. However I do recall two things: that she mostly just laid there and made me do all of the work and that I didn't come even close to orgasming. I didn't enjoy myself. It wasn't fun."
8. SHE PULLED A KNIFE OUT OF THE KITCHEN DRAWER
"So I was 11, around my friend's house for a birthday party. My friend was 14, and we all lived on the same street so there was a fair few of us there, including this 15-year-old girl….She starts talking to me for the first time since I got there and asking me all kinds of questions. It was the first female attention I'd ever had and it was quite bizarre for me, but I talked to her like normal. Then she asked if we wanted to 'mess around' upstairs. I said no—I mean I wasn't interested in that sort of stuff yet. She kept pushing and pushing, and then, getting nowhere, pulled a knife out of the kitchen drawer and said she'd hurt me if I didn't go upstairs. So I went upstairs, thinking if I don't I might get stabbed or cut up, and she made me do all kinds of stuff to both her and myself. It was a horrible experience. Fucked up my early teenage years, never been able to have nice fulfilling sex, always felt girls only wanted sex and nothing else but I didn't even want to have sex after that."
9. IT WAS SURREAL
"I woke up and she was giving me a blowjob. It was surreal. I didn't want to get with this woman, I hardly knew her and she never gave the slightest bit of interest when we crossed paths, and nor did I to her. This progressed into her climbing on top of me and having sex with me without a condom quietly until I came. I didn't make a sound because it would've been so embarrassing getting caught by my sleeping friend. She got up and left and we never spoke about it."
10. MY 'FRIENDS' SPIKED MY DRINKS
"This tiny girl I had zero interest in had been sort of stalking me all night, and I clearly gave her every signal up to including, outright saying please stop following me. At some point, a group of friends (maybe a half-dozen people at a party with 100+ guys and girls) realized this, and thinking it was hilarious, started secretly spiking my drinks and getting me to take shots. With that sort of influence, I got super drunk….My first memory that morning? I woke up butt naked, with her sitting on my lap trying to get me awake for 'more.' Of course I got the fuck out of there, but to this day that's a funny story that everyone who knows about it tells."
11. SHE DRUGGED ME AND RAPED ME
"Me and some friends decided to make a spur-of-the-moment trip to Miami, FL. We went out to a few clubs and the last thing I remember was talking with this girl. I was not drunk by any means, had about 3 drinks in the past 2 hours. I woke up in her place and had no idea what happened. Turns out she drugged me and raped me, my friends saw what was happening but didn't stop it, they thought it was OK for her to take advantage of me. I told my friends that she raped me and they just brushed it off. They said I was being unreasonable—I got laid, I should be happy."
12. I HAVE BEEN RAPED SEVERAL TIMES BY MY AUNT
"I have been raped several times by my aunt. It started after she left her husband and moved in with my parents. It is known in my family that I am a very heavy sleeper….I went to sleep and woke up to her on top of me having sex with me. I completely freaked out and she told me to shut up or my parents would find out. I told her I didn't want to do it and she said "if that's true you wouldn't have a boner, you liked it." It happened about 3-4 more times. I was scared to tell my parents….About nine months after it started she got pregnant. Not sure if I fathered my own cousin, but it is entirely possible.
13. MY FRIENDS MADE A JOKE ABOUT ME GETTING RAPED
"I had been seeing this girl for about a week. I had a party at my house and got very drunk and high. At some point were in my room and she asks if I want to. I was a virgin and said I don't want to because I'm so fucked-up. She didn't care and pushed me onto my bed and fucked me bareback. I was too drunk to do anything and I can't even remember it except going in. All of my friends laughed it off and made a joke about me getting raped. I laughed along because I didn't know how else to handle it, but I've been unable to open up to any girl since."
14. I WAS ROOFIED BY A WOMAN AT THE BAR
"I was roofied by a woman at the bar, blacked out after 1 drink, and just to note, I'm a heavy drinker and 215 pounds of justice, so no, 1 rum and coke couldn't have possibly done it. I woke up in her bed the next morning. Nobody believes me. My ex-gf knows the woman as an aquaintance (small town) and makes fun of me for chasing a 40yo, a 5 at best. I have no idea what happened between 9pm and 8am."
15. SHE REFUSED TO LEAVE UNTIL I HAD SEX WITH HER
"I have never shared this with anyone. I feel like this needs to be said. I don't know if it'd truly rape or not. But for prom my senior year I had to take a very unattractive girl to prom so my friend could go with her very attractive friend. Anyways she makes unwanted advances all night like talking dirty and grabbing my junk. I was just uncomfortable and wanted to bug the fuck out. On my way taking her home she starts to unbutton my pants and grabs my dick and I take her hand off of me. We get to her house I tell her to get the hell out. She refused to leave until I had sex with her. She said if I didn't she would call the police on me and say I raped and beat her. I tried to argue and get her out of my car and I didn't want to fight her because my parents raised me to never harm women so I didn't know what to do. So I just had to let it happen. When she got out of my car I just sped home. I remember crying on the way home. When I got home I took a shower, got in bed, and wished it never happened."
16. ACCORDING TO HER I MUST HAVE WANTED IT
"I was in high school, junior year. My girlfriend and I went to this party and there was a lot of drinking. Eventually some of the girls take the very drunk 17-year-old me into a side room away from the rest of the party. I was really drunk and light-headed at that point and wanted to lie down, and there was a bed and so I did. Next thing I know they are taking off my pants and taking turns giving me oral and I was trying to protest saying I had a girlfriend, but I was so drunk… and I couldn't control my erection, but didn't know why at the time. (I later found out one of my drinks had been spiked with Viagra.) I think there were three girls in the room with me? Maybe four? I know at least two of them had sex with me….At some point I woke up and there was another girl (I don't think she was one of the girls from before) riding me, bareback. I was a bit more sobered up and terrified that I might get her pregnant so I pushed her off me. She got all pissed off about that but I told her to stay the fuck away from me and kicked her out of the room and locked the door….The next day I had a bunch of really upset messages from my girlfriend, someone had seen me go into the room with the girls and figured what was going on and told her. She'd had another friend of hers drive her home. She broke up with me, of course, because according to her I must have wanted it because I'm a big strong guy and could have easily fought them off if I wanted to."