1. AMY SCHUMER PROVES SHE AIN'T CHUBBY
A reviewer named Jeffrey Wells described breakout comedienne Amy Schumer as a "chubby, whipsmart, not conventionally attractive, neurotically bothered female." Schumer responded with a photo of her decidedly fine, toned, and resolutely non-chubby ass:
https://twitter.com/amyschumer/status/565996404863434753?ref_src=twsrc%5Etfw
2. SHE DRAWS PICTURES OF SAD NAKED MEN WITH TINY PENISES
After receiving super-creepy messages from guys on Tinder and OKCupid—charming one-liners such as "Your boobs are nicer than my mom's"—artist Anna Gensler decided to take matters into her own creative hands. For every guy that sent her a creepy message, she sent them back a drawing of them naked with a tiny penis.
"I feel like this gets me in trouble a lot, but when someone does something I think is rude, I always want to give them a taste of their own medicine," Gensler explains. "It was the most immature thing I could think of, because their pickup lines are the most juvenile, basic things, but also still oddly offensive." Gensler posts the drawings on her Tumblr and Instagram accounts:
Many other sites routinely shame dating creepers. There's Tinder Nightmares, Online Dating Is Patriarchy, and Bye, Felipe!.
3. HER ARM GREW BACK JUST SO SHE COULD GIVE YOU THE FINGER
Comedian Damienne Merlina was shocked and hurt after fellow comic Ari Shaffir called her "so annoying" on a Comedy Central show and accused her of having "that fat smell." Merlina has only one arm, and Shaffir suggested her alleged body odor was due to having one arm making it harder to wash oneself. Merlina struck back by recording a YouTube video where her arm "grows back" just so she could give Shaffir the finger.
[youtube https://www.youtube.com/watch?v=eAl1vO8l9qw&w=854&h=480%5D
4. SHE BIT THE HEAD OFF A CUCUMBER TO FIGHT SLUT-SHAMING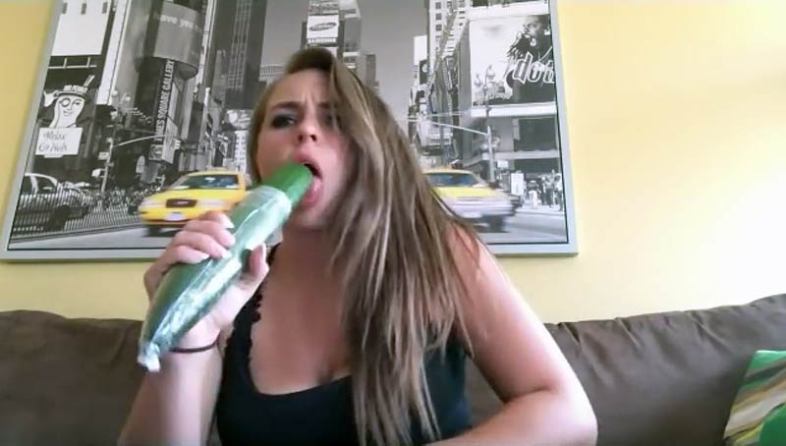 A voyeur filmed Alexis Frulling and two men having sex in a Calgary side street, then posted it online. After the video went viral on Reddit, Frulling noticed how her two male partners weren't getting slut-shamed but she was: "I don't see why I should get bashed for it when the guys don't get bashed for it." She decided to "own" the sexual encounter by posting the following video. Taking it up a couple notches (and quite a few inches), Frulling giggles on the video before biting off the head of a giant cucumber.
[youtube https://www.youtube.com/watch?v=DcIJnLfcC-0&w=854&h=480%5D
5. A TROLL-SHAMING FASHION SHOW
A group of women who call themselves "Troll Fighters" took the creative approach and wore images and sayings of their trolls on T-shirts during a triumphant and highly ironic fashion show:
[youtube https://www.youtube.com/watch?v=TgQBvyN8v7U&w=854&h=480%5D
6. SHE TOLD THEIR MOMS
Alanah Pierce is an Australian journalist who reviews computer games on TV. After being subjected to a barrage of disgusting comments by pervs and trolls and creepers who'd leave comments ranging from "all this video is missing is boobs" to explicit rape threats, she did some Facebook sleuthing and discovered that many of them weren't even adult men yet. So she informed four of their mothers about the nature and content of their sons' harassment. One mother responded, calling her son a "little shit" and apologizing profusely.
7. WHETHER OR NOT I'M 'STUNNING' IS NONE OF YOUR BUSINESS
Charlotte Proudman is one proud woman. At 27 years old, she received the following harassing message from a 57-year-old man on LinkedIn:
I appreciate that this is probably horrendously politically incorrect but that is a stunning picture!!! You definitely win the prize for the best LinkedIn picture I have ever seen.
Proudman publicly outed the creep, Alexander Carter-Silk, telling him that his message was "sexist and highly inappropriate in a professional context."

8. J.K. ROWLING DEFENDS SERENA WILLIAMS AGAINST BODY-SHAMING 'IDIOT'
The mega-gazillion-selling author of the Harry Potter series got retweeted 650,000 times for defending tennis superstar Serena Williams after an anonymous troll said that the only reason Williams was so good at tennis is because she's "built like a man." Rowling shot the troll down right quick and proper:
9. JAILING THE KING OF 'REVENGE PORN'
Charlotte Laws's daughter had her account hacked by Hunter Moore, AKA "The Most Hated Man on the Internet" and "The King of Revenge Porn." Moore had gained infamy as the curator of IsAnyoneUp.com, one of the Internet's biggest sites where jilted and bitter men post naked pictures of their exes. Against all odds and using tremendous effort over the course of two years, Laws was able to get arrested on charges of conspiracy and unauthorized access to a computer. Moore was sentenced to a minimum of two years in prison. Laws now refers to herself as "the Erin Brockovich of revenge porn."
10. CALMLY REFUSING TO HATE A HATER
After being attacked by a troll who used the "N" word multiple times on Martin Luther King Day, writer Ijeomuoa Oluo calmly responded with several lines from MLK about the destructiveness of hate. Using superior character and wisdom, she eventually ground down the troll until he admitted he was bitter over his mother's recent death. She even got him to apologize.
11. P!NK: HAPPY BEING 'SQUISHY'
When a troll called multiplatinum-selling music artist P!ink "fat" and that she should stop playing music in order to raise her "ugly child," P!nk responded with this classy and gracious gesture:
Willow said to me the other day whilst grabbing my belly-"mama-why r u so squishy?"And I said.."b/cuz I'm happy baby" pic.twitter.com/69wuVHg6QM

— P!nk (@Pink) April 13, 2015
12. MOTHER DEFENDS HER DOWN SYNDROME BOY AGAINST TROLL WHO CALLED HIM 'UGLY'
When a cyber-bully who apparently searched out the hashtag #downsyndrome merely to harass the parents of retarded children refered to Megan Mennes's boy as "ugly," Mennes slapped him down with cold dignity:
I knew this day would come. There's no shortage of trolls on the Internet who hide behind the anonymity of a screen name with the intent to be cruel, and I've seen their hostility many times before….Last Saturday, you targeted my son personally and instead of being angry, I'd like to give you some advice: Don't be a d*ck. It will come back to haunt you….
Sincerely,
A Proud Mama
13. RAPE THREATS ARE ILLEGAL, DUMBASS
When a Twitter troll referring to himself as "DaCloneKiller" told comedienne Sherri Shepherd that she should be raped in a dark alley, she did not block him. She instead filed a police report because the dumbass apparently didn't know or care that it's illegal to threaten people online.
14. POST-IT GIRL SPREADS HAPPINESS
A Canadian girl named Caitlin Prater-Haacke noted to her dismay one day that someone at her high school had broken into her locker and used her iPad to post on her Facebook that she should commit suicide. Rather than killing herself or even going into a deep depression, Haacke started a campaign where she placed colorful and inspirational Post-It notes on students' lockers:
[youtube https://www.youtube.com/watch?v=0zLteIn7IS0&w=640&h=360%5D
15. YOU LOOK DISGUSTING
When gorgeous former model Em Ford received a barrage of insults after posting photos of her without makeup, she responded by posting a video called "You Look Disgusting" that shows her making the transformation from having no makeup to being fully painted and powdered. At last count, her revenge video has over 16 million views on YouTube.

[youtube https://www.youtube.com/watch?v=WWTRwj9t-vU&w=640&h=360%5D