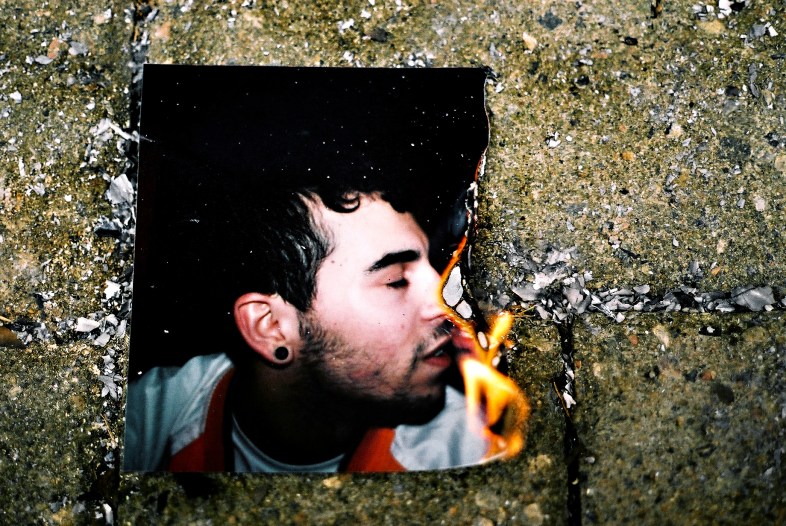 1. MR. SALAMI BREATH
Guys, nothing dries us ladies up quicker than bad breath. We were willing to take it all the way into the bedroom with you until you opened your mouth and it smelled like someone took a shit in it. Remember—toothbrushes are your friend! As are Plackers! And mouthwash! And breath mints right before kissing! Why on Earth didn't your mother tell you this?

2. THE CANNIBAL
This is the guy who seems like he's trying to eat your face rather than kiss you. He's way too rough, his mouth is way too open, and he'll sometimes bite your lip or tongue hard enough to draw blood. If he draws blood, kick him in the balls and then tell him to apologize—in that order.

3. HELICOPTER TONGUE
He shoves his mossy tongue into your mouth and then swirls it around rapidly like a helicopter propeller. It's almost like he treats your mouth and throat like they're a clogged drain and his tongue is a plumbing snake. If he tries this move or any variation of it, disengage, laugh in his face, and say, "What the hell was that?" Trust me—he will be shamed into going softer.

4. COLD TONGUE
I don't know if there are medical explanations for this, but every so often you run across a guy whose tongue feels like a body that's just been rolled out of a morgue freezer. Beware the cold tongue—it is not your friend. Tell him to drink a warm beverage or something.

5. NO TONGUE
Maybe they hate the French or something, but there are guys out there who don't realize that you're supposed to open your mouth and use your God-given tongue at some point in the kissing process. No tongue is almost as bad as too much tongue.

6. MR. DRY LIPS
If I wanted to kiss a pair of dry, cracked, scaly, reptile lips, I'd buy an iguana. Use some Vaseline or at least some Chapstick, dude.

7. THE JACKHAMMER
Once your mouth is open, he's jabbing inside it with his tongue it at a feverish pace of 200 thrusts per minute. This is when you exit his embrace and call his mother to tell her that her son is a terrible kisser.

8. THE GRUNTER
Why do guys make sounds when they're kissing? More specifically, why do they make piglike grunts like they're sitting on the toilet trying to squeeze out a dry turd? Fellas, at the very most, all we should hear from you is a soft "mmmmm" while you're kissing us—anything beyond that is gross.

9. THE PECKER
Your entire face is his bird feeder, and his lips are his beak. He pecks at your lips and your cheeks and your nose, expecting you to find it pleasurable rather than ridiculous. We did NOT fight the Civil Rights movement so that women's faces would be used like bird feeders!

10. THE FACE-LICKER
Great—you're dating a very affectionate Rottweiler! If a man ever tries licking your face—whether seriously or in jest—roll up a sheet of newspaper and bop him on the nose with it.

11. THE NOSE-LICKER
I once had a guy stick his tongue up one of my nostrils and just let it sit there for about 10 seconds. There was no second date.

12. THE DROOLER
We don't want your mouth to be as dry as beef jerky, but then again, no girl likes to feel like she's that little sink at the side of your dentist's chair that you're always rinsing and spitting into. Keep your saliva at a manageable level, boys. Drooling is only cute when bulldogs and babies do it.

13. EYES WIDE OPEN
There are few things creepier than kissing a guy for a long time, only to open your eyes and realize he's been staring at you the whole time. Peeping Toms are bad enough, but they're worse when they have their tongue in your mouth. Close your eyes—you're scaring us!

14. THE TALKER
Protip: When we're locking tongues, it's really hard to understand what you're saying. There's a simple remedy for this: SHUT THE HELL UP WHEN YOU'RE KISSING US.

15. THE TEETH-BUMPER
Not sure why any man on this planet thinks it's erotic to smash his teeth up against yours like he's trying to break them, but these men exist! I know—from horrible personal experience. Keep your teeth to yourself—clacking them against mine just makes me want to hurt you.

16. THE DENTAL ASSISTANT
This is the dude who runs his tongue all over your teeth, gums, under your tongue, and on the roof of your mouth like he's searching for food particles. Tell him you are perfectly capable of flossing; if he doesn't get the hint, spit in his mouth.

17. BRILLO BEARD
Beards are fine up to a point—and that point is where it's so bushy and thick and wiry that you can't even get to his soft lips. Trim that shit, man.

18. THE TONGUE-SUCKER
I will never know why God created men who think it's a turn-on for them to suck your tongue into their mouths almost as if, you know, they're sucking on a dick. That's what dicks are for—if you want to suck one, go do it. But I have a tongue, not a dick. Don't suck it.

19. THE LUNG-SUCKER
He clamps his lips onto yours, makes sure there's an airtight seal, and then starts inhaling your entire face as if he's an industrial-strength vacuum cleaner trying to swallow your lungs. If he sucks your lungs, he will suck as a boyfriend. Begone with him!