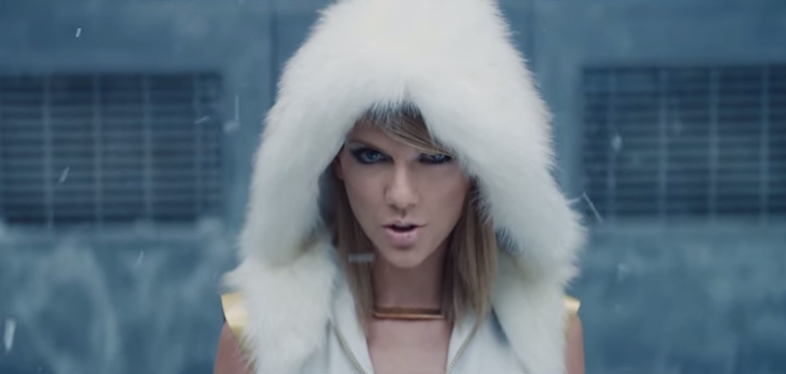 1. That. Jumpsuit. Though. – I'm going to be honest, I had no idea what Balmain was or who Olivier Rousteing was until a few months ago. I was raised in a family where shopping meant going to Sam's Club for a one-stop extravaganza, and on a recent visit to New York, my mom legitimately thought the Fendi on Madison Avenue was the Italian Embassy. That being said, anyone with eyes could tell you that our Sway SLAYED in that little white number last night. Jumpsuits are everything right now, and Taylor couldn't have looked better.
It's also really cool to see her killing it on the red carpet with such intensity and consistency because, as a fan of hers since Day One, I remember when her game wasn't quite as strong. Don't get me wrong, I thought she fit the part of the Country Cutie to a tee, but there has been definite and noticeable growth since her days of big hair, sundresses, and cowboy boots.
2. Squad Goals – If you can sit there and tell me Swifty and her Bad Blood Crew aren't the actual epitome of squad goals, then you are either insane, a liar, or both. Not only do they look amazing together, but more importantly, there seems to be a genuine affection and camaraderie between them. It's so inspiring to see powerful young women in ~the biz~ supporting each other, especially in an industry that can be super cutthroat. I mean, that's kind of the whole point of "Bad Blood."
Over the years, Taylor has accumulated quite an extensive collection of beautiful and talented friends, and it would be easy to assume that it's all for show. But, time and time again, she and her battalion of superstars, supermodels, and superheroes (probably) prove that they're the real thing. Also, they look amazing in Instagram photos, giving us all something to aspire to at our next slumber party.
3. Humility – Every time she wins an award, Swizzle seems genuinely shocked and thrilled. This has been going on since the beginning of her career, and she's always caught a lot of crap for it. Honestly, I've never really understood people's misplaced outrage at her "OMG" face. Even if it is a little exaggerated, would we rather she do the opposite? Also, it's a jungle out there, and you never really know when someone's star is going to fade. I feel like it shows self-awareness and general comprehension of the nature of the music industry that Taylor doesn't expect to stay on top forever. 
Taylor won 8 awards, and in her acceptance speeches, she thanked her fans for being "the reason this year has happened the way that it's happened." Cynics might say she does that just to stay on top, but her actions prove otherwise. If she were just crediting the fans to keep up appearances, she wouldn't have such genuine and touching interactions with them on a near-constant basis. Taylor's personal relationship with her fan base is adorable, amazing, and the reason why she will always be our #1 hon.
4. Business Savvy – Another thing that has become clear through Swifty's acceptance speeches is how on top of her game she truly is. Girlfriend has her finger on the pulse of the music industry. Sure, she writes insanely catchy songs and does delightful choreographed dances and attends events looking like an actual angel from heaven, but she also understands the ramifications of every decision she makes. As tragic as it is for me personally that she removed her music from Spotify, Taylor made it clear in her speech at the AMAs that she didn't make that decision lightly. She thinks about artistry and the importance of music being paid for and consumed in albums, and I can't fault her for that.
Then, a few nights ago, Sway showed her savvy again when she talked about the fans supporting her decision to make the change from country to pop. She's always toed the line between the two genres, but 1989 is decidedly in the realm of the latter. Obviously, as she was writing the album and presenting the tracks to her label, she had to consciously choose to take this step. I actually have an audio engineer friend in Nashville who has done some work for her label, Big Machine, and he told me they were worried about such an obvious departure from her previous discography. But, Taylor stood behind her concept, and obviously it has paid off tenfold. Get it, girl.
5. Getting Out Of That Relationship Spotlight – Even though she sings about love and relationships in the majority of her songs, last night felt significant for Taylor because it was the first time they let her work take priority over her dating history. I didn't actually watch the event live, but based on the coverage online and clips I have watched, I am pretty sure we made it through a whole awards show without someone overemphasizing her history with Harry Styles, (throwing back) John Mayer, or (really throwing back) Joe Jonas. She is one of the most talented and successful women working right now, and it's insulting for us to keep reducing her to her ex-boyfriends and how many times they glanced in each other's direction.
I also fully appreciate the fact that we gave her budding relationship with Calvin Harris the exact right amount of attention. We all collectively went "aww" when they hugged, took a screenshot Ed Sheeran's hilarious proud papa face, and then went back to re-watching the "Bad Blood" music video for the 293498234th time.