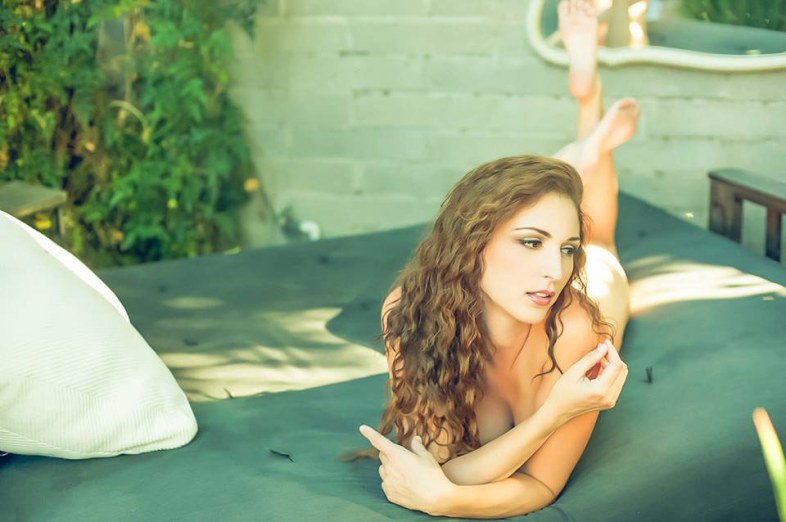 Carlotta Champagne's erotic modeling has appeared in photo shoots and videos around the world. She has been modeling professionally since 2006 and says her ultimate goals are to "To be the most photographed nude model on the web and to make a very lucrative celebrity sex tape." It's good to have goals!
Her gorgeous, curvy, and all-natural body has been featured in photo shoots for Playboy, Penthouse, and Maxim. She also has appeared fully clothed as a guest on ABC's Good Morning America. She is also a frequent guest at the Playboy Mansion, where on "any given day there are always at least a dozen pretty ladies just lounging around the pool." Carlotta jokes that while at the Mansion, she has a tendency to play with her friends' boobs in the grotto just to be "ridiculous."
Carlotta, describes herself as a "professional muse and says "There really is no better job than being able to inspire artists and be immortalized through their creative vision." She has a degree in fine art, and her first nude modeling was done as part of a friend's college photography project. Her artistic sensibility manifests itself in quirky ways, such as her penchant for "making purses and accessories out of condoms" and twirling tassels on her butt and nipples while hula-hooping. After being a member of a group called Five Naked Models, she realized the problem was that they weren't funny enough, so she assembled a group of her besties called the "Rag Mag Rejects" who occupy a unique entertainment niche—they are erotic models who also do sketch comedy.
She is different from your typical erotic model in that she has no tattoos and has not undergone any plastic surgery. She also rocks pubic hair, because it makes it easy to do classic retro photo shoots that emulate an era when women were "all natural" down there. For a girl in her line of business, it's a built-in perk that her favorite thing is to be nude—which sometimes almost gets her in trouble. She told Playboy about a hilarious naked encounter with local police:
I'm always naked! I get in trouble constantly because I'm naked. I had a run-in with a police officer once, which is really awkward. My girlfriend was shooting with a photographer in this really fancy house they rented to do some glamour work and they were shooting in the backyard and they had a privacy fence, but I guess the neighbor saw and freaked, called the cops and said she was shooting child porn or something, which is crazy because she is in her mid-20s. So a police officer shows up and they call me downstairs because they need a piece of ID and I run downstairs completely naked and there's a cop waiting for me at the bottom of the stairs, so that was a disaster. He looked at me and said, "Ma'am, do you want to put some clothes on?" After he looked at our IDs we all had a good laugh out of it; he even asked for our information on our websites and where he could find us.
She likes doin' it doggy style, dislikes circumcised men, and enjoys "Giving makeovers to the less fortunate." She even has a name for her vibrator: "Ol' Skippy." She doesn't believe in love at first sight, but she's experienced "lust at first sight" more times than she can remember. If she could have sex with anyone throughout history, she'd time-travel back to 1969 and do it with Jim Morrison of The Doors, whom she describes as "basically the hottest dude ever."
In her spare time she reads, paints, takes dance classes, and volunteers at a local no-kill animal shelter.
"Modeling for me is a dance," she confesses. "It's a form of expression and it is never the same, so everything around me-my surroundings, the people I'm collaborating with, even my wardrobe (or lack there of) is part of my inspiration." She boldly proclaims that "I'm going to do this as long as I can, as long as I still feel good about myself."
You can find Carlotta on her site, Instagram, Facebook, Twitter, and YouTube. You can support her on Patreon.