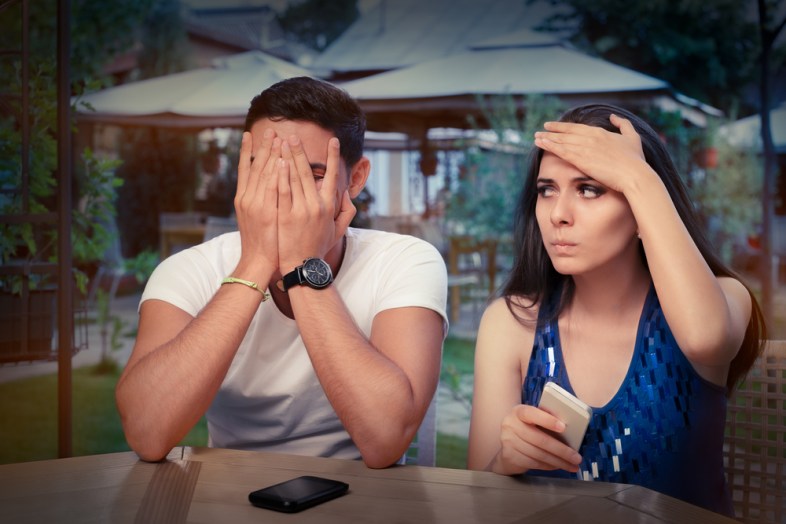 After telling him I didn't want to have sex with him, he still asked me out for a second date. Out of loneliness (or complete stupidity) – I agreed.
The second date was at a local pub. He was waiting – eating bar nuts, half way through a beer and wearing a Liberal party t-shirt. Before saying hello or even settling in, he said this (and I swear, it's true):
"Jenny, I know you don't want to sleep with me. I like you, so I found a girl who wants to just hook up. This way you don't have to worry about taking care of me."
How kind. A true scholar and a sir, he was. Without saying another word, I picked up my jacket and left.
I would like to say that was the last time I talked to him. However, following a breast reduction I messaged him (very much under the influence of morphine) and said, "hahahaha, new boobs." Then a selfie of my face, which was enough reason for him to never text back.
Dating when you're in your 20's (or ever, probably) is rough. Meeting someone, going out with them, trying to figure out who should settle the bill – kissing, not kissing. Trying to get out of the date, one minute in. Good guys (and girls) are out there. He exists, but you have to get through 300 swipe-left's first. And probably a lot of boys looking to see your boobs. These are all stories from boys I met on Tinder.
One guy talked the whole date about how everyone should have access to guns. He then showed me a video of him shooting a deer, beheading it and then barbecueing it after. I then continued to fake vomit.
The date ended with me saying, "I don't think anyone should have access to guns." Things went quiet – I got the tab and I don't know what ever happened to him.
The third date was with a guy who had scheduled a Tinder date before me and another one after me. He was a serial Tinder dater. He knew how to handle it though. He opened by offering me a drink – I declined. I always pay for myself on the first date (and preferably always). He asked me about school and work and if I had ever traveled. He listened to me, he talked but never gave any personal opinion. He later texted to tell me, "the best way to get laid on a date is to listen, never give an opinion and always say she's right."
He also said that one minute in he knew I wasn't going to sleep with him, so he texted another girl to meet him later that night.
I deleted my Tinder for a while and reactivated it in late February. Knowing I wouldn't get a relationship, let alone a date, out of it – I uploaded my picture in hopes of writing a blog post about how Tinder worked.
I wanted to know how many boys were looking for a hook up, a simple picture of my boobs (which I never did) and how many were looking for an actual date.
You'll be happy to know only 40 boys asked for pictures of my boobs, 24 asked to hook-up, and 7 asked for a date.
I never intended to respond to any of them – the plan was to keep it for a week and delete after getting the numbers.
I did respond to one guy. We met at Starbucks – I showed up early, bought my own drink, and waited while "casually" checking my makeup in my laptop screen.
He introduced himself and brought back a tea. We talked about the weather and mutual friends (which we had both obviously looked up on Facebook). He talked about his moms chicken lasagna and his cat. We talked for a few hours – neither of us made up excuses to leave. (He also never brought up guns or politics, bonus points for him.)
And we never stopped going on dates.
I couldn't post my Tinder stories, mostly because I became the .05% that found love on Tinder.
The moral of the story is – go on lots of dates if you want to. Most of them are probably going to be people you never want to (or should) go on a second date with. Or Maybe you'll find one who is kind and lets you change all the radio pre-sets on his car on the third date.
Good luck out there.

For more raw, powerful writing follow Heart Catalog here.