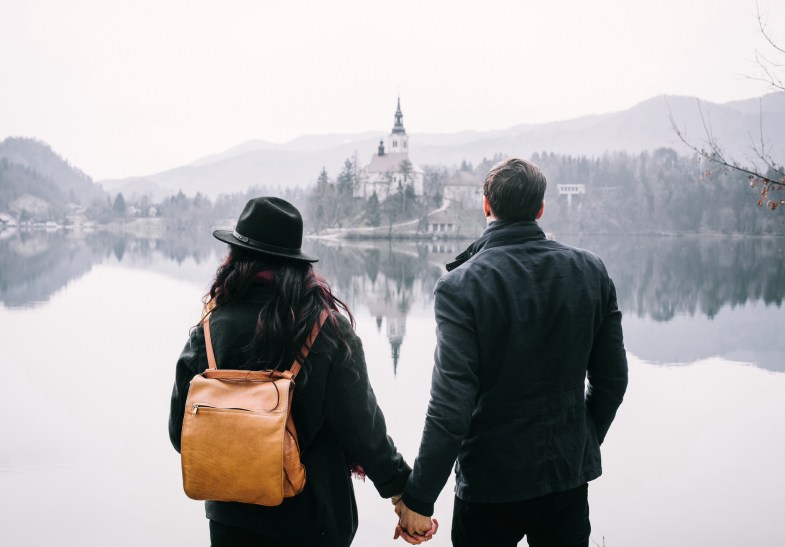 We've all been there, hoping and praying that whomever we are with at the moment would be the one to break all our walls, and to defy the social norm that not all men are afraid of commitment. So how do we get to know someone completely? Live with him? Get him drunk until he spills all of his darkest secrets? Or maybe cyber stalk the hell out of him until you know everything about your partner? Simple. You travel with him. This is the best way to know someone.  Travelling can make or break a relationship.
But before you jump the gun on this one, I'd like to quote and rephrase what Bill Murray said back in 2014, "If you have someone that you think is The One, don't just sort of think in your ordinary mind, 'Okay, let's make a date. Let's plan this and make a party and get married.' Take that person and travel around the world. Buy a plane ticket for the two of you to travel all around the world, and go to places that are hard to go to and hard to get out from. And if when you come back to the airport, you're still in love with that person, go marry that person."
That is one of the wisest relationship advice I've ever heard. Travelling together pulls the both of you out from your comfort zone. It's when you're a thousand miles away from home, you finally get to see who your boyfriend really is. It is now like staring at an empty canvass, waiting for the brush to etch it's mark.
Here's why you need to book that ticket for two.
1. You will get to see how he handles stress.
Travelling isn't all glamorous. In fact, behind a well planned out trip comes with a fair amount of stress; delayed flights, cancelled accommodations, lost money and passports, getting lost, missing out tours and the list goes on. But despite all the unfortunate events, is he one to lash out and blame everything on you? Or does he stay calm and grounded and look for ways to deal with the crisis?
You need someone who can take over the wheel when misfortunes happen and not someone who will run away.
There was never a time when my boyfriend and I didn't get lost when we went to someplace new. It was always a constant struggle for both of us when we arrive in a foreign country to maneuver around the crowds in the train station trying to guess which exit would be closest to our accommodations or to try and decipher street signs that aren't in English or in French. I am quite lucky that he's good with directions and would always take charge as to when to take the next left or right.
2. You will get to know each other better.
When you're travelling with your partner, you're basically with the person 24/7 minus the distractions like work and social obligations with friends. You will learn what makes him tick and what makes him laugh. He'll get to see you unmade, unkempt and maybe at your ugliest. You both will know how to push each other's buttons and be each other's best friend at the same time.
Séb, my boyfriend, knows how hangry (hungry + angry ) I can get when I don't get to eat right away. He can tell that even in the middle of appreciating the Palace in Versailles, I would suddenly get quiet and a frown will appear on my forehead. Another time was when we're climbing up a gazillion steps under the heat of the sun in a quaint village of Corniglia, Italy, he would be able tell I'm struggling when I'm starting to ignore him mid step. Or when I know that he loves night photography even when it's pouring hard in Florence, or that he loves to taste the local beer every time we travel. It's usually these small things that you get to learn more about your significant other when you're both on the road.
3. You'll find out soon enough if you make a good team.
There's no "I" in teamwork as what they commonly say. So when you and your SO work like a well-oiled machine when you're travelling, give yourself a high five. Not every couple can always agree what they want whether it's about which hotel, hostel or airbnb accommodation they will stay in or the most common argument would always be when and where to eat.
This was the case for Séb and I. I have more needs and specifications of where we normally stay in, but my boyfriend on the other hand, is the most flexible traveller I've ever met. Give him a mattress and a pillow and he's all good. No complaints whatsoever. But despite our differences sometimes, he and I actually make a good team. I'm usually the one who books our flights, accommodations and research on our travel activities. He teased me one time about printing more than a thousand pages of our travel itinerary for Europe! Oh yes, I'm a bit OC sometimes. Between the both of us, I'm more the organized one and would always prepare beforehand for any upcoming trip, while Séb would always take the lead with directing us where to go next. He's also quite good in understanding how the subway system works for that city which would take me several tries to get it right!
In every relationship, not everyone has the same set of skills that they're good at. It's usually how well you work with one another and make compromises along the way that can make your partnership work.
Travelling together will put your relationship to a test either to bring out the best versions of yourselves or the complete worst.
4. You will make amazing lifelong memories together.
Being in a different country with your favorite person is itself a memorable one. You will get to experience and witness together each other's "firsts". It could be eating a sandwich while admiring the view on top of Mt. Taranaki or when one of you gets into a bloody bike accident along the streets of Kyoto. It could be climbing up the Eiffel Tower together for the very first time or celebrating one's birthday in an authentic Tapas bar in Barcelona.
Building all these memories together whether it was a huge argument in the middle of Piazza della Signoria in Florence that ended in tears and sweet nothings or having the best night in Prague, while trying out some Absinthe on Charles Bridge. That by the way ended the evening with someone puking in her mouth! All these experiences put quality substance to a relationship. Have you ever noticed that when you come home after a trip, you will forget the number of steps you had to climb up to get to Piazzale Michaelangelo but you will never forget that perfect moment, sitting on the steps being serenaded with romantic songs in the background with your person, while enjoying the gorgeous sunset. It's true when they say that the greatest part of travelling together isn't about arriving at your destination. It's all about the wild stuff that happens along the way.