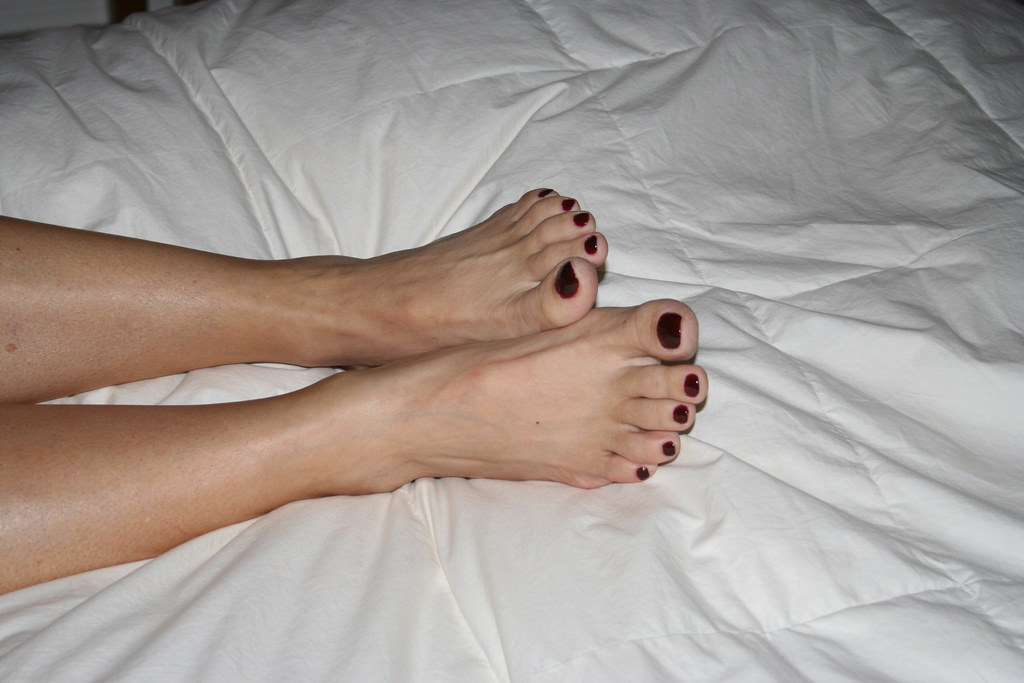 "Make me swallow your spit," he suggests, momentarily breaking the spell of our role-play.
I'm simply horrified. I look down into his hopeful, hazel eyes and manage to hock up a vicous loogie of such thick consistency that it hangs for a couple seconds before plopping into his waiting mouth. I can't help but cringe violently as he swallows—his body averse, his mind titillated.
"Good slave," I say. "How does it taste?"
He pauses a moment too long, so I reluctantly slap his stubbly face. "I asked you a question, slave."
"It tastes good," he pleads, "I like it so much."
I'm drawing a blank. I was never good at improv. I wish I had known beforehand I would be asked to play a dominatrix role. I would have Googled that shit—done some thorough research on theory and application. Instead the only preparations I made were exfoliating my feet with Bath and Body Sugar Chocolate scrub, giving myself a sub-par pedicure, and applying Lush Peppermint Foot Cream.
I was, after all, attending Manhattan's most notorious foot-fetish party.
I used to think the only erotic context of feet was in the mechanical act of a foot job, so I was stunned at my initial interview when the party organizer put my dirty, bare foot into his mouth and sucked hungrily on my toes. I squirmed like an epileptic experiencing a whole-body seizure and thought I had blown it, only to be told ticklishness is an exciting turn-on for many—himself included. I apologized for the unhygienic state of my feet (which had carried me through Times Square that day), only to be reassured that smelliness and odor are part of the appeal. He then calmly whipped his boner out and asked me to show him what I knew about foot jobs, which struck me as kind of unprofessional? Sensing my discomfort, he abruptly tucked his dick away and gave me the party time and address. I was thrilled to be hired.
My first session was with a gremlin in glasses who repeatedly told me how beautiful I was while placing my soles up to his face, inhaling the scent, and begging me to let him smell my crotch through my clothing. Assuming minimal adversity, I foolishly acquiesced. As soon as I felt his tongue sliver under my panties, my body recoiled and my mental alarm blared, "Herpes! Herpes! Herpes!"
My second, infinitely-less-harrowing session involved getting my feet massaged by a corporate lawyer while—through nostalgic recall—he processed the expected yet inevitably doleful death of his Dandie Dinmount Terrier.
I was next approached by a man who asked me to help hold his wife down while he tickled her feet with textured tools. I found this physical task perplexing but relatively straightforward.
This brings us back to the present when spit-swallow-dude, who—as a result of my mental freeze—realizes our time is up and reaches into his backpack to pay me: twenty dollars for ten minutes.
"Thank you." I awkwardly stuff the bill into my miniature cross-body, which I've officially assigned my foot-prostitute-cash-money-bag.
"You did a good job" he says, "I can tell it was outside your comfort zone."
I smile bashfully at his compliment, but know this is the end of my career as a "foot model." I tip out $60 to the cool, Asian girl at the counter and cautiously hail a cab in my precarious platform heels. By the time I get home the adrenaline has worn off, and I realize I'm slightly starving. I walk into Duane Read, choose a Klondike bar and hand the cashier a crumpled up twenty. I notice a hint of amusement in her eyes when she gives me my change. She most definitely thinks I'm a hooker. And the jingle: "what would you do-o-o for a Klondike bar" is most definitely playing in her head.
Lady, you don't even want to know.