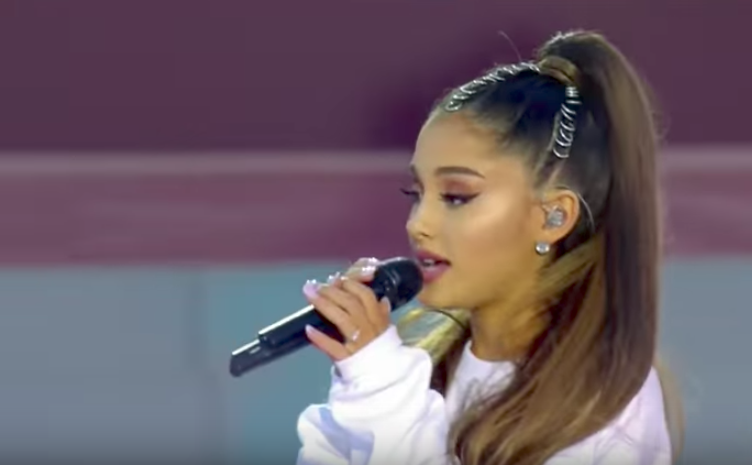 As a news reporter, I've learned the chaos going on in the world today will never cease to exist. But at the same time, it will never tear us apart. After the devastating attacks in Manchester just over a week ago where 22 people were killed and over 110 were left injured after suicide bomber Salman Abedi targeted Ariana Grande's gig in Manchester Arena, there was much speculation about the attacks. It takes a certain lack of conscience, vengeance and years of radical brainwashing to perform extremist attacks on innocent young people — mostly little girls who went from having the time of their lives to running for their lives.
The city of Manchester had raised its terrorist threat level to critical. Families are missing children, there is a high presence of police in prominent sections of the city and people are hurting more than ever.
But alongside the grief was an undeniable sense of community spirit. When something horrific happens, it only makes us stronger. When terrorists attacked France, 3.7 million people stood together in solidarity. When Sweden was attacked in April, the same thing happened. On July 7, 2005, suicide bombers nearly destroyed London. Today it remains the second most visited tourist destination in the world — and is run by a Muslim mayor.
After the attack, London Mayor Sadiq Khan said, "London has chosen hope over fear, and unity over division."
And now, Manchester is doing the same. Here are some acts of kindness the people of Manchester did and are doing to restore your faith in humanity.
1. Ariana Grande is offering to pay for funerals of victims
Although Miss Grande is known mostly for her provocative lyrics (i.e. "He giving me that good shit, that make me not quit, that good shit") and signature bunny ears, the pop star gained a whole new respect and the public saw a different side of her when she stepped up to the plate, realizing she had the power to do something in a horrific turn of events.
Ariana Grande herself offered to pay for the funerals of all the victims of families affected and tweeted the following day that she was "broken. from the bottom of my heart, i am so so sorry. i don't have words."
broken.
from the bottom of my heart, i am so so sorry. i don't have words.

— Ariana Grande (@ArianaGrande) May 23, 2017
She recently held a concert in Manchester on Sunday, joined by big names including Coldplay, Justin Bieber and Katy Perry, and proceeds will be going to an emergency fund set up by the city of Manchester and the British Red Cross.
2. We know where she got her big heart from. Momma's here!
As the chaos following the attack unfolded on Monday night, the singer's mother, Joan, immediately escorted horrified fans to safety backstage after the explosion. Joan had still been sitting in her seat in the front row when the bomb detonated in the venue's lobby after the show and was quick to come to the aid of surrounding fans. Joan had called as many as 10 children to follow her backstage to the dressing rooms, leading them to safety moments after the attack. Joan had been preparing to visit her daughter backstage and congratulate her on another performance when Abedi struck. The singer's mother allegedly consoled the panicked young ladies there until they were safely evacuated by police.
3. #RoomForManchester: Kind strangers opened up their homes to those affected by Manchester Arena attack
Local people have opened up their homes and given help to concert-goers who may have been coming from out of town or had trouble getting home.
They have been using the hashtag #RoomForManchester to offer help to distraught people after their night of music ended in tragedy. There are also reports that a hotel near the venue had taken in large amounts of children.
The city's mayor, former Labour MP Andy Burnham, tweeted: "If you are stranded in the area you can… follow #RoomForManchester where hotels and local people of our great city are offering refuge."
4. Taxi drivers offered people free taxi rides, and people immediately arranged to give blood at donor banks to help those injured.
One man who exemplified this was 35-year-old Sam Arshad, who co-owns the city's Street Cars Manchester taxi firm. He happened to be driving past the arena on his way home when he heard screams.
After speaking with police, he asked his fleet of drivers to turn off their meters and not charge families, teenagers and children aiming to get home through the chaos to be reunited with their loved ones.
Arshad, who had been awake for more than 24 hours when he spoke with NBC News, said he was particularly determined to help out because of the Islamophobic online messages that often surface after terrorist attacks.
"At the end of the day, every religion, every culture, you always have bad apples and unfortunately in our religion you have the same," he said. "But you can't group us all in one group … tonight showed, from us, it showed that we're not that kind of people. We're the opposite."
A Manchester tattoo artist named Sam Barber launched a local fundraising appeal. She vowed to open up her Stalybridge, Manchester tattoo shop all day the following day to offer bee tattoos for £50. All the proceeds went to the families of the victims to prepare funeral costs as well as other memorial arrangements.
Sam said "the citywide adoption of the worker bee is a symbol of Manchester's industrious history and diligent, steadfast spirit." The iconic symbol ensures this act of pure evil will never be forgotten, and the spirit of the United Kingdom will remain unbroken.
6. Queen Elizabeth visits young survivors of concert blast
Britain's longest-ruling monarch has been known to surprise people by showing up at public functions, but after the Manchester bombing, she went to visit injured young girls in hospital.
According to the Washington Post, the 91-year-old monarch visited Evie Mills, 14, Millie Robson, 15, and other youngsters recovering from severe shrapnel wounds at the Royal Manchester Children's Hospital. She described the attacks as "dreadful and very wicked."
7. People lined up to give blood outside hospitals the day after terror attacks
According to the Press, Manchester's blood donor centers experienced an "incredible" response from the public in the wake of the terror attack. The service usually operates via an appointment system, but with about 100 people outside one building on Brown Street in the city center, just a 10-minute walk from the site of the attack, hospital workers had to accommodate as many walk-ins as they could.
"We had over 100 people lined up outside before we even opened the doors this morning and we've seen a good stream of donors since we opened the doors this morning," said Richard Shortland, the North's head of marketing for NHS Blood and Transplant.
Local pubs and a snooker hall also offered to take people in.
8. People selling Ariana Grande merchandise used the pricey T-shirts as bandages
This was according to various tweets from the night of, and is probably the last thing they thought they'd ever use the t-shirts for. With time being a factor and first aid kits not readily available, this could have helped save people's lives and kept them from losing too much blood before being rushed to hospital.
9. A homeless man entered the arena to help save victims
35-year-old Stephen Jones was sleeping outside near the arena Monday evening. When he heard the blast, he initially thought it was fireworks. He then realized what was happening and saw children coming out, screaming and covered in blood. Jones then described having to pull nails out of a girl's arms and a couple out of a little girl's face. Another woman was injured on her side, so he and a friend helped hold her legs up to keep her from bleeding out.
10. A young boy offered free hugs at a Memorial in Alberta Square, Manchester
A young boy held up a sign in Alberta square for hours that read "Free Hugs", offering condolences to anyone who needed it.
11. Musicians paid tribute to the victims of the attack
Celebrities tweeted their condolences immediately following the attack. Messages of hope poured in from Harry Styles, Bruno Mars, Niall Horan, Nicki Minaj, Lorde, Taylor Swift, Justin Timberlake, Victoria Beckham, David Beckham and many more.
Manchester's new mayor Andy Burnham honored volunteers, saying they demonstrate "the true spirit of our city in the face of such devastating tragedy."
We will not let violent extremists separate us in the name of hate and fear. We will stick together, and remain united during dark times.