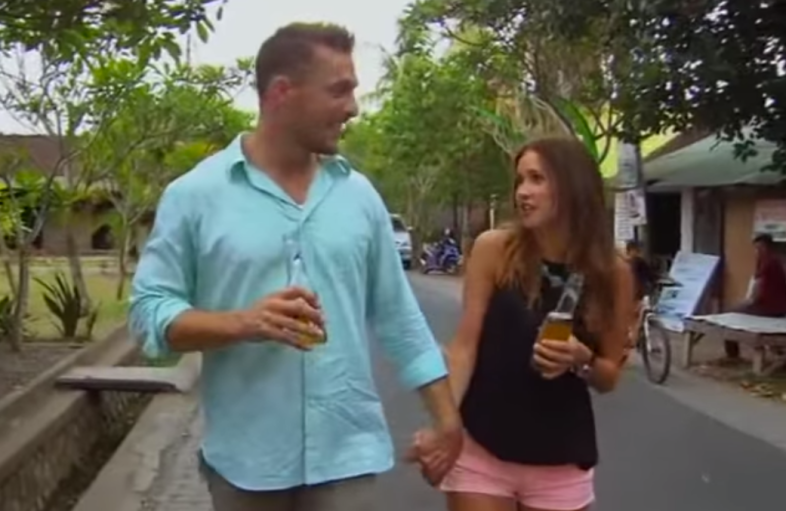 Who for any moment of their precious lives is deeply, truthfully, not looking for love or more love? It's a basic human need of ours. I don't think it's something we ever grow out of or give up on.
Even when we have it from friends, from family members, from that special guy in our lives, we want more. We crave more. From things, even. We want to squeeze the sense of love that things bring us like the very last morsel of our Crest — 3D-Whitening toothpaste.
Maybe if it's true, that we do indeed find love where we least expect it, people should start searching for love on — Craigslist — or while they are looking for on sale Tide Detergent Pods like an overwhelmed bargain shopper at CVS, or hey- why not on The Bachelor?
Love was not one of the reasons — why I tried out for The Bachelor — two years ago, just like it's not one of the reasons why I watch the show now.
I watch The Middle and I feel happy. I laugh.
I watch Jeopardy and I feel smart — sometimes, especially when it's teen Jeopardy.
I watch The Bachelor and I feel a twisted type of anger that's juxtaposed with a strange sense of desperation. I start to better understand love – in a very, very bizarre way.
The kind of — love — that's being plastered together underneath TV cameras and painfully bright lighting and mics that are wedged between the wires of someone's push up bra.
In some ways, the way love is portrayed on The Bachelor is much more straight forward and organized then how we approach it in real life.
Have you ever met Tinder?
You judge people on there simply based on looks and you disregard them without ever exchanging a line of verbal communication with them. You swipe no to one — guy just because he's wearing Crocs. You swipe no to another one because he appears in too many no shirt selfies.
But your dates, probably, wouldn't look a thing like they do on a show where the dates take place in Bali where they ride elephants and crunch down on fresh mozzarella bruschetta as the sunset rolls in and a cotton multi-covered blanket sudden appears in then near distance.
In NYC, most girls I know would be happy if a guy took them on a date to Starbucks instead of his lousy apartment where Netflix is the main course. The only chance of you going on an extraordinary date that involves something like a helicopter ride or a cruise around the bay is if there's a buy one, get one Groupon available for that adventure in your local city.
The Bachelor does teach us that if we're not interested, there's no reason to drag things along. — Sometimes The Bachelor kicks people off the s how mid-conversation.
Imagine being on a date and just totally over what the guy has to say that you take one last gulp of your drink and say to him, "I don't think this is working out. So, bye."
On the show, they toss around the word love like black cardigan that seems to touch the hands of all of your friends during just one night out on the town in a chilly winter town. They have conversations about the future and the past without any fear cramping their words or their mindset.
Two hours of The Bachelor and you find yourself wanting to be more brave and bold when it comes to love.
More open and honest and say the things you desperately know you need to but simply don't know how. Maybe it shouldn't take two hours of a show that makes our brain feel like it's slowly turning into fizz to do that.
Maybe it shouldn't take having to make more mistakes in our own lives to finally see this.
But sometimes it does.

[youtube https://www.youtube.com/watch?v=GawV0oAPnq4?list=PLLkCnnhOwDi585cLmyQhLPsdl-xcUFORc&w=560&h=315%5D