The venerable reality show kicked off its 31st season two weeks ago and came out of the gate with a bang, having brought back an assortment of former castaways. Survivor: Second Chance offers twenty familiar faces (handpicked by America) a shot at redemption that some have been waiting for, in at least one instance, for as long as fifteen years.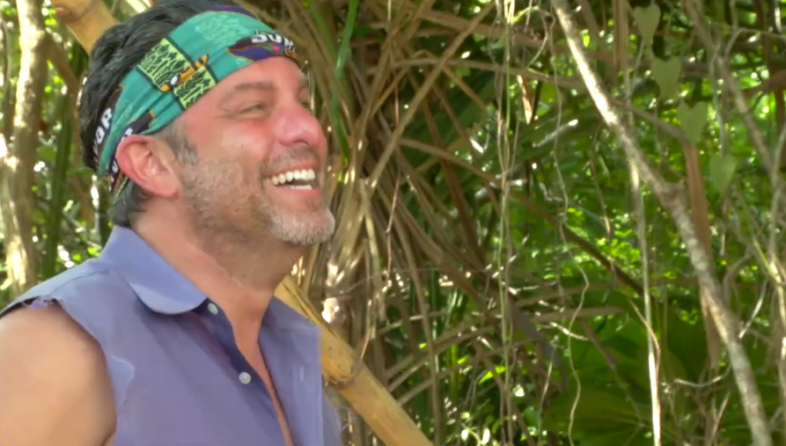 That premise alone should have been enough to wet the appetites of hardcore fans everywhere. But the real piece de resistance of the season thus far has come in the form of a contestant that many had forgotten about – not due to a particular lack of memorability, but rather time taking its inevitable effect.
Journalist Jeff Varner, 49, was dealt a swift boot during the show's immensely popular sophomore season The Australian Outback. His torch snuffing was watched by over 28 million people in March of 2001 which, compared to most series today, is an unfathomable number.
Considered a cult favorite by many for his snarky attitude and sly behavior, Varner was in the mix for the show's eighth season, All-Stars, but ultimately failed to make the cut. Fast forward fourteen years, twenty nine seasons, and one aggressive voting campaign later, and it's back to square one for the Greensboro native. "This second chance means everything in the world to me," Varner said, minutes after entering the game, "This is my opportunity to rewrite my own story."
And he sure as hell wasn't kidding. Since the beginning of the season, Varner has managed to steal the show. Viewers tuning in to see fan favorites like Spencer Bledsoe, Shirin Oskooi, and Joe Anglim have been enraptured by this new force in the game. It was clear, even before the season taped in June, that Varner was one of the hopefuls most eager to cause a stir.
In recent years Survivor has had their fair share of memorable contestants, but few have broken the mold and really taken the bull by the horns. Five years ago viewers were beaten over the head with two-time Survivor finalist Russell Hantz (and his kin), having played three times over the course of two years. It's undeniable that Hantz invigorated the franchise with his strategy and gusto for the game, even if his third and final outing was like having to hear "Call Me Maybe" for 692 time…
Militant strategists like Tony Vlachos and Natalie Anderson could have easily become signature faces of the series had they not won. The same applies for the likes of Survivor nerd-cum-winner John Cochran, who returned to the franchise in 2013 to cease victory and subsequently swear off future appearances. Players who possess a combination of hunger and ferocity for the game—coupled with a strong, yet charming, personality—tend to be the key to Survivor's success among casual fans. But the fact of the matter is that Survivor hasn't really had anyone to potentially fill that Wheaty's Box-esque slot and provide seasons (plural) worth of entertainment since Hantz—until now.
Varner has played an entertaining, yet outright aggressive, game. Typically there's a phrase applied to this kind of strategy: 'too hard, too fast.' Depending on who you ask, that may be a good approach for other activities – but in the game of Survivor it can get you voted off rather quickly.
In the 30season, Worlds Apart, that was the downfall of retail buyer So Kim, who found her way off of the island after just 3 days. That hasn't been the case for Varner, at least as of yet. Since the jump, he's been the season's most dominant strategist, dictating not one—but both—of the outcomes of his team's tribal councils.
The question is… how long can he keep it up? Time and time again, we've seen players that fizzle out by the middle the season and also players that can keep their stride going till the bitter end. The latter group is much smaller. Varner's numerous ties to his fellow castaways may come back to bite him at some point, but for now he's living high on the hog. And if he is to suffer a fatal blow in the game at any point, is that necessarily a bad thing for our TV screens?
Four-time contestant Rob Mariano failed miserably on two runs before being crowned the winner of Survivor: Redemption Island and being deemed one of the greatest players in the show's history.
Varner, despite having a twenty-nine season layoff, seems to carry that same spark in him. The best has yet to come from the Australian Outback vet and while it's near-guaranteed that he'll deliver great television as the series progresses, it remains uncertain if he'll have the all of right tools on this go-around to clench the title he so desperately covets.
If one thing is for sure, though, it's that CBS would be foolish to wait another fourteen years to release this new Survivor-giant on a future set of castaways.