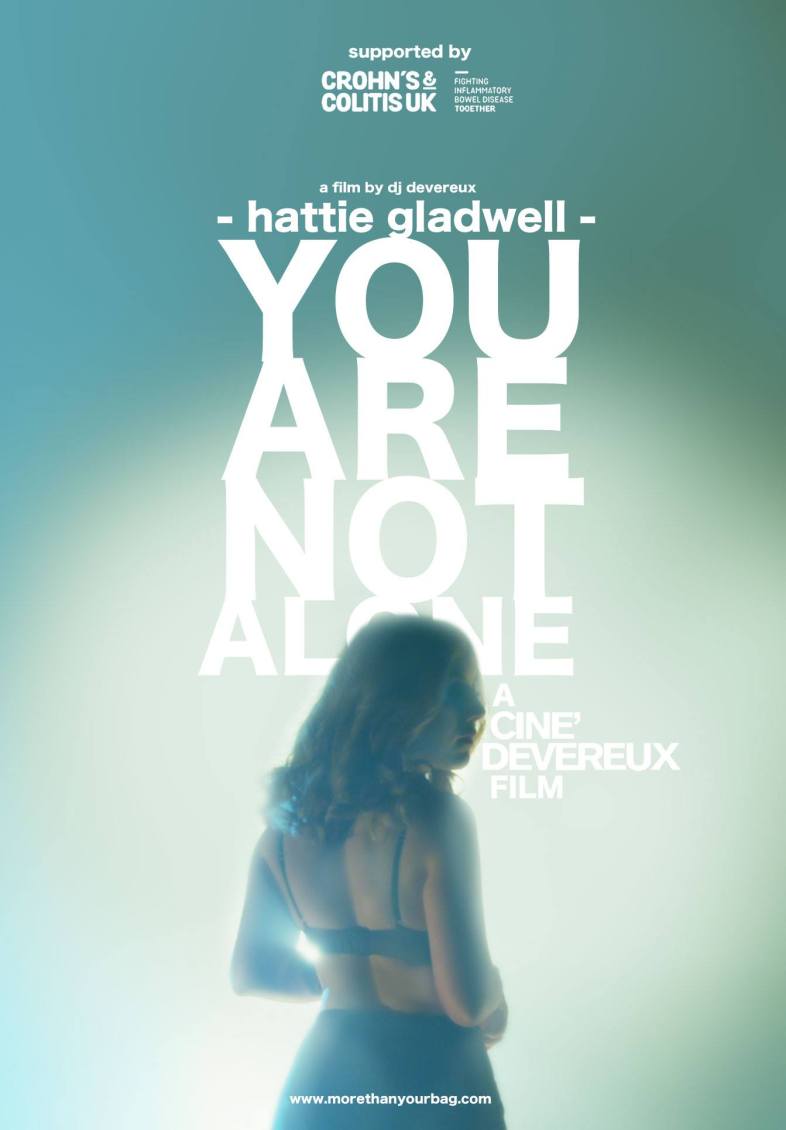 Recently I had a word with the Newcastle upon Tyne based filmmaker D.J. Devereux about his most recent project, a Lynchian-esque collaboration with Crohn's & Colitis UK called You Are Not Alone. That title and its description would likely have those wondering jumping to the conclusion that it's a film somehow involving aliens and absolute madness, but that couldn't be farther from the truth. Devereux has made an inspiring and stylistic piece about a very touchy subject, and below is our conversation about that and working with Crohn's & Colitis UK to make the short (which you can view on their Facebook page) possible.
Jayme Karales for Thought Catalog: D.J., you worked with Crohn's and Collitis to bring about this new short film that doubles as a public service announcement. I have to say, speaking in term of general aesthetic, I've never seen any PSA like it before. What inspired you to give it such distinct visual flair?
D.J. Devereux: Many thanks for the compliment. Cinematically speaking, I hold David Lynch as the key inspiration who actually made me pick up a camera and start shooting. It was Lynch that made me the filmmaker I am today. I think some can see a slightly Lynchian vibe to the film?
TC: Definitely. How did you come across the actress in the film and what was it about her that made you decide 'this is the one?'
Devereux: Hattie Gladwell (the girl in the video) and I are very close friends, we were sitting in a caravan in the middle of nowhere on a rainy England night, when we started talking about our bucket lists. Hattie almost died the month before as she was diagnosed with an emergency case ulcerative colitis.
I had met her through a friend post-surgery and we kind of hit it off. Whereas everyone was almost patronizing or sycophantic towards her, I was very dry and would keep her on her toes, which I think has kept us so close all this time.
So we were talking about her bucket list that she made up when she was almost on death's door, and what intrigued me the most was that 'burlesque' was on there.
I love burlesque and am no stranger to the erotic arts. I wanted to make her something that was sexual yet not exploitative. Make her something that empowered female sexual expressionism and made people who may feel unattractive due to disabilities [etc.] realize, that you are not alone and that you are beautiful. And that's what we did.
TC: What was your background in filmmaking prior to this short with Crohn's and Colitis?
Devereux: My film background is kind of an eclectic one. The only thing I have in this world is film. I was a projectionist for 7 years and while doing that I was making short films. I got my first break, an ad which was for an Advertising agency in London. [They] hired me and I became a commercial director. I thought I was hot shit but ultimately it appeared that the agency was actually a bunch of charlatans parading in suits and I was suckered into it. So I left as I felt used and manipulated. In some ways I have never actually gotten over this, it hardened me and made me kind of strong and ultimately fearless.
From there I made a short film that was accepted by Texas which, for a cult filmmaker in the south of England, was a big deal. My first big short film Starlet, which starred Daisy Rock and fellow filmmaker Brend Trend, was a musical horror film about a Jazz singer… I then made several music videos and started my own company Cine Devereux. You can check out our work at http://www.djdevereux.tumblr.com
TC: It really sounds like you have had quite an interesting road thus far. Even though we kind of touched on it before with David Lynch, I am interested in learning who some more of your influences from a directing standpoint — and also, if applicable, cinematography – might be.
TC: When it comes to most PSAs, they kind of come across droll and informal — but you chose to educate (and inspire) visually. What is it about the visual medium that you think specifically applies to your talents?
Devereux: Well, most PSAs are a lecture, And they mainly compress and repress. Don't do this, it's important you never do this [etc.]
Whereas mine is simply about DOING IT and BEING IT. I am not going to lie, The Rocky Horror Picture Show is a very personal film for me. I feel the mantra of that film, "Don't Dream It, Be It", is a wonderful and true message that only helps the lost get found. This is why my PSA is different. It's not "do not do" but "Come on, LET'S DO IT." I feel that is only a positive thing. Also, for the visual aspects of the PSA, as we were using 'burlesque' as our theme I did not want that standard regurgitated wannabe Baz Lurhmann materialistic influence, I actually wanted something sexy and erotic.
TC: How did your lead actress feel about the short when you explained the concept you had in mind?
Devereux: Hattie Gladwell, she is a very successful blogger who runs www.MoreThanYourBag.com, and had never really modeled before. [She] is very shy in reality, so when we talked about this, the issue of her feeling 'body confident' whilst in lingerie was a huge worry to her. I would always reassure her that we were doing a beautiful thing that was going to help thousands. I think that's what got her through it.
TC: What was your ultimate goal with the short?
Devereux: The goal was simple, to show that every single one of you, Jew, Gentile, Gay, Straight, White, Black, Man, Woman, Trans, able-bodied, physically disabled, mentally disabled, and everyone else; that you are beautiful and you are not alone.
I feel the greatest gift in this world we can give to one another is not Love, Happiness, Money or anything like that, but the reassurance that, simply, you are not alone. I dedicate this film to the different, to the lonely, to the lost and to you. Please remember that no matter how bad things are at the moment: You Are Not Alone.
TC: Do you see yourself tackling any other difficult or uncomfortable subjects on film, similar to this one?
Devereux: Well that's all down to what lands on my door next. I do not judge, I have done just about everything you do in filmmaking, and I am game for anything. Only the future will tell.
TC: What is C&C's mission statement and where can people learn more about the topic?
Devereux: "We fight Crohn's Disease and Ulcerative Colitis. In fact, Crohn's and Colitis UK is the leading charity in the battle against these and other forms of Inflammatory Bowel Disease (IBD). Our mission is to work with all those affected by these conditions to achieve a better quality of life, improve services, and ultimately find a cure.
We want to see a world in which people's lives are not limited by Crohn's and Colitis. We won't stop until we've won. You can find out more at: http://www.crohnsandcolitis.org.uk
TC: What does the future hold for DJ Devereux and where can people find you online?
Devereux: I have been working on many projects an am looking at one day making my debut feature. I am making a short film, which is a quirky rom-com with my fellow filmmaker Luke Jones of Good Films Bad Movies, and just waiting for another marvelous opportunity like this one to arrive.
You can find my work at www.djdevereux.tumblr.com, where all of my work, from movie posters I design to my films and more are located. Also Cine Devereux, my film company, has a Vimeo page at https://vimeo.com/cinedevereux. I can be contacted at cinedevereux@gmail.com for any enquiries. Also I am on Facebook and will accept anyone haha. Many thanks.