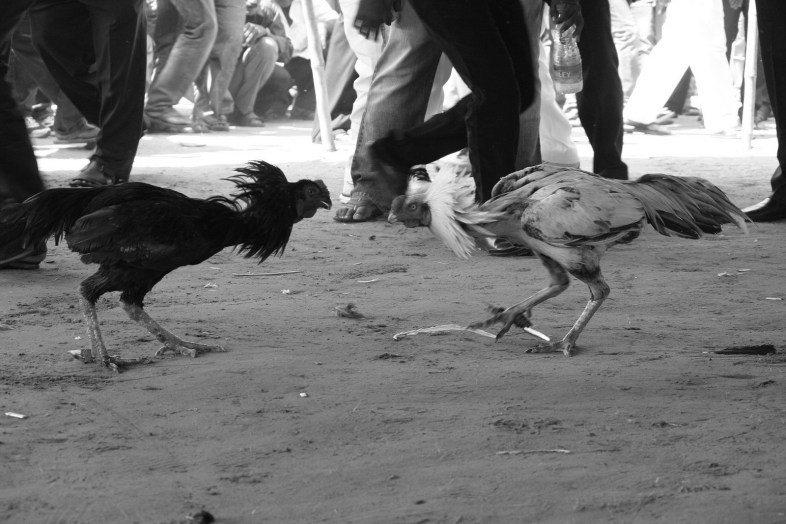 Author Javier Sandoval has just released his first novella, Cicada, Ladybug, with Thought Catalog Books. To wet your pallet, enjoy this adapted audio excerpt set to music by Jacob Spitzer and an interview with Javier, below.
When their grandfather goes missing, teenage Santiago and seven-year-old Izzy fear being separated. In order to raise his little brother, Santiago sacrifices a scholarship to Duke and often outwits Immigration Control. But when Izzy fights a classmate, Santiago struggles to teach him that real men avoid violence – without revealing his secret: to provide for him, he has joined MS-13, America's most dangerous gang.
Thought Catalog: What inspired you to collaborate with Spitzer and how did the project begin?
(Javier Sandoval): We met last summer while crashing in the same place. I was working on a startup and Jacob was DJing. One day, he showed me a piece where he put music to a poem narrated by Johnny Cash. I got so salty. I was like, "Damn, I wish I made that." But then he said, "Give me a story and we'll make it happen." So I took a mic somewhere people couldn't hear me, the garage, and recorded it. I was too self-conscious about hearing my voice, so to relax, I threw back seven shots of Green Apple Burnett's.
(Jacob Spitzer):The next morning I had to tell him, "You sound plastered. Do it again." So he did. That time he only took three.
(TC): Tell us about the text.
(Javier): I chose the cockfight scene because I thought the climaxes would work well with the music. It's also the largest section that avoids spoiling the larger plot.
(TC): Why a cockfight?
(Javier): Three reasons: it foreshadows a disaster, it's one huge metaphor, and because it fascinates me. Most Americans don't know the role cockfighting played in our culture. Did you know the Gamecock came second to the Bald Eagle for our national bird? Did you know that when Lincoln was a politician in Illinois, he refereed a cock fight?
(TC): Jacob, tell us about the production process of the track.
(Jacob): It took me four months, but I really enjoyed it. Creating music from scratch almost paralyzes you because you have so many possible directions to go. But if you receive a narrative to score, the goal is defined – just enhance the mood. I divided Javier's narration by different feelings then composed the track for each chunk. Almost everything is synths and manipulated drum sounds, made mostly with Native Instruments' Komplete 9 inside FL Studio. Some real guitar at the end, too.
(Javier): My boy KILLED it, didn't he? Sounds like dubstep cowboy music. I told him, "Go for a black, wooden, stranded two-story house with a gash ripped through the side, and the windows batted in so the shards look like teeth, and the house standing alone with hunched shoulders in the middle of the Texas desert." And he aced it.
(TC): Javier, reviewers have made note of your vivid language, how has that developed over time?
(Javier):  I don't know. If I can't find the right phrase, I stop thinking of words and instead focus on the movie clip in my head for the scene. Then I get it. Probably why I prefer simple, physical verbs. Instead of, "I stole the words from you," something like, "I gripped them from your throat." Don't know. Using personal experiences helps, too.
(TC): Have you seen a real cock fight?
(Javier): Yeah. They're legal in Louisiana, but they're so damn sad. "Pobre chickens." On a positive note, the white gamecock in the fight would probably survive in real life. Because cock owners know how to perform basic medical procedures on the birds, as long as the stomach or liver isn't punctured, the cock usually lives. The intestine of the white one would be sewn back in. The MS-13 info is true. The FBI considers it the most lethal gang – more than Bloods or Crips – and it really is spreading from L.A. It's been in Central America for a while now, but it's snuck into New York, Boston, D.C., Charlotte, where the book is based, and Durham, where I hang out.
(TC): What other parts of your life did you include? Are any of the characters real people?
(Javier): Most of the physical character traits were inspired by hip-hop artists. Because I listen to the music all day and I watch too many YouTube interviews, when I brainstorm character models, my favorite musicians enter my head first. I'm a Logic fan, and I used his homie Big Lenbo for Pillar's model. Spyder is Pac. He has a minor role here, but in the book he's the biracial gang leader. A close friend of mine is Tick.
(TC): Are you the protagonist?
(Javier): He's better.