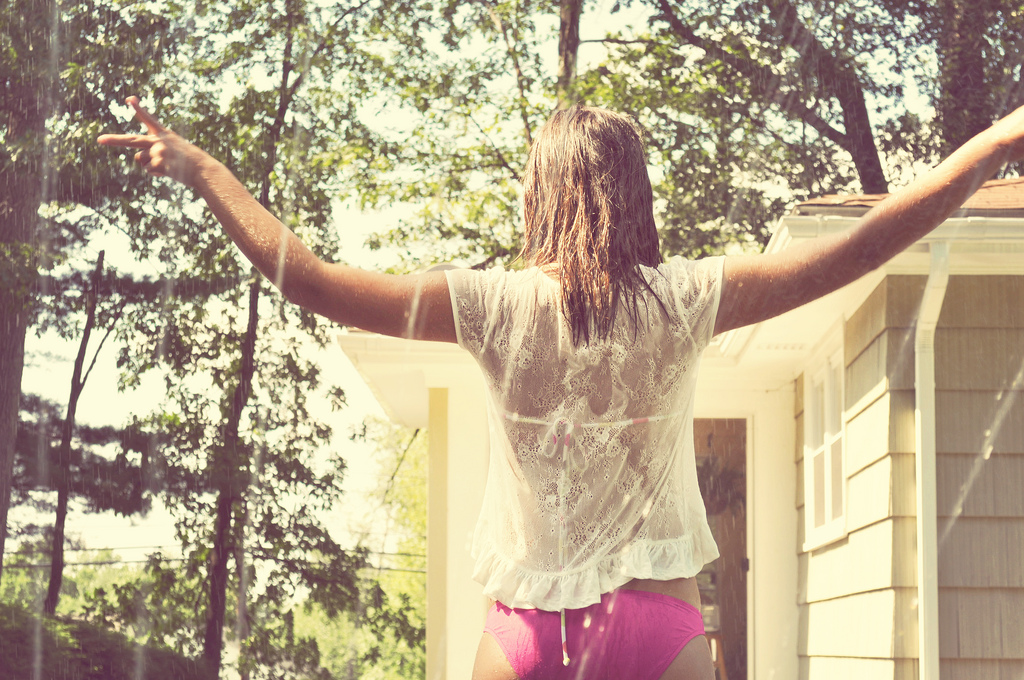 Hey hey summer! Days are longer, skirts are shorter & the season's soundtrack is pretty much, "Wake up, have fun, repeat." This is most people's pause button in the blue ray of life.
But you? Oh no, this is your life story on an 8mm roll. Truth is, in order to escape the rat race, you have to have your shit together to begin with. Yikes! Is that factor missing? Fear not disorganized delight. This is the star cycle to rock it.
LIFE HACK: What makes you look like a shit storm in seasons upgrades to #killinit status when the sun comes out to play. It's all a matter of perspective.
Hot mess habits turned sun-child extraordinaire include:
1. Excessive day-drinking.
In winter, making jokes about "liking your fruit fermented" & is deemed alcoholic. In summer, you make 4 gallons of sangria and it's called festive. Let's be real (outside of sport events) colder seasons need a reason to pop a top prior happy hour. After Memorial Day? Open season. Make that vodka watermelon, skip work early for a patio, put a cooler on the boat at 9am. 'Tis the season to get your daytime shit-face on!
2. Being a professional PJ wearer.
Tank tops with built ins. The bralette trend. Backless dresses. Sports bras meant to be seen. Swimsuits. Let freedom swing! Even if you rock the natural-rack look year round, there's a peace to summer's forgiving wardrobe. Goodbye underwire! Plus most maxis are the daytime equivalent to wearing an oversized tee & your nod to boho is practical AF. Result? Look ma, no pants!
3. Napping like it's nobody's business.
Surviving on a strict routine of crashing on the couch & missing your alarm, you mastered the art of extended applications long ago. You're a pro at turning that runny eyeliner into a "smokey look" pool side. It's not a coincidence that the day you forgot face wash becomes "highlighter day." Shiny t-zone? You mean intentional glazed doughnut, amirite? While everyone else is worried about channeling the girl in "The Grudge", you're sittin' pretty knowing your lashes last days – therefor confident they can outlast humidity. Thank you, spontaneous napping habit! Your training is irreplaceable!
4. Totally sucking at being athletic.
Other moon cycles are loaded with bowling nights, b-ball at the rec & hockey leagues full of chumps. "I could have gone pro…BUT.." anal-retentive 20/20 hind-sighters who suck the fun out of intramurals with their regret-ridden cubicle-angst. Ugh! Seriously. God forbid you participate for FUN instead of making it a skill showcase! Then summer rolls around; bars across America open their doors in total devotion to uncoordinated gaming. From slow-pitch softball to sand volleyball, colored cornstarch covered races to grown-up kickball games: the only training required is rocking a ridiculous team name t-shirt & throwing in for the next pitcher. It's hard to be singled out for making a complete ass of yourself when everyone else is too. And for this, you're grateful.
5. Being a little lax with the hygiene.
9 months of the year admitting to taking shower shortcuts is off limits. Like, you're the only one to ever run behind? LIARS! Thankfully between the campfire & the tube trip that all seems to fly out the window. Next thing you know everyone is talking about being sticky. Chub rub to boob sweat it's all fair game in the swelter. Unkempt hair turns into surfer chic. Kudos to your runaway hairbrush, your messy bun game is on point. You got this, you-undercover-scrub-you. Look who just became the hero with your de-facto de-funk game! Yeah YOU did!
6. Ghosting Like A BOSS.
Jack Frost is a real bitch when it comes to scheduling. Hectic holidays to springtime bridal showers, everyone seems to be well aware of fashionably late debuts. Yet just as you save "Will be late due to who I am as a person" on auto-replies a magical gift appears before you: the festival of no-fucks given. Timeliness doesn't matter when the fair is in town. The only one with a stick up their ass at the luau is the dinner. "I'm too accident prone to risk taking my phone to the pool" & "Reception is terrible on the trails" or "Couldn't hear my phone over the boat motor" become your go-to kosher pardons as an M.I.A. master. Ice cream truck & Irish goodbyes go hand-in-hand leaving you to dip & dodge as you please. It's like sanctuary for no-shows, truly.
7. Rockin' the morning after attire.
FINALLY! Alternate reasons have begun! You stand in line for coffee in yesterday's jumper, big sunglasses & bare feet & not stand out like a sore thumb. Is she going to the beach? Headed to the farmer's market? Taking her dog to the park for Frisbee? There are SO many summer reasons to look like hell at 8AM! Strut your walk of shame incognito. Avoid everyone's eyes hissing "You had a drunken sex last night, didn't you?" like a shoe-less champ & blow off the judgies like a pro.
8. Avoiding any and all forms of adulting.
Ironic how believing in Santa makes you immature but gunning for that 4 ½ ft teddy bear at State Flag makes you free spirited. Heat waves have a way of making even the rigid relax, don't you think? Dinner parties used to take hours of prep. Now they just require matches, charcoal and BYOB texts. For once you aren't the only one of the posse to blow off housework to escape reality. The same friend who told you to "get your shit together" for peeing in the alley after the work party? Welp, Jennifer is now hanging off the side of the boat with her bottoms to the side. Karma! Your kitchen table looks like a black-sheep sophomore's locker threw up on it with no explanations required. Bottle rockets? Check. Fro-yo punch card? Present. Gaudy star-spangled shades? Obviously. Your year-round commitment to being uncommitted has found it's time to shine!
So gather round the bonfire compadres! Tell a tale of debauchery while the margaritas flow. Savor the new dawn of your cringe-worthy ways being pro quo. Most of the year you feel like a giant cluster fuck of failures, now is the time to feel up to speed. You are an adorable beach bum. You are 'going with the flow.'
Claim mermaids as your spirit animal publicly. This is your excuse to be a walking version of a Jimmy Buffet song without judgment – seize it!
Hell, they'll probably be captivated by your breezy aura, so walk with that bedhead held high! After all, the definition of vacation is "an extended period of recreation, especially one spent away from home or daily responsibility." So really…. you aren't a slacker – you're just making summer last year round! I mean, hey – it's all a matter of perspective, right? ;)