When it comes to home renovation, budget is the foundation for most families and individuals. It's simply unrealistic to assume that any given person could afford to completely overhaul their space without any consideration for the cost. However, that doesn't mean that you cannot update your home while staying within a price range that works for you.
We're going to outline what it would look like to spend $12,000 on a kitchen renovation, which would generally be considered a limited budget. This is because the average remodel will run you about $23K, and this includes all new appliances. On the higher end, a kitchen makeover can cost you $34K+, and on the lower end, it can cost you in the $4K range, but this is all dependent on what you want to do, whether or not you want to change the fundamental structure and layout of the space, and how much labor you need to outsource versus what you can do on your own.
On top of this, you always want to budget at least 10-15% more than you anticipate for repairs and for the inevitability that something will go wrong in the process. This especially tends to be true when you're doing a remodel for an older home, as it's common to come across certain issues — perhaps bad piping or electrical work that's no longer up to code — that need to be resolved.
When it comes to budget, here's what you can generally anticipate to spend for the most common parts of a kitchen renovation. The first column refers to the lowest possible cost you can anticipate, and the third refers to the highest. The middle column is neither discount nor luxury; it's somewhere in the middle. Of course, it's also possible to find appliances or materials far more expensive than this, as it's also possible to repurpose and budget in other areas, too.
Kitchen Remodeling Costs

: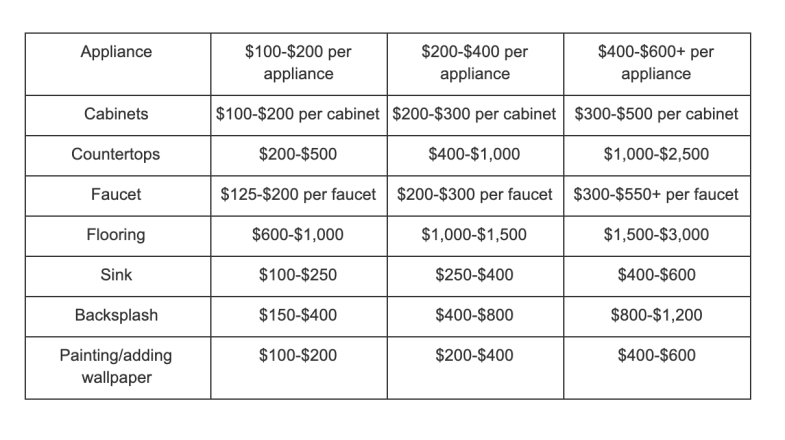 How To Lower T
he K
itchen
Remodel Cost
If you're really looking to change the look of your space but you don't have unlimited funding to spare, there are ways you can lower or at least significantly reduce your budget by repurposing some items, doing some repairs yourself, and so on.
Any one of these items, or a combination of them, won't be the same as a complete remodel, but it's absolutely possible to breathe some new life into your space on a small budget.
Give Your Cabinets A Refresher
Next to appliances, new cabinetry can be one of the most expensive aspects of a redesign. You'd have to pay not only for the materials (which can often run you a few hundred dollars per item), but you also have to pay for installation or if you want custom cabinetry.
However, there's a much easier way to give your space a new look: Paint your cabinets and then change out the hardware. With just some paint and sealer, you can completely change the look of your cabinetry — even if it's a material like wood — and then with updated hardware (perhaps gold handles, or some other kind of statement piece), you have a totally different-looking space.
Learn To Do Some Work Yourself
Though there are some aspects of a kitchen remodel that you want to leave to the pros — this includes, but isn't limited to, anything potentially dangerous like electric or maneuvering extra-large materials — there are other things that you can certainly learn yourself.
For example, you can paint your own walls or learn how to re-tile your backsplash. If this is the case, you'd only have to pay for the materials, and given that the square footage tends to be minimal, the cost would remain low. If you don't want to learn to do it yourself, ask a family member to help. Even if you hire them, they'll likely give you a better price than a contractor might.
Fix Appliances
One of the major costs associated with kitchen renovation is replacing some of the heavy-duty appliances.
This can include but isn't limited to the refrigerator, dishwasher, and stove. However, if you can hire someone to fix an appliance that isn't working, you're going to save a lot of money right there. Then there are ways to update the kitchen appliances that won't completely break the bank, such as perhaps adding chalkboard paint to the refrigerator, giving it a fresh, black look and some functionality.
The Importance Of Retaining The Layout
However, the most important aspect of ensuring that your kitchen remodeling budget stays as low as possible is keeping the layout as it is. This is important because if you want to change, say, where the cabinets are or how the entire room is laid out, you're going to have to pay to replace or move everything as well as to relay the plumbing and electric.
Given that it's important that the kitchen layout stays the way it is mapped out already, there are other elements that you can change that will still make it look very different.
Lighting, lighting, lighting.
When it comes to changing the look and feel of a space, it's all about the lighting. One of the first things you should consider is the fixtures in your kitchen, perhaps even recess lighting or anything that makes it brighter, cozier, or whatever look you're trying to achieve. Consider installing custom cabinets with lights inside and glass doors–this will make the room feel updated and more spacious.
Keep design consistent.
If the rest of your home has a modern, neutral design, try to incorporate those elements into your kitchen so that it creates a cohesive flow. Often when people try to introduce a new style that's too different from what the rest of the house looks like, it results in even more renovations being made. Also, keep in mind that the flooring should pair well and feel consistent with the countertops, backsplash, and cabinetry.
Focus on the staples.
After updating your cabinets and lighting, consider a new sink, backsplash, faucet, or even just one new appliance. The truth is that anything you add to space will help it look better and better. You can finish the repairs over time but start with the basics.
Shop The Look For Under $12,000
Beginning with an inspiration photo is a great way to get started on a kitchen design, because it can be challenging to visualize how each part of the room can work together without first seeing it done. In addition, you can get inspired or even consider a design you previously hadn't considered.
In the case of this kitchen, it's a really elevated look that's still achievable on a budget. Notice how each of the elements work together: There's consistency in the choices they made in everything from the lighting fixture to the faucet. There's also a similarity in the way they chose the geometrics and stylization of the space. The overall style of the space is distinctly Mid-Modern, yet there's still a touch of sophistication and chicness to it. Here are some of our favorite products to help you build something similar.
Above the island
This circular light fixture is Mid-Modern and features polished brushed brass. This would be perfect if gold or brass is your style and you want that chic and sophisticated appearance.
If you'd like to incorporate the concept of a geometric light but the round or Mid-Modern features aren't quite for you, this option could work as well. It's more farmhouse chic and includes a pyramid-shaped hardware top and shaded bulbs. This pendant would also offer a warmer, more subdued light in the kitchen.
If you want to add some sparkle and glam to your space, consider this crystal-based pendant. It's still subdued enough to not be a huge, chandelier-like feature in the kitchen, yet it would offer enough sparkle to stand out. The geometric shapes are also reminiscent of a typical Mid-Modern design, which makes it a great hybrid piece.
Above T
he K

itchen

Table

This 12-light fixture is the classic Mid-Modern piece, featuring straight but asymmetrical lines and multiple bulbs. It would be perfect to tie the table or eating space in with the rest of the kitchen.

If you want to achieve the same look but gold or brass was your statement metal, this chandelier is a great choice as well. With the same 12 bulbs but slightly longer stems, it's a standout piece that would still merge well with the rest of the design.
Kitchen
Faucet
A faucet is one of the fastest and easiest ways to upgrade the look of a kitchen, and it's important that yours is cohesive with the rest of the design of the space. In this case, a double-handle faucet would be a perfect choice.
If you want to incorporate gold or brass but desire a more streamlined, minimal appearance, this faucet is a great option for you. With the temperature nozzles attached to the spout, it will give you the accent of a warmer toned metal without being too overwhelming.
If you're looking for a more relaxed, natural, and trendy kitchen, this design might be for you. The white subway tile, wood countertop, grey cabinets, and industrial lighting give it that classic, lived-in, almost "farmhouse" appearance while still looking distinctly updated, sleek, and functional.
Fortunately, a lot of these materials are less expensive than others (wood countertops are always going to be more affordable than a stone such as marble, for example), making it even more accessible. Note how a lot of the elements work together: The pendant gives the hardware focus, as does the exposed shelving and wide stove.
Here are some of our favorite products to help you achieve the farmhouse chic kitchen look.
This light is almost exactly the one in the inspiration photo, but the metal on it is silver and a little more polished-looking. This would be ideal if you're less interested in a rustic appearance and want your kitchen to look finished and super updated. You can't go wrong either way, but it's nice to have options.
This round, gold pendant adds a touch of Mid-Modern to an otherwise rustic look, and adding a pop of gold into a kitchen like this is very on trend right now. Though the bulb isn't technically exposed, the clear globe gives the same brightening effect.
This pendant merges Mid-Modern and farmhouse styles, with a brass and gold feature, geometric, metal shade, exposed bulb and single, hanging wire.
Styling
Though all of these products can help you create the look you're going for, remember that a lot of it is also styling. You'll want to pull inspiration from different sources and incorporate small touches that really bring the space together. For example, add a rustic-looking box to hold soap on the counter, an old-fashioned bread box, and an old radio on the shelf. All of these come together and can give the space a really authentic feel and an even more cohesive look.
Simple Ideas For A

Small Kitchen

Remodel
If you're doing an upscale remodel for a smaller kitchen, the costs will evidently be less because there's less space to work with. So what can you do to transform the space and make it appear more upscale or like the kitchen as actually bigger than it is?
Here are some ideas for a smaller kitchen remodel:
Change out the

existing cabinets

for

open shelving

.
Freshen up the existing

tile backsplash

to be

subway tile

.
Update

the

kitchen

island

with

cabinetry

or

granite countertops

. Or, if you prefer the look of a

quartz countertop

, you could try and install that around

the

kitchen

, as long as it matches the

backsplash

too.
When doing a renovation, remember that consistency is key. You want all of the aspects of the room–the appliances, the backsplash, the tile, the upper cabinets (or open shelving)–to work together as well as flow with other rooms in the house. For example, if you're going for a rustic farmhouse, make sure that the farmhouse sink and the faucet go well with a ceramic white sink in your bathroom and matching faucet.
–
Sometimes a kitchen remodel is much-needed. Whether if you're starting a renovation for a smaller kitchen or a bigger space, it's important to keep in mind your budget and things you want to update, switch out, or install.