When it comes to investing in your home, there's no room as important as the kitchen. Some estimates suggest that people spend upwards of an hour each day in their kitchen — which is 6% of their waking hours — making it one of the most utilized spaces in a home.
Aside from being just a place to cook and then clean up, the kitchen tends to be the epicenter of the house. It is where people gather, where holidays are celebrated, where memories are made, and it often functions as the home's primary source of warmth and utility.
It makes sense that you'd want your kitchen space to be to your liking, but as you probably can intuit, a kitchen remodel isn't necessarily easy to navigate on your own. That's why we're outlining everything you need to know to completely renovate the space to become your dream kitchen.
Keep in mind that a kitchen renovation often if not almost always lead to changing some other part of the home. This is because the styling of the kitchen often sets the tone for the rest of the space, and if that changes, everything else tends to as well. You'll want to keep that in mind before you begin: Will your kitchen upgrades make the room fit into your house more or make everything else seem less shiny and inviting?
When you're clear on exactly what you want to accomplish, break your remodel down by cost, time, and labor.
https://www.instagram.com/p/BleHySXnmMt/
Cost Of K
itchen Remodeling

& Average Budgets

Of course, the main thing on almost anyone's mind when it comes to a remodel is what it will possibly cost. Kitchens are notoriously expensive, given that they require heavy materials and multiple high-ticket items to function well.

However, your kitchen remodel doesn't have to bankrupt you. Though the average cost of a kitchen renovation is around $23,000.00 — ranging between $12,000 and $34,000  — it's possible to accomplish what you want for as little as $4K or less, depending on how much manual labor you are capable of doing, how many appliances you need to replace, how much of the fundamental structure of the room needs to change, and, of course, what materials you decide to use.

You should always plan for the unexpected, especially if you live in an older home. For example, you might run into issues with mold or plumbing, or perhaps something in the structural integrity of the space. Given that this can be the case, you should generally expect to spend 10 percent to 15 percent more than you originally anticipated. Especially when working with homes that are 10 years or older, set aside at least 10 to 15 percent of your total expected cost of renovation into a contingency fund. If you don't wind up using that sum at the end of your renovation, you can always put the remaining contingency fund balance back into any loans or financing that you took out to accomplish your remodel.
What Do You Have To Pay For?
Plumbing
A kitchen requires functional plumbing. Consider the floor plan of your kitchen. You should ensure that your water lines are properly connected to your sink and other appliances, such as your dishwasher, are properly set up as well.
Cabinets
Cabinets can range in price, depending on what material you want and how much space you have to cover. Generally, stock cabinets will run you about $60 to $200 per linear square foot; semi-custom will cost between $100 to $650 per square foot; and completely custom cabinets could cost anywhere from $500 and $1,200 per linear square foot.
However, there are other ways to manage this cost. You can paint your existing cabinets and change the hardware to give them a fresh, new look. You could opt for the modern trend of open shelving in one area and simply take the cabinets out.
Sinks
One of the most popular features in a kitchen is often the sink. The shape and design of it can really contribute to the overall look, and replacing your sink with a fresh, new product can instantly add modernity and a refreshed look to the space. Sinks can run in the range of a few hundred dollars, typically. Size and plumbing location matter when choosing a new sink. If your countertops are cut for a certain size and shape, you'll need the same dimensions if you aren't going to update your countertops, too. If you want the sink in a different area, that's going to be a much larger project, as it will require moving the plumbing and water lines, too.
Faucets
Of course, no sink is complete without a faucet. Though they aren't too expensive — ranging between a few hundred dollars, depending on the quality — it's an opportunity to tie in a statement metal (perhaps gold, or copper) or at least give a nice and updated look to the kitchen as a whole. An older sink and faucet can really age a kitchen. Though they might seem like small details, they are actually crucial.
Hardware
Speaking of small but crucial details, hardware falls under that category as well. Hardware refers to handles, knobs and any other features on your cabinetry that make it functional. Kitchens look most cohesive when the hardware matches or at least coordinates with the other metals in the room, such as the faucet, or even the style of the appliances. Though some of the smallest details you'll choose, changing the paint color and hardware on a cabinet can transform its appearance, so don't underestimate how crucial they can be.
Misc. Storage & Pantry
Of course, kitchens aren't just there to look good. They're there for a specific function: eating! You're probably going to want to invest in a super-efficient form of a pantry or storage space to keep everything from your spices to your chip bags as neat as possible. Kitchen storage is an often overlooked aspect to a remodeling project.
You'll also have to take into consideration materials that could be used for the countertop. Whether if you decide on marble, wood, or quartz countertops, remember that your kitchen countertops are going to be used frequently, so they should be durable and reliable, as well as match the kitchen sink, the faucet, the cabinets, the backsplash, and everything in between.
Appliances
As one of the staple appliances in the space, your refrigerator is important. This is a tough one to try to DIY an upgrade to as well. Your best bet is probably to invest in a newer model, perhaps even considering one with a touch screen or smart door. Refrigerators can come as low as a few hundred dollars to as high as a few thousand.
Likewise, a functional dishwasher is essential to a new kitchen. If yours isn't working properly, you'll need to budget a few hundred dollars (average $100 to $700) depending on if you get a budget, midrange, or luxury edition. Many manufacturers even often packages in which you can order your essential appliances all at once.
Flooring
Flooring is also going to be a huge component of your kitchen remodeling project. There are various options you can use here, from linoleum to natural stone, even cork, which is a resilient material with a natural buoyancy that's good for your joints. You should generally plan for around $1,500 to install ceramic or porcelain tile floors, nearly double that to install laminate floors, and only about $300-$400 to install linoleum. Cork, on the other hand, can run upwards of $2,000 for a 150-square foot space.
You want to be sure that your floors are going to be stable and can weather lots of liquids and foods on them. Stone or tile floors are typically the best bet; not only do they look great, but they stand up to the daily use of a busy kitchen.
Backsplash
While you're looking at tile, you're also going to need some for the backsplash, the area between the top of your counters and the bottom of your upper cabinets. This tile is placed there to ensure that foods and hot oils that are splashed while you're cooking and preparing meals don't damage your drywall. A kitchen backsplash is also a really nice aesthetic feature where you can add splashes of color and texture to your kitchen design.
Walls & Ceilings
Speaking of, if you need to replace a wall or ceiling, consider the cost of drywall. (This does not include what you will need if you want to completely take down a wall; this is only to replace the surface of one.) The cost to install drywall is typically $1 to $2 per square foot, and each panel of drywall can run you between $10 to $60.
Lighting
Last, your lighting fixtures are going to be what make or break your kitchen. Consider lights that would go above the stove, sink, or even underneath the cabinets. It's all about making sure the important areas are well-lit and you maintain the ambiance you desire.
Kitchen Remodel

Labor Rates
Of course, paying for your materials and appliances is only one part of the equation. Unless you are going to do the entire renovation yourself (which is generally not likely, given that there are multiple things in a kitchen that require professional installation), consider the cost of labor as well.
Though this can vary widely based on the contractors hired, the amount of work, and how much time it will take, some estimate that you should account for about $3,000 to $6,000 in installation fees if you are doing a typical, full kitchen remodel. You can more accurately calculate what that number might be by figuring out what 15 to 25 percent of your material cost would be. That is often around what you would have to pay a contractor for remodeling services.
When you're looking for someone to hire, remember to always shop around and get multiple quotes before you commit to one service provider.
If you're looking to just hire out someone to do one or two repairs at a time, you can use these estimates from HomeAdvisor.com to help you determine what it will cost to install the following items: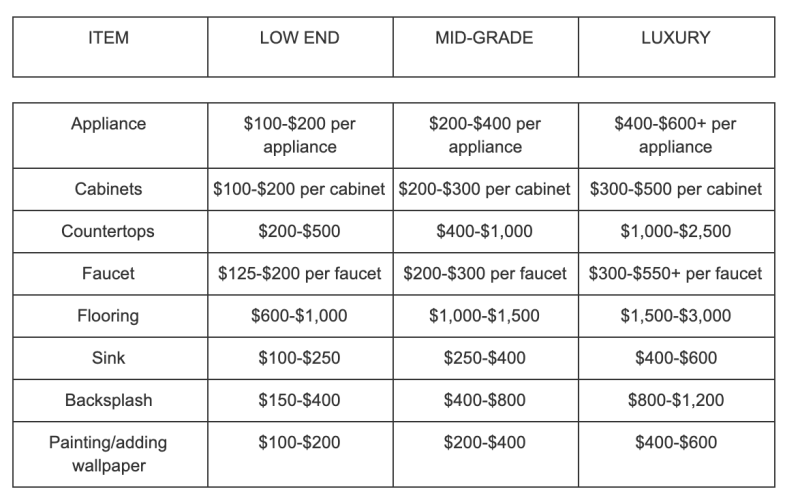 Turnaround Time
If you're doing a basic refresh, it will probably take about a week to complete. Cosmetic changes with the same layout can take about a month, but a full renovation can take between 6 and 8 weeks. However, this can vary, depending on the service provider and what's being installed or repaired. If you're only having a few things updated, it will take significantly less time than that. If you have a large kitchen that's being completely gutted and repaired, it will probably take longer.
Keep in mind that while your kitchen is being worked on, you may or may not have space to cook and eat your meals at home. If you are someone who does this regularly or depends on it for budgetary reasons, add into the cost the price of eating out more frequently. If you're losing your countertop and fridge altogether, calculate what it will cost to buy every meal out for as long as it takes to replace. Remember that you can also use crock pots and toaster ovens to prepare meals, or if its warmer, cook on the grill outside.
Kitchen Remodeling

Ideas
Start Small
Perhaps you know you need a total kitchen overhaul. If that's the case, you can skip this section and go to the next one, which is all about creating your mood board. If you're not interested in a total renovation, there are certain things you can replace to achieve the look you want.
For example, you can paint your kitchen cabinets or replace the hardware on them. You can upgrade your faucet, sink, or another appliance. Another big fix is to update the lighting, which totally impacts the way a space is seen. Remember that you don't necessarily need to change everything to get a dramatic result. In many cases, simpler remodeling ideas can work, too. In others, you can start small and build from there.
Create A Mood Board
As with any renovation or repair, create a mood or inspiration board before you get started. This is important for a few reasons. First, if you're working with a partner or a team, it's crucial to have the same vision for your final outcome. Second, if you're working with a lot of moving parts and trying to integrate a lot of new pieces and fixtures into your space, you'll need to  visualize whether or not they really go together. It's easy to pick pieces you like and end up with clashing metals, colors, or styles. Once you have a cohesive, stylized layout for your space, work from there. Figure out what you'll have to pay to install each new piece and what you could possibly do on your own. You can also determine exactly where you could stand to splurge and where you could save when it comes to purchasing new appliances and items for the kitchen.
You can take some design ideas from some of our favorite kitchens here:
https://www.instagram.com/p/B_03Ld6A4od/
Kitchens are different than other rooms of the house in that they tend to have a lot going on. There are multiple appliances, tile designs, countertop materials, and cabinetry colors to consider. This is why it's important to nail down exactly what you're going for before you just start choosing things piecemeal and end up with a result that looks chaotic and non-uniform.
Last, never forget that given the importance of your existing kitchen, focus on two things: functionality as much as style, and flow with the rest of your rooms. This means that while some options may seem to be the most aesthetically appealing, consider function. This could relate to everything from having a neat place to store your spices to setting up a board by the door where your kids can place their homework each day. Ultimately, it's up to you to figure out how you use the space, and then how you can best utilize it to make your life more streamlined and productive.
If you're concerned that your Mid-Century Modern kitchen is going to clash with the rest of your Rustic, farmhouse-chic home, you can always blend two tastes by incorporating shapes or colors from one style into another room, or redesigning your house to have a more uniform palette (think of something simple, like white walls and wood floors) so you can then decorate give each room a unique flair of its own.
No matter what, remember that this is your space, and it's going to be one that you use often. It has to work for you and be somewhere you could imagine yourself cooking, cleaning, and enjoying life.