Your bathroom might be one of the smallest rooms in your home, but it's also one of the most important. Some estimates suggest that the average person will spend a total of six months of their life in the bathroom. Of course, this isn't all at once, but imagine if it were! That's not an insignificant period. On top of that, if you're a woman or have more complicated hygiene or makeup routine, that length of time significantly increases.
Why is the bathroom so important? Well, consider that you begin and end every day there. You take care of yourself and tend to your hygiene and cleanliness routines in that space as well. Your shower is where inspiration often strikes (or an impromptu concert takes place). Your bathtub is where you can unwind and decompress at the end of a long day.
Your bathroom should be a space of luxury and convenience. It should be a place that makes you feel calm and happy to be home. It's not only a space that you use frequently; it's also one that you'll commonly offer to others. Visitors may not ever see your walk-in closet or get to experience your new luxe mattress, but they will most likely use your bathroom, so you want it to be as inviting as possible.
If you're looking to make some much-needed upgrades to your home, the bathroom might be the place to start. It's an easier room to renovate because, generally, it's small (you need fewer materials), which means that everything is less expensive, including labor.
A bathroom makeover can oftentimes be easy, for the following reasons:
The plumbing is usually already in place, or it can be moved easily.
When you're redoing a space, consider the fact that wires, plumbing, and other technicalities might have to be shifted depending on where you are or aren't placing an appliance or feature. Sometimes this can get complicated, requiring you to lift the floor or move something behind a wall. However, in the bathroom, the plumbing usually stays put, and even if there are changes to be made, given how minimal their square footage tends to be, they usually aren't as challenging.
Demolition will be briefer.
If you want to pull up and reinstall tile, take down a bathroom wall, or open up a new window, doing it in the bathroom is going to be your best bet, because again, it's going to take significantly less time than it would if it was, say, a wall that's part of your living room and may or may not be a part of the home's structural integrity. You generally don't have to worry about that with bathroom redesigns.
The cost of the tiling is inexpensive.
Even if you opt for higher-end ceramic or glass tiling, given the square footage, it's still going to be relatively affordable. For context, you can generally budget to spend between $2 and $10 per square foot of tile, and this often includes installation. Fortunately, the majority of your bathroom will be composed of some type of tile (the floors, perhaps the perimeter of the shower, even), making it simple as well.
Labor is less expensive.
Given that everything else in the space is smaller and cheaper, you can budget less for your contractors. You should generally anticipate spending anywhere between 10%-15% of your material budget on installation and contractor fees. Are you installing a new bathtub or a new vanity? Do you want an upgraded toilet? Do you only have space for a toilet, sink, and shower stall? Consider your space and what labor you'll be doing and then make your plans.
Bathroom Remodeling

Cost

What do you have to budget for your bathroom renovation? On average, a complete bathroom remodel will cost you somewhere between $8,000 to $12,000, while many bathrooms — complete with new fixtures — will fall somewhere in between.

However, you should always plan for the unexpected, especially if you live in an older home. For example, you might run into issues with mold or plumbing, which isn't atypical for an old bathroom. Given that this can be the case, you should generally expect to spend 10%-15% more than you anticipate on repairs.
What Do I Have To Pay For?
Cabinets
One of the main focal points of a bathroom is the cabinetry. You will need some kind of structure to house your sink, hideaway shelves for your toiletries and other personal items, and to serve as a flat space on which you can rest your belongings while you're using them to get ready in the morning. Given that bathrooms tend to not have much in them, the cabinetry is important. When it comes to these cabinets, there's a large price range. For a plain, single-sink vanity, you can be looking at anything from $40-$150 on the lower end. With that said, for larger bathrooms or more sophisticated or upgraded modern bathroom designs, you could be looking at anything from $500 to $3,800, or sometimes more.
Be this as it is, it's also possible to renovate a preexisting cabinet. You can paint it and change out the hardware, or perhaps install a new sink and faucet. But if you really want to do a full renovation, a total overhaul is usually in order.
Countertops
On top of that cabinet is going to be a countertop. Sometimes, you can simply use the vanity as it came (for example, many will come with a pre-sealed top so your wood or ceramic is water-protected), while in other cases, you can buy the cabinet without the sink and countertop installed. This gives you room to get creative. For just the countertop, you are often looking at anywhere from $100 to $300, though it will depend on the specifications of your bathroom.
Faucets
Once you've built out your cabinetry and sink, you'll likely want to upgrade your faucet as well. Depending on what you want to get, you're probably looking somewhere in the $100 to $300 range for a nice mid-grade model, but that can vary as with anything.
General Plumbing
Unlike other rooms of your home, your bathroom is also unique in that it has the majority of your most important plumbing and water systems linked to it. That means that if you're having any issues regarding your toilet, tub, or sink, you'll need to have those fixed while you're doing the renovation. It's a good idea to contact a professional for a lot of these jobs, given that they can be dangerous — if not potentially very damaging — if done incorrectly.
Walls & Ceilings
Do you need a fan at the top of your bathroom if you don't have a window? Are you experiencing water damage in the drywall? Do you need to take down a part of a wall to replace it with tile? Whatever your situation, take into account that walls and trim tend to be more involved in a bathroom than elsewhere. There's a higher likelihood for water damage, and therefore an increased need to not only replace walls but also ensure that they're installed correctly.
Light Fixtures
Aside from basic lights that need to go into the ceiling, a bathroom can utilize different fixtures for different purposes. For example, you might want to pair an overhead light with a fixture above the mirror that provides ample light for grooming or makeup. You may also want to install a light in or above the shower, particularly if the area is dim and you want to be able to see well while you bathe. Depending on the size and quality, light fixtures can range from $25 to $50 on the low end to a few hundred dollars on the high end (or even higher if you opt for a crystal or luxury fixture).
Flooring
Of course, in a bathroom, you are also going to need flooring, whether that's tile or laminate. Fortunately, given the smaller dimensions of the space, you can consider opting for more expensive material, as it's going to cost less to finish. On the other hand, you can go for a budget option and make the process as inexpensive as possible.
Bathroom Remodeling

Labor Rates

Though you might save some money in material, there's a chance you'll have to budget it as part of your labor and installation costs, because bathrooms are full of highly specialized items that often require a professional.

While there are certainly some changes that you can make yourself, others, such as installing lights, working with pipes and plumbing, bringing heavy bathtubs in and out of the home, and so on, will often best be done by a team of contractors.

Some estimates suggest that you should expect to spend an average of $1,000 to $2,000 on fixtures, as well as an additional $100 per square foot on labor. Alternatively, rates can run you somewhere in the range of $50 to $110 per hour for a licensed, bonded professional. If you're looking to just replace or update one item or another, Home Advisor suggests that the following are average prices you'll spend: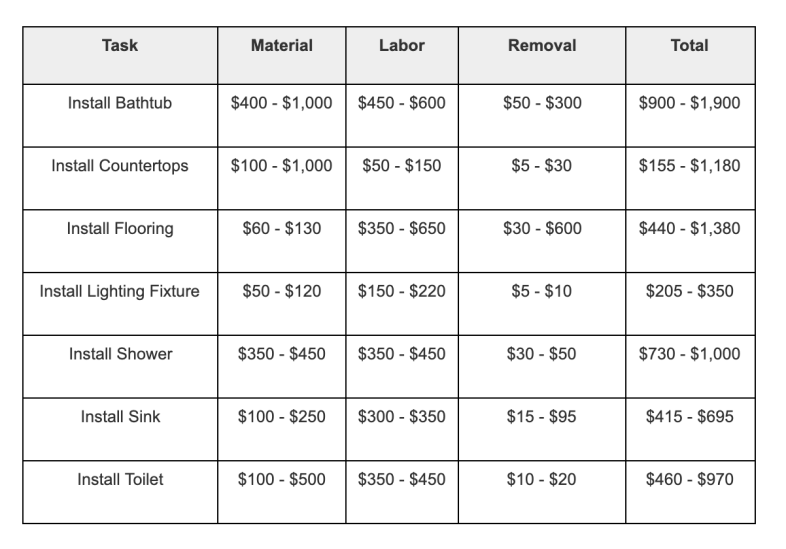 Turnaround Time
Once you've purchased your materials and hired your contractors, you'll need to know how long it will be until you can enjoy your new bathroom. Some estimates suggest that on average, it will take a little less than a month — about 23 days — to complete it entirely.
These estimates are liberal and comprehensive but think about it like this: Demolition might take one or two days, depending on how much material needs to be removed. Plumbing will take another day or two if you are having anything moved such as a tub or toilet. Electric will take another day or two if you need to run new lines anywhere in the room, and insulation should take about half a day.
After that, it should take about a day for drywall, one or two days to finish the drywall, two days for tiling, a day for painting, two days for flooring, and a day for cabinetry. Again, it will take you significantly less time if you're just updating one or two things, like the tiling or tub, and if you're keeping your plumbing and electric intact.
Keep in mind that costs will vary depending on the bathroom space and if you're renovating a master bathroom or a small bathroom like a guest bathroom or powder room. For example, if you're renovating or redesigning a smaller bathroom, you might not have to budget the cost of a shower, tub, or shower head, but rather the vanity cabinet, sink, and toilet. Or if you're doing a complete bathroom remodel, specifically for the master bath, you'll have to budget everything, especially if you're considering a remodeling contractor to help you with the renovation and design.
Bathroom Remodeling Ideas
Before you begin, it's essential to nail down exactly what you want the final outcome to be. Consider creating a mood board or order of operations so that you can get on the same page as your team with what you want and how quickly you can expect it to happen.
Remember that when choosing various materials — tiles, woods, paint colors, fixtures — you want to ensure that they will all flow and not look mismatched or clashy. To accomplish this, compile images of the different features and fixtures you want to utilize in your space so that you can ensure they look correct alongside one another.
You can use hashtags or sites like Pinterest to start getting ideas. Here are some of our favorite bathroom remodeling inspiration photos:
This small bathroom has a simple, luxurious design with a dark blue vanity cabinet and gold fixtures to match. Remodeling idea: a touch of personality to your bathroom design by painting one wall or putting up a wild wallpaper.
This modern bathroom design is clean and rustic, with the white subway tile walls and hexagon floor tiles. Little details like the matte black faucet, fixtures, door handles, and shower door frame makes the space feel a lot more put together.
If you want to transform your tiny bathroom into looking more spacious, add more mirrors! This bathroom started small, but with the freestanding tub and the lighter colors (gray cabinetry and white marble tile), space immediately appears bigger.
Here's an idea: use a ladder as a towel rack! This is a clever and cute way to design the space near the shower, around the bath, or next to the bathroom sink, and keep the space organized.
Keep in mind that you'll want the styling of your bathroom to flow with other rooms in your home. When you're putting together ideas, consider pulling a bold color from another room and/or a fixture that matches the style of another part of your house, and making that the focal point.
Ultimately, it's about taking creative liberty and creating the bathroom you want. If you don't know where to begin with the bathroom remodeling project, try closing your eyes and imagine where you want to get ready in the morning or relax in the evening. Soon, you'll be able to visualize exactly what you want to create in your home.