They say that a story is only as good as its storyteller, but when it comes to something sinister or malevolent, there's no denying that the story itself is more important. 
A good spooky story is one that makes us question the things we know, one that draws us in. There's something entertaining about a good scare, and that's why we love horror movies: the "jump scares", the strange happenings in the basement of a haunted house that convince us to never go somewhere alone. There are towns and buildings all over the world that are haunted by ghosts. Whether it's an old woman in a long white dress, a little girl who likes to giggle and run down the hallways, or an angry old man seeking revenge–there's always something…or someone.
Stories about ghosts are popular around Halloween, at sleepovers, while sitting around a campfire, and reading online in the middle of the night. Some people even like to tell stories on Christmas Eve, like with the most famous Christmas-themed ghost story by Charles Dickens, A Christmas Carol. This spooky tale follows a man who is tormented by the apparition of his former business partner and the spirits of the past, present, and future. The thing is, not all ghost stories are fiction. In fact, most ghost stories are real. 
Scary stories are scary stories for a reason: they are the unsettling accounts and experiences in a haunted house or the dark woods, hearing voices or strange noises, or of abnormal sightings and ghostly activity. Sometimes, the things we hear and see are so real that they almost feel unexplainable. Real ghost stories are the ones that linger in your mind just as you're trying to fall asleep at night, one that makes you fear the dark, no matter if you're a kid or not. There's a haunting feeling that comes from people witnessing a ghost or paranormal activity because it's real people with real experiences of the unexplainable. 
If you have a fascination for the supernatural and are in the mood to get spooked, here are some of the best ghost stories out there. These stories aren't for the faint of heart, so if you're ready to face your fear of the unknown, then by all means… 
The R Theater – Auburn, Illinois 
Not long after a man named Robbin Terry purchased a movie theater to fix up did he begin to experience strange happenings, like voices in empty hallways and footsteps going from room to room. Robbin brought in a psychic, who told him that a person named John Wayne was haunting the building and that she kept seeing images of a clown. Another psychic came in and claimed to have heard laughter, like a manic, cackling kind of laugh.
Then, Robbin came into the possession of a beautiful, wooden armoire. This piece of furniture was once owned by the attorney of the infamous serial killer, John Wayne Gacy, a man who had preyed upon young men and boys while dressed as his "alter-ego", a clown named Pogo. When Gacy was on death row, he painted, and some of these sinister portraits were kept in the wooden armoire. 
People who have visited the R Theater have experienced bizarre happenings: a bright light appearing in a blacked-out room, shadows moving throughout the hallways, and a paranormal investigator noted a voice coming through a spirit box saying that someone named John was coming, and "From Hell."
Crescent Hotel – Eureka Springs, Arkansas
The Crescent Hotel is considered to be America's most haunted hotel, based on the story of Norman Baker, a medical fraud who bought the hotel and turned it into a hospital to treat patients after he claimed to have had the cure to cancer. When his patients died under his care, he buried their bodies in the basement as a makeshift morgue.
The spirit of every patient he killed still roams the halls of this haunted hotel to this day. In fact, paranormal investigators from the Ghost Adventures show went to the basement morgue and witnessed something–or someone–move. One hotel manager claimed that "he had discovered a portal to the 'other side' for those who are on the same 'frequency'." Another manager who ran the nightly ghost tours said that the guests would grow faint and pass out in the same exact location. Upon investigation, this spot was where the portal was located, which was also directly above the basement morgue.
The House of Death – Greenwich Village, New York 
The house is considered to be New York City's most haunted building, seeing that there are around 22 ghosts who have been spotted roaming the halls. Writer Mark Twain lived here from 1900 to 1901, claiming to have experienced supernatural incidents, like a wood paneling moving in mid-air. His ghost has been seen walking down the stairs and in 1937, a mother and daughter bumped into his ghost perched on a window seat. This was the site of a number of incidents, including a murder-suicide and the beating death of a 6-year-old.
In 1957, a famous actress and psychic Jan Bryant Bartell felt a "monstrous moving shadow" follow her around the home. She saw a man standing in the hallway and when she reached out to touch it, she felt "A substance without substance. Chilly, damp. Diaphanous as marsh mist or a cloud of ether. I could feel my fingers freeze at the tips. They were numb, and yet they tingled. In the split second between contact and recoil, the scent came. Fragile and languorous. And sweet; unbearably, cloyingly sweet."
The Dakota – New York City
This late 19th-century building is an expensive and quite haunted apartment building in Manhattan, New York. Located in Central Park West, this building had a role in the horror classic Rosemary's Baby and is also the site where John Lennon was killed. John Lennon was assassinated by a crazed fan while on the steps of The Dakota in 1980. It has been said that his apparition lingers near the stairs, leaning up against the wall in his white suit. His wife, Yoko Ono, still lives here and says she once saw his ghost sitting at the piano. He also had told her, "Do not be afraid, I am still with you." Before he died, Lennon claimed to have seen a "crying lady ghost" roaming the halls. Workers and residents of this building have witnessed rugs and large pieces of furniture being moved, an adult man with the face of a small boy, and a friendly little girl waving through the window.
Dead Woman's Crossing – Weatherford, Oklahoma 
In the early 1990s, Katie DeWitt James left her home with her baby, Lulu, after filing for divorce from her abusive husband. She had plans to move in with her cousin, but instead, moved in with a local prostitute, Frannie Norton, in Weatherford, Oklahoma. Katie was last seen leaving the house with her baby and Frannie; however, none of them returned.
Katie was missing and Frannie had taken Lulu to a farm and left her there. After Frannie was caught, taken into custody, and questioned by police, she poisoned herself. A month later, in Deer Creek, a fully-clothed skeleton was found, along with the skull 3 feet away with a bullet in it and the caliber gun sitting nearby. It was concluded that Frannie had killed Katie the month prior. People have heard a woman looking for her baby and the sound of rolling wheels, and have seen Katie appearing as blue light. 
Eastern State Penitentiary – Philadelphia, Pennsylvania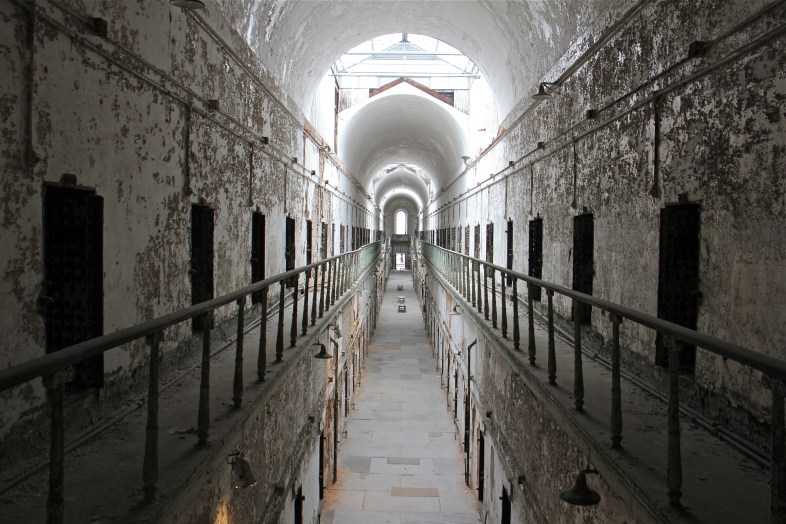 This Philadelphia-based prison took solitary confinement to a whole new level. Everything the prisoners did, they did alone: eating, living, exercising. Guards would even cover their heads when they left their cells so they wouldn't see or be seen. There were around 300 prisoners in solitary, receiving such harsh punishment: being dunked in an ice water bath and then hung on a wall in the middle of winter until ice formed on the skin, the mad chair that cut off circulation, the iron gag, and "The Hole." This was, apparently, to "help criminals find penance, remorse, and salvation. In reality, it drove many prisoners insane." 
The prison has a number of ghosts haunting the grounds: Chicago gangster Al Capone, who served 8 months here, Warden Herbert "Hardboiled" Smith, 2 guards who were murdered, and hundreds of inmates who were either murdered or had died from disease and old age. Cell Block 12 has voices and cackling. Cell Block 4 has the silhouette of a guard in the tower, footsteps, wailing, whispers. Sometime in the 90s, nearly 20 years after the prison closed down, a locksmith had entered Cell Block 4 and felt someone gripping him so tightly that he couldn't move.  
Dozens of paranormal investigators and researchers have visited and left with the belief that it is a "hub of otherworldly activity." Often referred to as the Prison of Horrors, this is also considered one of the most haunted places in America. Night (and day) tours are offered, if one wants to see the crumbling, dark cells and the long, narrow hallway leading to Death Row. 
House of the Seven Gables – Salem, Massachusetts
Salem, Massachusetts is legendary for its history of the witch trials and other spooky entities. The Turner-Ingersoll Mansion is known as the House of the Seven Gables, and it has had a number of ghostly reports. Because the house is now a museum quite popular around Halloween, visitors have seen some spooky, unsettling things: a man climbing up and down the secret staircase, a little boy who giggles and runs around the attic, and even Susannah Ingersoll, the cousin of Nathaniel Hawthorne and the author of the novel The House of the Seven Gables. One visitor heard a woman's voice in his ear whispering "shhh", and when he turned around expecting to see his girlfriend, no one was there.
Jean Harlow House – Los Angeles, California 
This Beverly Hills home has some unexpected, gruesome, dark history. In 1932, famous actress Jean Harlow and her abusive husband Paul Bern lived in here, shortly before Paul shot himself while standing in front of the mirror. Jean moved out and died a few years later. Then, in 1963, celebrity hairstylist Jay Sebring and famous actress Sharon Tate moved in, and they lived there together until she left him for Roman Polanski. When they lived in the house, however, Tate witnessed seeing a "creepy little man" who resembled Bern. When she fled the room and ran downstairs in fear, she then had a vision of an entity, tied to the railing and with its throat slashed. A few years later, both Jay Sebring and Sharon Tate were murdered by members of the Charles Manson cult. Freakishly enough, the house they were murdered in was only two miles away from the house they had once lived in. 
The Surrency House Ghost – Surrency, Georgia
"That place was possessed by something evil," a witness claimed about the Surrency House, owned by Allen Powel Surrency. In 1870, the Surrency family had been living in this Georgian house, claiming that dishes and glasses fell out of cabinets, books tumbled off of shelves, doors opened and closed, unexplained voices and screams were heard, bed covers moved and rolled down, and so much more. Visitors went to the house and experienced similar spooky and chilling things, too. After the family moved out of the house, no one lived there ever again, and the home eventually burned to the ground in 1925.
Ghost of Bellamy Bride – Marianna, Florida
It was sometime in the 1830s when a woman named Elizabeth Jane Croom Bellamy, the daughter of a wealthy North Carolina planter, married a wealthy doctor named Samuel C. Bellamy. The ghostly legend states that her dress caught on fire from a candle flame, covering her body in horrible burns. Although she survived, she died a few days later and was buried along the Chipola River in Marianna, Florida. It has been said that she is wandering the banks, dressed in her white gown. Some have seen this young woman appearing on fire and diving straight into the swamp water to douse the flames. 
The Morris-Jumel Mansion – Washington Heights, New York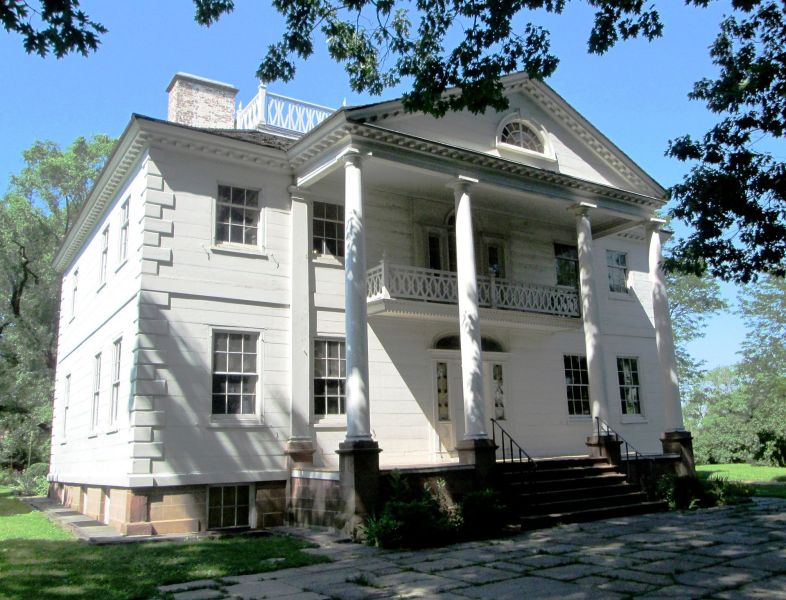 As one of the oldest houses in Manhattan, serving as military headquarters for both sides of the Revolution in 1765, this house is rumored to be quite haunting. It has been said that there are a number of ghosts in the house: a Hessian soldier who died on the stairs, a maid who jumped out of a window, and Eliza Jumel, the wife of Aaron Burr. Apparently, the ghost of George Washington has also been spotted pacing around the halls.
This mansion has been turned into a museum, where staffers have frequently experienced unusual activity. A former staffer had been in the basement and heard footsteps upstairs, though the mansion was supposed to be empty. There were other instances, like lights flickering on and off, doors opening, a table scraping against the floor as if it were moving and staffers finding that the 6-foot long wooden table in the kitchen moved off-kilter. Visitors of the mansion-turned-museum have also heard women's laughter as if it were Eliza giggling with her female companions. 
Sloss Furnaces – Birmingham, Alabama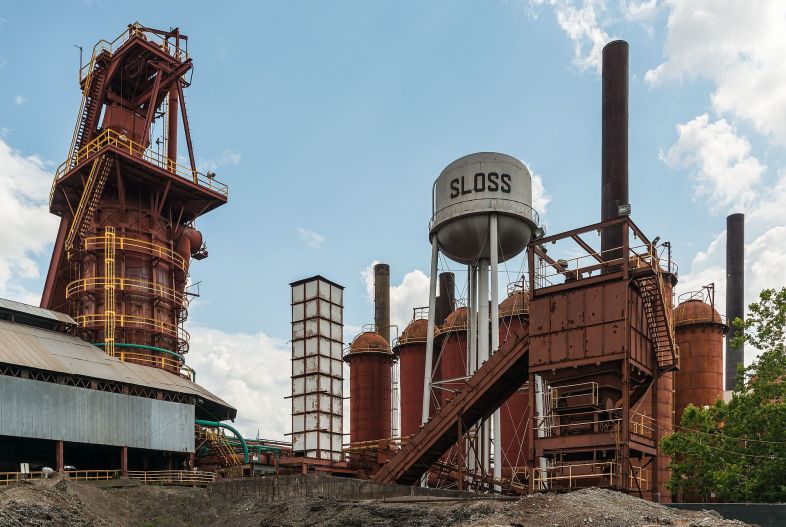 Birmingham, Alabama was founded shortly after the Civil War in 1871. In order to fix the crumbling infrastructure as a result of the war, Colonel James Withers Sloss hired people to work on blast furnaces, transforming coal and ore into hard steel. This job was incredibly dangerous and many workers were falling to their deaths and being incinerated in the furnaces. Then, James "Slag" Wormwood came along. He was a foreman in charge of the workers during the Graveyard Shift, the period between sunset and sunrise. 
Slag took risks to improve production, and that evidently led to more than 50 deaths from lack of sleep, no breaks, low visibility, and heat exhaustion while working in 120-degree weather. There were a number of accidents, including an explosion that left 6 workers burned blind. History states that he lost his footing and fell into a pool of melted iron ore, his body melting within seconds, however, many have thought that because he had never wanted to set foot on top of the furnace, it was the workers who had tossed him into the furnace. 
There are over 100 reports of suspected paranormal activity here. People have heard an echo of "get back to work" in Slag's voice and a man with a badly-burned face approaches them and tells them to "push some steel." Workers have stated that there's an "unnatural presence" around the worksite. One night watchman even came face-to-face with "the most frightening thing he had ever seen", a "half-man/half-demon" who pushed him and beat him with his fists. The watchman was examined, his face covered with intense burns. 
Amityville Horror House – Long Island, New York 
This haunted house has become a worldwide fascination for those who enjoy unexplained phenomena. It has made a lasting impression in pop culture–in books and horror films–as a place of ghostly activity and negative energy. A newlywed couple–George and Kathy Lutz–moved out of this house only living there for a month because they were concerned for their "personal safety as a family." According to researchers and paranormal investigators, this was the site of mass murder: 6 members of the DeLeo family–a mother, father, two daughters, and two sons–who were shot to death by the 3rd son who wanted the insurance money. 
The tale of Amityville claims a spirit yelling "get out" to a visiting priest, cold spots, a room full of flies, and a child's imaginary friend. Interestingly enough, other residents of the home deny the claims of the ghost-like horror that writers and previous tenants have amplified. However, the Lutz family thinks differently, believing in the malevolent spirits and shadowy figures they witnessed. 
The Stanley Hotel – Estes Park, Colorado 
Although this hotel is luxurious with beautiful Georgian architecture, the grand staircase in the lobby, and the world-renowned whiskey bar, there is more to it than meets the eye. This haunted hotel was the inspiration for Stephen King's novel, The Shining. He wrote The Shining while staying in Room 217, which is known to be the room with the most active ghost activity: a woman–Elizabeth Wilson–walked in holding a lit candle, not knowing that the room was experiencing a gas leak. She survived the explosion but ever since she died years later, she "very kindly folds clothes while the guests are out," and also separates "unmarried couples who are sharing the bed" with a cold force pushing them. 
Hotel staff says that the founder and his wife who died in the '40s are still roaming the hallways, hanging out in the Billiards Room, and playing the piano in the middle of the night. Guests have witnessed a "friendly cowboy who appears at the corner of the bed," hearing children giggle and run around the hallways, luggage unpacked, lights being turned on and off. People can book any room at this hotel, including Room 217, if they dare.
–
If you want to read more horror stories to keep you up at night and give you a good spook, read Echoes: The Saga Anthology of Ghost Stories, or other creepy stories courtesy of Creepy Catalog.
Sources: