Whether it hides under a bed, or proudly makes an appearance at an adult sleep over, everyone needs a sex kit!
But…why?
Because we are classy as fuck. That's why. And apparently, as an adult, we're supposed to be prepared for anything. No more "Oh, I don't have a condom..I guess we're not gonna use one." HA! Good thing I brought my kit! Now, to be ribbed for her pleasure or extra thin for his? In all seriousness though, having the correct tools to have safe and fun sex is quite important, wouldn't you say? Feel free to switch in items catering to your needs and wants. These are just a few of my favorites. Now lets get started!
Wrap it up kids!
This is probably the most obvious thing to put in your bag BUT, also the most important. I don't think y'all need me to bust out the pictures of STI's and babies right? With that said, there's a plethora of condoms out on the market so when shopping for them keep a few things in mind.
1. Are you or your partner/s allergic to latex? If so, or just to be mindful of any future partners, non-latex condoms like the ones from Skyn® are awesome! (This particular condom is made from polyisoprene)
2. Size? Comfortable, snuggly, non-painful is basically how condoms are suppose to fit. Most people don't realize that condom size varies by company, and even textures. This makes things confusing, but there's tons of resources out there on condom fitting. Buy a few sizes for your kit just in case.
3. Lubrication or not? Most condoms are pre-lubricated, but if you know you're sensitive to certain lube ingredients or just have a favorite, there are options of non-lubed condoms. Just add your own!
4. Fun? Do you need the condom to glow in the dark? There a ton of condoms with textures, colors, flavors, print, etc. Some of these do make a difference in feel, though, most of them are purely for the entertainment of seeing a dick in a random ass color.
You of course have the option of having female condoms in your kit, unfortunately those are a bit more difficult to find. (ugh..we live in a mans world…) Dental Dams are also something you could have in your case if you wanted to be careful with more..oral activities. Available in yummy fruit flavors. haha
Make it Wet…
When it comes to lube you have quite a few choices. The three bases you need to know about is water, silicone and oil (Lube post coming up!).  For your kit, my suggestion is at least to have a water based one. Water based lubes are both body and toy
compatible so you won't have to worry about ruining your toy during play. I'm a huge fan of System Jo® products and  have quite a few of their products in my kit. I like their H2O classic because it does not get as sticky as a lot of other lubes do and comes in quite a few sizes. The one pictured is 1 fluid ounce, which makes it travel friendly and TSA approved. I also carry a silicone based one which is body safe and great for water play! Uberlube® is incredibly smooth and non-sticky. Made from only silicone and vitamin E, this is great not only for sex and the occasion car handjob..but also great at controlling frizzy next day sex hair. Haha yes, I do walk around with lube in my hair at times. The last product pictured is another one from System Jo®, this is their "All-In-One" massage "oil". Massage oils are a great way to get things started. The only issue with traditional oils is that once things "get going" you're gonna have oil all over you, which is not great for our lady parts. This is where the "All-In-One" comes in. It's silicone based so it's safe internally, non- sticky and is condom compatible.
Buzz Buzz
Now to the fun part! So there's a ton of options out there for toys. These are just a few of my favorites. I picked these ones because they are compact and quiet. Both features are important if you're traveling or have roommates. An essential for all kits is a vibrating bullet style toy. It's one of the most versatile toys out there and because of that, there are a ton to choo
se from. Feel free to choose your favorite. My only suggestion is it should be silicone – not, plastic, jelly or TPE. Silicone is softer than plastic and does not have as many pores as jelly toys which makes it easier to clean. I like the "Pixie Sticks Shimmer Vibe" by Evolved®. It's super soft, very inexpensive and has 10 different speeds and functions. My favorite feature of this toy is the tip. The small curve at the end of the toy lets you cradle the clitoris. You can use this toy solo or with a partner! Just think of the possibilities!
Next up, cock ring! I like the ones that vibrate because who doesn't wanna turn their partner into a human vibrator?! The "Vibrating Super Soft TM C-Ring " by Tantus® is THE way to go. It's medical grade silicone, making it virtually pore-less and easy to sterilize. You have the option of taking out the bullet and using the ring itself.  The actual bullet is very unique because it has a much pointier tip than other bullets, which means you can get more precise stimulation. BONUS! Having a toy you can use both internally or externally is great because it carries all the benefits of the bullet vibe, plus so much more! With a vibe like the Lelo® Liv, you have the option of penetrative play, g-spot exploration and even anal play if done correctly. Again, I suggest one made of silicone.
Ohh..You so Nasty!
When done correctly, sex should result in wet, sweaty bodies but we all know that there are times you don't have the opportunity to clean up after. Or, sometimes you're just a lazy ass and wanna roll up into a ball. A great solution for this are the "On-the-go whipettes" by SweetSpot Labs™. We're familiar with how easy it is to remove makeup with wipes, so why not for your sweet spot too? Ha..get it?  It's great for a quick re-fresh before you get down and cleaning up your sticky ass body after. Make sure the wipes are pH balanced so we don't throw off your very delicate self cleaning system. The little pen looking guy is a great little multi-tasker. (Can you tell I'm all about multi-tasking?) The Swiss Navy® Toy & Body Cleaner is great for quick clean up whether that be for your toys or your body. It has great anti-bacterial, anti- viral and anti-fungal properties, helping you keep things squeaky clean.
Adult Sleep Over Essentials and Extras
Pretty much self explanatory guys..stank breath is not sexy, crazy ass hair all over the place is also not so sexy and finally, a vibe dying in the middle of play is pretty shitty too. Be prepared.
On the other side of the spectrum are the completely optional but VERY fun items. I personally like to carry the "X On the Lips Buzzing Lip Balm" by Sensuva where ever I go. It's a really cool balm that tingles and elevates a make-out sesh to buzzy new levels. Legit guys..this makes your lips feel like a freakin' vibrator. From the same company is the "ON Natural Arousal Oil" A few drops of this bad boy on your lady parts makes any light or not so light touch more intense, leading up to a killer finish. Blossom Organics®  makes an awesome "Arousal Gel", which is applied onto the clitoris and massaged in. This helps with circulation, thus creating more sensitivity. This is especially awesome for ingredient conscious people looking for an all natural product.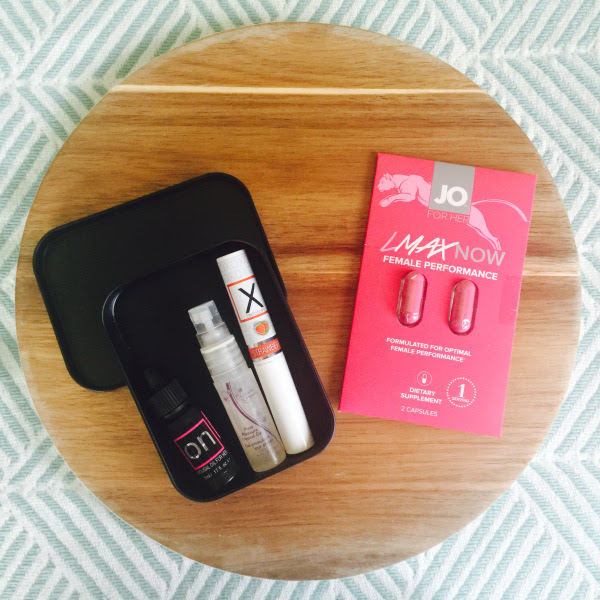 This last item is something that freaks some people out. I used to be super skeptical of pills and performance enhancers but have recently discovered how fun they really can be. Taken thirty to sixty minutes before play basically intensifies all your sexual responses. This means wetter, throbbier, sex!  "LMAX Now" by  System Jo® is what I have in my kit, but there are a few other ones out there. Do your research on ingredients!!!  Again, these items are totally optional, just a few ideas I wanted to share.
Lastly, lets talk about the carrying case. I have the cutest case by Plume called the "Mini Moi". It's great for fitting into a nightstand or bring on your travels. The mesh is perfect for small items like condoms and batteries and the bottom is lined with a few elastic straps, which keeps your toys and liquids from rolling around too much. It's actually coated with an Anti-bacterial coating which "discourages the growth of germs". Pretty freakin', cool right?
Hopefully I've inspired you to put together your own little kit. Again, these items are totally interchangeable with what you prefer. I've gotten the opportunity to get you guys a coupon at Spice Sensuality Boutique. Enter "SEXKIT69" for 15% off your purchase! If you have any questions feel free to contact me Jannytheamazing@gmail.com. Good luck and have fun!