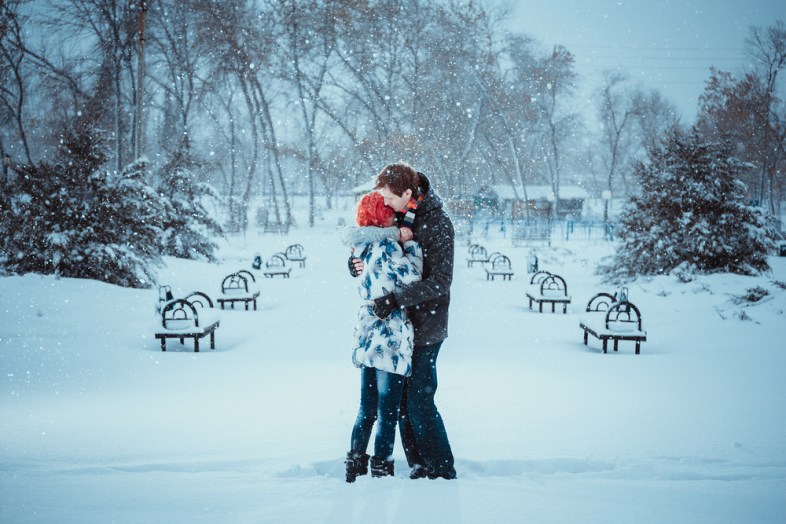 While June tends to be the traditional month for weddings, winter weddings are becoming more and more popular all the time. This is such a beautiful time of year, and if one is lucky enough to have the snow fall near their wedding date, they can have an amazing backdrop for romantic photos. If you are considering having a winter wedding, here are some tips to help make your wedding dreams come true.
1. Cake – There is so much that bakers can do with fondant these days, and when it comes to creating amazing wedding cakes, the only limit is your imagination. Some great ideas for cakes to have at winter weddings include red and green trim, vintage styles that are dusted with silver powder that is edible, sugar ribbon decorations, candy crystal drops, and more.
2. Favors – You have loads of options when it comes to favors to give your wedding guests. Instead of the traditional net bags with a few chocolates, why not opt for something that your guests will really like? You find all kinds of unique favors on My Bride Fairy.
3. Music – Are you tired of hearing soloists or pianists at weddings? If so, try something different for your wedding, and hire an a cappella quartet. Instead of traditional wedding music, have them offer up some jazz and pop tunes, and really turn the event into a festive occasion. This is something that people won't be expecting, and they will love it.
4. Escort Cards – Create an awesome escort tree with a candelabra centerpiece, crystals, and of course, escort cards. Attach crystals to the card with ribbons, and hang them from the candelabra. Use silver ink on the cards to make them really stand out.
5. Invitations – This is a time of year when you can get away with classic dark colors for your invitations. A really nice look is black or dark red card stock, with silver writing and artwork. Or, you can use frosted Plexiglass invitations with white or silver ink, which are sturdy and attractive.
6. Holiday Themes – If you are getting married during the holiday season, you may want to consider using that as a theme for the wedding, complete with red and green in the decorations and bridesmaids' and groomsmen's clothing. Just remember, a little bit of this goes a long way. Another option which will give your wedding a truly glamorous touch is to use silver as your main color.
7. Centerpieces – You can get really creative with your centerpieces. Ice sculptures are always a great choice, or you can have vases made from ice for each table. Crystals, glitter, candles, and anything that sparkles will give your wedding reception a touch of winter magic. Poinsettias are a great choice for flowers, with their beautiful red blooms and green leaves.
8. Cocktail Hour – For a winter wedding, you will want to serve drinks that fit the season. In addition to beer, wine, and cold cocktails, be sure to have a choice of warm drinks, such as Irish coffee, cider, hot chocolate, espresso, coffee, white hot chocolate, etc. Don't forget to have plenty of eggnog on hand. Make sure there are alcoholic and non-alcoholic choices, so there is something for everyone.
9. Honeymoons – Instead of hitting the beach for your honeymoon, why not keep up with the winter theme and enjoy a winter getaway. For instance, you can rent a cozy cabin in the mountains, complete with a romantic fireplace. Or, you can book a fun and exciting skiing trip. There are all kinds of ways you can enjoy a winter honeymoon in the snow.