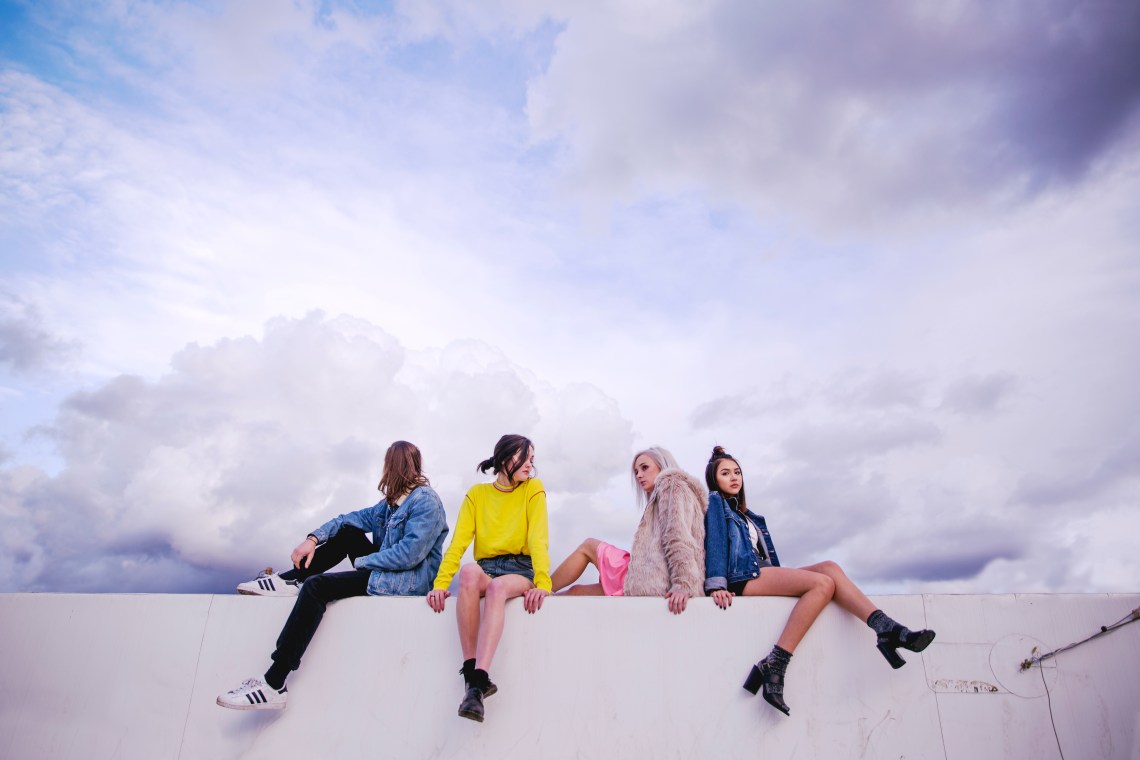 1. The Say-It-Straight Friend
This girl does not give a fuck. She's the one who tells you you've been eating too much peanut butter. She gets extremely annoyed and irritable if anyone in the group talks about feeling "down," "depressed," or "unsure." Because she's always sure and she thinks all women should be. The O.G feminist, she's the kind of friend you channel before a job interview. These ones are essential for the homeostasis of any brilliant group of GF's.
2. The Wanderlust
You're planning a post-grad trip to Thailand? This is the friend you text first. She's always down for something new (which makes her slightly difficult to be around when you're at school or at home because you'll frequently hear: "There's nothing to do here," or "It's just hard to go to these stupid college parties after spending last semester clubbing in Berlin…") But all around, this girl is the reason your girlfriend's do cool shit, like camp or actually go to that pop-up thrift shop. You can get past her floral crop-tops because she's a really good person.
3. The Hot Mess (A.K.A The Friend Who Attaches a Pic of Her Shirtless Guy Friend Instead of Her Resumé and Sends It to a Potential Employer By Accident)
This is also the friend who gets drunk enough to attempt running out of your suite naked. She's fun. She's always down to do that 5th tequila shot with you (or without you). She's the one who makes sure your friend group will never be referred to as "tame" or "lame." She'll say things like "You know that guy who I said has a big dick but is weird…" "I lost a lot of things last time—myself and my phone" or "in retrospect I would marry him" and you'll ask yourself why you ever hang out with anyone else.
4. The Soon-To-Be Soccer Mom
Yoga-pants, Subaru's, remembering to bring the cooler on a road trip, getting out balsamic vinegar stains and holding your hair back are her fortés. Maybe she's not the first of your friends who comes to mind when throwing a party, but she has her manicured hand squarely on the pulse of the group. She's all-knowing. The stable corrector. No need to download Yelp, Uber or Waze, she already has them all and plans everything anyway. Without her, your gal crew would show up camping without tents or food. You need her to survive.
5. The Pint-Size Peanut
You'll find her on the shoulders of your tall guy friend at the music festival you all recently went to. This is the friend who's really, really short and adorable. She's the friend you tote with you when you're trying to pay the children's price for a movie ticket or the person you call when you're trying to get rid of your old American Girl doll's clothes (OMG Molly's navy skirt looks SO cute on her!) She's the friend who makes sure at least one person in the group was actually able to see the Kanye performance at Gov Ball (and snag the Insta that everyone in the group posted to the dismay of your shared followers).
6. The Bear
She has you convinced that it's not only bear's who hibernate. She naps like it's nobody's business. She's the one who shows you that it's okay to not be going a mile a minute at all times. She also takes care of talking the friend group out of plans nobody actually wanted to do (any museum plan ever). She's logical and that's why she knows that certain things are a waste of time.
7. The Down-Undah (Aussie Chick)
Or really any friend with a foreign accent. They've had life experiences outside of burger-and-fries America and make your girlfriends nearly choke laughing about them. She says things like "flat" and "mate" and fortunately enjoys vegemite (so your nutella all yours). She also happens to be so much more than just your friend who's "different."
8.The Juice Cleanse Juggler
She won't judge you for ordering fries but one look at her lightly-dressed kale salad sends you running to the gym. Another trait she might possess is that of the Hypochondriac—she's most likely WebMD'd every blemish on her body and yours so you can be positive nobody will be dying of skin cancer anytime soon (despite the hours you've laid out on her roof in the sun). She got your friends the group class at spin. It's her fault the spin class gave you an endorphins high so intense that you proceeded to spend $123 at the drug store on toiletries post work-out. Shame on you (or maybe her!)
9. The Retail Warrior
There are no aisles in Forever 21 that this chick hasn't traversed. She has a body-con dress in every color you can possibly imagine and will lend them out for special occasions (like on halloween when you decide to dress up like cooler wine 'Franzia'). She's probably worked in retail herself and can get you discounts. She also compulsively shops online and often doesn't like what she ordered but is too lazy to actually return (which means it goes to you!) Find her before your dates and thank her for the beautifully dressed crew that is your friend group. You couldn't have done it without her.