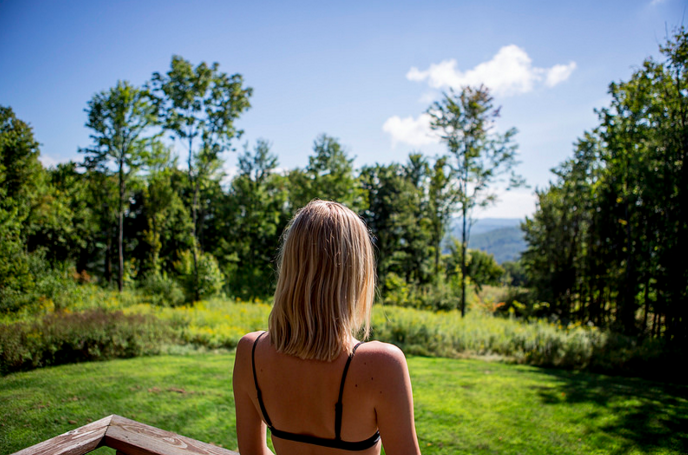 You know you're having a tough go when you start hyperventilating over Frosted Mini Wheats. Yes, Frosted Mini Wheats. The delicious sugar-coated biscuits that melt in your mouth after they have taken a perfect swim in an inviting bowl of milk. Definitely one of the more delectable bite-sized gifts one can hope for at the breakfast table.
Cut back to reality, a girl sobbing. That girl being me, of course. I was eighteen and more lost than I have ever been. Frankly, it was because if you turned me sideways I would disappear. I looked like a pre-pubescent ten-year-old boy (on a good day). Sadly, I thought I was doing a fab job of disguising the fact that I was anorexic in the widely accepting halls of New Trier High School. I can promise you this friends, when you have zero body mass, people know because you know.
When I think of that time now, I can't help but laugh and judge myself. Nowadays, I would take a bowl of frosted mini wheats to the face in under three minutes. But when that bowl was essentially force fed into my starving body, I panicked. I had lost all control over what I worked so mercifully to build, my skinny shield that I convinced myself could suffice as my life armor.
This is the pressing issue. In personal moments of crisis, everything is so visceral and seemingly life altering, that our brains tend to diminish perspective. In these moments, our awareness is skewed; we cannot see that we actually do have the strength to overcome our mental roadblocks. We can battle our diseases and come out victors. But, instead, we spend our days obsessing over the fine details. Harping on the carbs, the sugar, the amount of time we spent on the treadmill that day. It is a vicious cycle of harm that we grow to accept in order to maintain the unrealistic goal we set for ourselves. It disturbingly becomes habit; it is our distorted idea of a comfort zone.
Post cereal intervention, I experienced an hour of sheer terror. I was forced to surrender without the chance to defend my thoughts, my reasoning for holding my body hostage from sustenance. I was stubborn, and unwilling to admit that I was being helped, or potentially saved. But then, after basking in self-loathing and hatred over their evil plot to ruin me with tasty cereal, I was able to take a deep breath, connect my mind and body, and slowly but surely realize that everything was okay. I was okay, and even better, I was nourished, and therefore thinking more clearly then I had in months. I looked in the mirror and did not recognize myself. The light had gone out in my eyes, and I wanted it back. I was ready to walk the road to recovery.
I am an actress and a nanny. It is the words and insecurities of many young boys and girls that have lit a fire in me. It is time to speak openly about this issue and not hide it like some sort of sin. These conversations have a life beyond awkward seminars, rehab centers, and wine-induced late night conversations with a girlfriend.
I want to tell you about my struggles and let you know that, if you're brave enough, you can conquer yours. You can own your disorder. You can eat Frosted Mini Wheats and relish in how fucking good they are and always will be.
Get your power back. Crave your strength. Feed your inner hunger for life. You only get one shot.