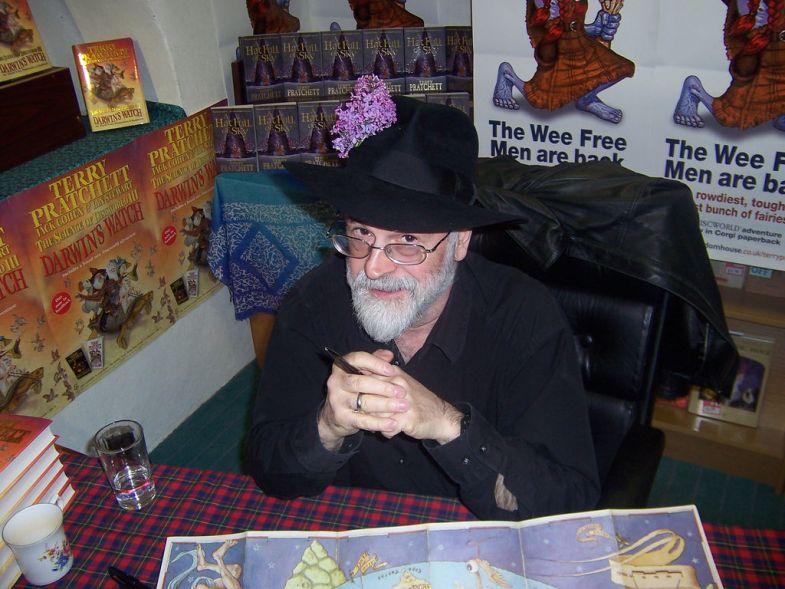 As you may have heard, Terry Pratchett passed away yesterday at the age of 66. He had Alzheimer's disease. Pratchett was beloved by his millions of fans for his creative, funny, and often insightful fantasy work, most notably his Discworld series. He sold 85 million books over his lifetime. Here are 27 quotes that show him at his best.
"Some humans would do anything to see if it was possible to do it. If you put a large switch in some cave somewhere, with a sign on it saying 'End-of-the-World Switch. PLEASE DO NOT TOUCH', the paint wouldn't even have time to dry."
― Terry Pratchett, Thief of Time
---
"It is said that your life flashes before your eyes just before you die. That is true, it's called Life."
― Terry Pratchett, The Last Continent
---
"Stories of imagination tend to upset those without one."
― Terry Pratchett
---
"Why do you go away? So that you can come back. So that you can see the place you came from with new eyes and extra colors. And the people there see you differently, too. Coming back to where you started is not the same as never leaving."
― Terry Pratchett, A Hat Full of Sky (Discworld, #32)
---
"In ancient times cats were worshipped as gods; they have not forgotten this."
― Terry Pratchett
---
"Wisdom comes from experience. Experience is often a result of lack of wisdom."
― Terry Pratchett
---
"It's not worth doing something unless someone, somewhere, would much rather you weren't doing it."
― Terry Pratchett
---
"I meant," said Ipslore bitterly, "what is there in this world that truly makes living worthwhile?"
Death thought about it.
CATS, he said eventually. CATS ARE NICE."
― Terry Pratchett, Sourcery
---
"Light thinks it travels faster than anything but it is wrong. No matter how fast light travels, it finds the darkness has always got there first, and is waiting for it."
― Terry Pratchett, Reaper Man
---
"DON'T THINK OF IT AS DYING, said Death. JUST THINK OF IT AS LEAVING EARLY TO AVOID THE RUSH."
― Terry Pratchett, Good Omens: The Nice and Accurate Prophecies of Agnes Nutter, Witch
---
"I'll be more enthusiastic about encouraging thinking outside the box when there's evidence of any thinking going on inside it."
― Terry Pratchett
---
"God does not play dice with the universe; He plays an ineffable game of His own devising, which might be compared, from the perspective of any of the other players [i.e. everybody], to being involved in an obscure and complex variant of poker in a pitch-dark room, with blank cards, for infinite stakes, with a Dealer who won't tell you the rules, and who smiles all the time."
― Terry Pratchett, Good Omens: The Nice and Accurate Prophecies of Agnes Nutter, Witch
---
"And what would humans be without love?"
RARE, said Death."
― Terry Pratchett, Sourcery
---
"There is a rumour going around that I have found God. I think this is unlikely because I have enough difficulty finding my keys, and there is empirical evidence that they exist."
― Terry Pratchett
---
"All right," said Susan. "I'm not stupid. You're saying humans need… fantasies to make life bearable."
REALLY? AS IF IT WAS SOME KIND OF PINK PILL? NO. HUMANS NEED FANTASY TO BE HUMAN. TO BE THE PLACE WHERE THE FALLING ANGEL MEETS THE RISING APE.
"Tooth fairies? Hogfathers? Little—"
YES. AS PRACTICE. YOU HAVE TO START OUT LEARNING TO BELIEVE THE LITTLE LIES.
"So we can believe the big ones?"
YES. JUSTICE. MERCY. DUTY. THAT SORT OF THING.
"They're not the same at all!"
YOU THINK SO? THEN TAKE THE UNIVERSE AND GRIND IT DOWN TO THE FINEST POWDER AND SIEVE IT THROUGH THE FINEST SIEVE AND THEN SHOW ME ONE ATOM OF JUSTICE, ONE MOLECULE OF MERCY. AND YET—Death waved a hand. AND YET YOU ACT AS IF THERE IS SOME IDEAL ORDER IN THE WORLD, AS IF THERE IS SOME…SOME RIGHTNESS IN THE UNIVERSE BY WHICH IT MAY BE JUDGED.
"Yes, but people have got to believe that, or what's the point—"
MY POINT EXACTLY."
― Terry Pratchett, Hogfather
---
"The whole of life is just like watching a film. Only it's as though you always get in ten minutes after the big picture has started, and no-one will tell you the plot, so you have to work it out all yourself from the clues."
― Terry Pratchett, Moving Pictures
---
"It's still magic even if you know how it's done."
― Terry Pratchett, A Hat Full of Sky (Discworld, #32)
---
"Death: "THERE ARE BETTER THINGS IN THE WORLD THAN ALCOHOL, ALBERT."
Albert: "Oh, yes, sir. But alcohol sort of compensates for not getting them."
― Terry Pratchett
---
"The presence of those seeking the truth is infinitely to be preferred to the presence of those who think they've found it."
― Terry Pratchett, Monstrous Regiment
---
"If you trust in yourself. . .and believe in your dreams. . .and follow your star. . . you'll still get beaten by people who spent their time working hard and learning things and weren't so lazy."
― Terry Pratchett, The Wee Free Men
---
"The reason that the rich were so rich, Vimes reasoned, was because they managed to spend less money.
Take boots, for example. He earned thirty-eight dollars a month plus allowances. A really good pair of leather boots cost fifty dollars. But an affordable pair of boots, which were sort of OK for a season or two and then leaked like hell when the cardboard gave out, cost about ten dollars. Those were the kind of boots Vimes always bought, and wore until the soles were so thin that he could tell where he was in Ankh-Morpork on a foggy night by the feel of the cobbles.
But the thing was that good boots lasted for years and years. A man who could afford fifty dollars had a pair of boots that'd still be keeping his feet dry in ten years' time, while the poor man who could only afford cheap boots would have spent a hundred dollars on boots in the same time and would still have wet feet.
This was the Captain Samuel Vimes 'Boots' theory of socioeconomic unfairness."
― Terry Pratchett, Men at Arms: The Play
---
"There are, it has been said, two types of people in the world. There are those who, when presented with a glass that is exactly half full, say: this glass is half full. And then there are those who say: this glass is half empty.
The world belongs, however, to those who can look at the glass and say: What's up with this glass? Excuse me? Excuse me? This is my glass? I don't think so. My glass was full! And it was a bigger glass! Who's been pinching my beer?
And at the other end of the bar the world is full of the other type of person, who has a broken glass, or a glass that has been carelessly knocked over (usually by one of the people calling for a larger glass) or who had no glass at all, because he was at the back of the crowd and had failed to catch the barman's eye. "
― Terry Pratchett, The Truth
---
"Fantasy is an exercise bicycle for the mind. It might not take you anywhere, but it tones up the muscles that can."
― Terry Pratchett
---
"This book was written using 100% recycled words."
― Terry Pratchett, Wyrd Sisters
---
"HUMAN BEINGS MAKE LIFE SO INTERESTING. DO YOU KNOW, THAT IN A UNIVERSE SO FULL OF WONDERS, THEY HAVE MANAGED TO INVENT BOREDOM. (Death)"
― Terry Pratchett, Hogfather
---
"Chaos is found in greatest abundance wherever order is being sought. It always defeats order, because it is better organized."
― Terry Pratchett, Interesting Times: The Play
---
"…inside every old person is a young person wondering what happened."
― Terry Pratchett
He'll be terribly missed.