"I was just drunk out of my mind."
Today, after enduring eleven days of testimony, the alleged gang rape victim of four former Vanderbilt football players reportedly vomited in a Nashville courtroom in reaction to accused rapist Cory Batey testifying that he was so drunk on the night of the assault that he shouldn't be held responsible, despite photographing and videoing the incident as it happened.
Batey has plead not guilty, as all four of the accused have, but it is alleged that he "slapped and urinated on the student as she lay unconscious in the dorm room" while Brandon Vandenburg, who had dated the victim, "began touching himself and got his laptop to watch pornography" during the assault.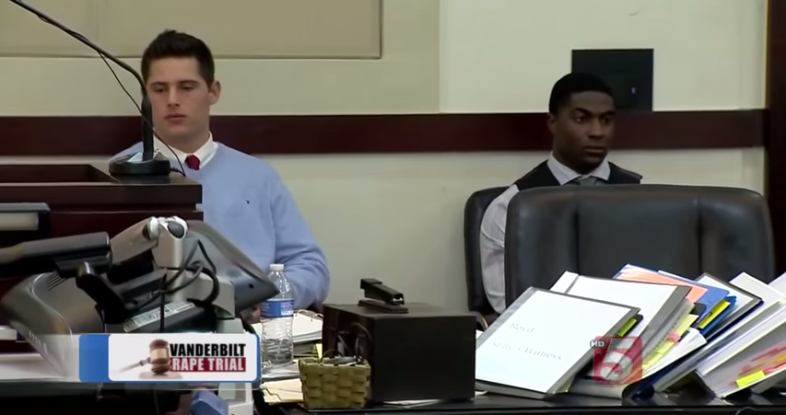 Batey claimed in testimony today that he was ready to take responsibility for his part in the assault. When asked by the prosecution if that meant he was ready to change his pleas from not guilty to guilty, he answered that he was not.
'I was just drunk out of my mind,' he testified on Monday. 'This is something I would never do in my right state of mind. I'm just sorry.'

He repeatedly said that he could not remember details of the days after the alleged attack, including messages he sent to other men accused of trying to cover up the incident.
Batey reportedly went to his girlfriend's house to spend the rest of the night with her after the alleged assault was over.
Experts testifying for Batey are asserting a bizarre defense—that, since Batey was supposedly too drunk to remember the incident, he is therefore not responsible for it.
On Friday, an expert witness for the defense testified that Batey was so drunk after consuming between 14 and 22 drinks that his ability to 'act knowingly' was impaired.

'He was so intoxicated he was not his normal self,' Dr. James Walker, a forensic neuropsychologist said. 'He was doing things he would not normally have done.'
Batey is also blaming Vanderbilt itself for his part in the assault.
Batey's defense team has said that his judgment was changed by a campus culture of binge drinking and promiscuous sex.