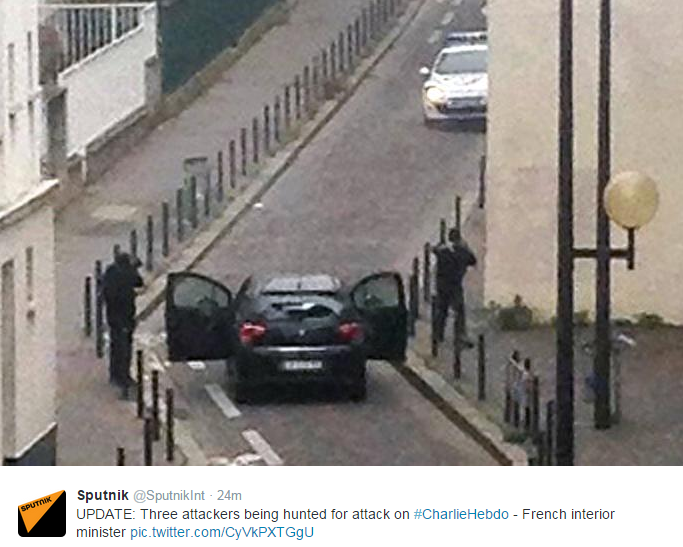 Today, Islamic militants dressed from head to foot in tactical gear killed 12 people and injured at least 20 in an attack on the Paris office of Charlie Hebdo, a weekly satirical newspaper which had lampooned Islamic extremists in the past. Among the dead were two police officers.
The gunmen who took part in the attacks, as of this writing, are still at large. In the below video, which is not visually graphic, one attacker's cries of "Allah hu akbar" or "God is great" can be heard ringing through the alleyways and streets at the site of the attack.
https://www.youtube.com/watch?v=zUWUaxd-190
Partial video of the attack can be seen below. It is graphic.
https://www.youtube.com/watch?v=i-FFx7Xy0Uo
The publication had been firebombed in 2011 for depicting the Prophet Muhammad in a satirical fashion although the paper satirizes a broad swath of targets including other religions, French government and society, and international issues. However, even after the 2011 attack, Charlie Hebdo remained dedicated to its craft in support of free speech.
Love is stronger than hate/L'amour plus fort que la haine h/t @bouckap #CharlieHebdo pic.twitter.com/TvgGJIMdr0

— Mona Eltahawy (@monaeltahawy) January 7, 2015
After the attack, France raised its threat level to the maximum as President Francois Hollande confirmed that the attack had been the work of terrorists. Police then worked to secure other portions of the city.
"There is possibility of other attacks and other sites are being secured," Police union official Rocco Contento said.
The last tweet from the Charlie Hebdo twitter account before the attack was this cartoon depicting Islamic State leader Abu Bakr al-Baghdadi, offering him "best wishes, by the way" while the cartoon has Baghdadi saying "and especially health."
Meilleurs vœux, au fait. pic.twitter.com/a2JOhqJZJM

— Charlie Hebdo (@Charlie_Hebdo_) January 7, 2015
The attack comes at a time when European anti-immigration protests are on the rise. Just two days ago 18,000 Germans gathered to protest the nation's and the European Union's immigration policies. While the news media and some politicians have depicted these protests as "xenophobic," the protests have, for the most part, been centered around Muslim immigration rather than immigration in general.
Many Europeans see the importation of North African and Middle Eastern labor via immigration as a labor problem as well, believing that governments are more interested in importing cheap labor than they are in formulating sustainable immigration policies. France's Muslim population is the largest in Europe, standing at 5 million.