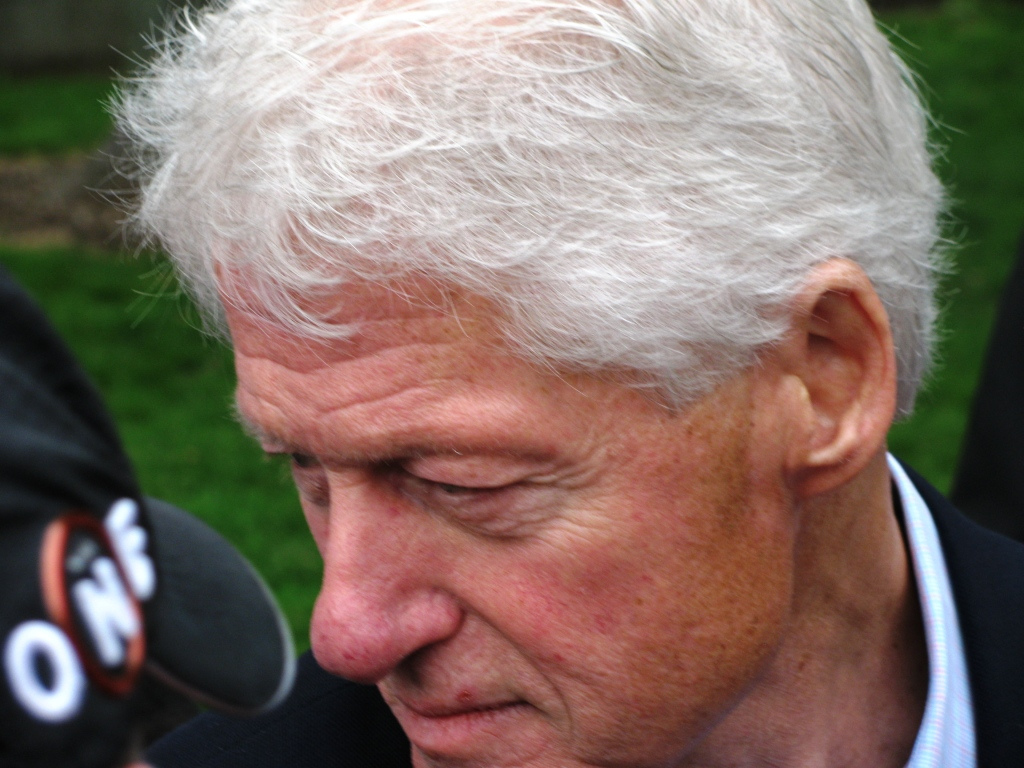 Sensational headline? No, it's literal.
First, let's just go ahead and state up front that there is no evidence that Bill Clinton has ever taken part in any solicitation of minors for sexual congress of any king. Now that that's out of the way, yes, Bill Clinton used to hang around Jeffrey Epstein, known pedophile (although not the pre-pubescent loving kind) and recently accused slaver of young girls.
The billionaire sex offender accused of pimping out a teenage girl to Prince Andrew also kept former President Bill Clinton's numbers on speed dial — 21 of them, court documents show.

Lawyers stumbled upon email addresses and 21 phone numbers for the fun-loving ex-president and his personal aide, Doug Band, stashed away in Jeffrey Epstein's electronic directory, according to court documents.

The filthy-rich sex felon has recently been in the spotlight again thanks to a federal lawsuit filed in Florida by Virginia Roberts, a woman who claims he kept her as a teen "sex slave" and paid her a $15,000 bonus to bed the prince.
Jeffrey Epstein was arrested for getting a handy from a minor in 2005 and that is apparently the year that Clinton cut off contact with him. However, in 2010, an attendant of Chelsea Clinton's wedding was one Ghislaine Maxwell who has been accused of complicity in keeping Virginia Roberts kept as a sex slave and prostitute to the rich.
Maxwell was a guest at Chelsea Clinton's wedding in 2010, according to the 2011 court documents, which are part of a civil lawsuit involving Epstein and two lawyers who represented some of his underage victims.
Before you think "eh, maybe they only sort of knew each other," no, they supposedly knew each other well. Here's what Virginia Roberts, the alleged victim, had to say about what she'd seen. Via the Daily Mail:
'I used to get frightened flying with her but Bill had the Secret Service with him and I remember him talking about what a good job she did.

'I only ever met Bill twice but Jeffrey had told me that they were good friends.

'I asked, "How come?" and he laughed and said, "He owes me some favours." Maybe he was just joking but it constantly surprised me that people with as much to lose as Bill and [Prince] Andrew weren't more careful.

'Bill must have known about Jeffrey's girls. There were three desks in the living area of the villa on the island.

According to prison records, when Epstein was serving his jail term, his visitors included a long-time – and highly controversial – Clinton acquaintance, Arnold Prosperi.


'In the final hours of the Clinton presidency, in January 2001, Prosperi was facing three years in prison after being convicted of tax fraud. Mr Clinton commuted his sentence to house arrest.

'Clinton, Prosperi and Epstein make an odd threesome on the face of it,' says a law enforcement source.

'Was Prosperi visiting Epstein as some kind of intermediary for Bill?

'Maybe Bill wanted to know if Epstein knew anything that could embarrass him. Or did Bill commute Prosperi's sentence as some kind of favour for Epstein?'

Virginia disclosed that Mr Clinton's vice-president Al Gore and his wife, Tipper, were also guests of Epstein on his island.
This whole thing sounds messed up and gross. It also sounds like both Clinton and Gore used to hang out on a damned sex island of some kind.