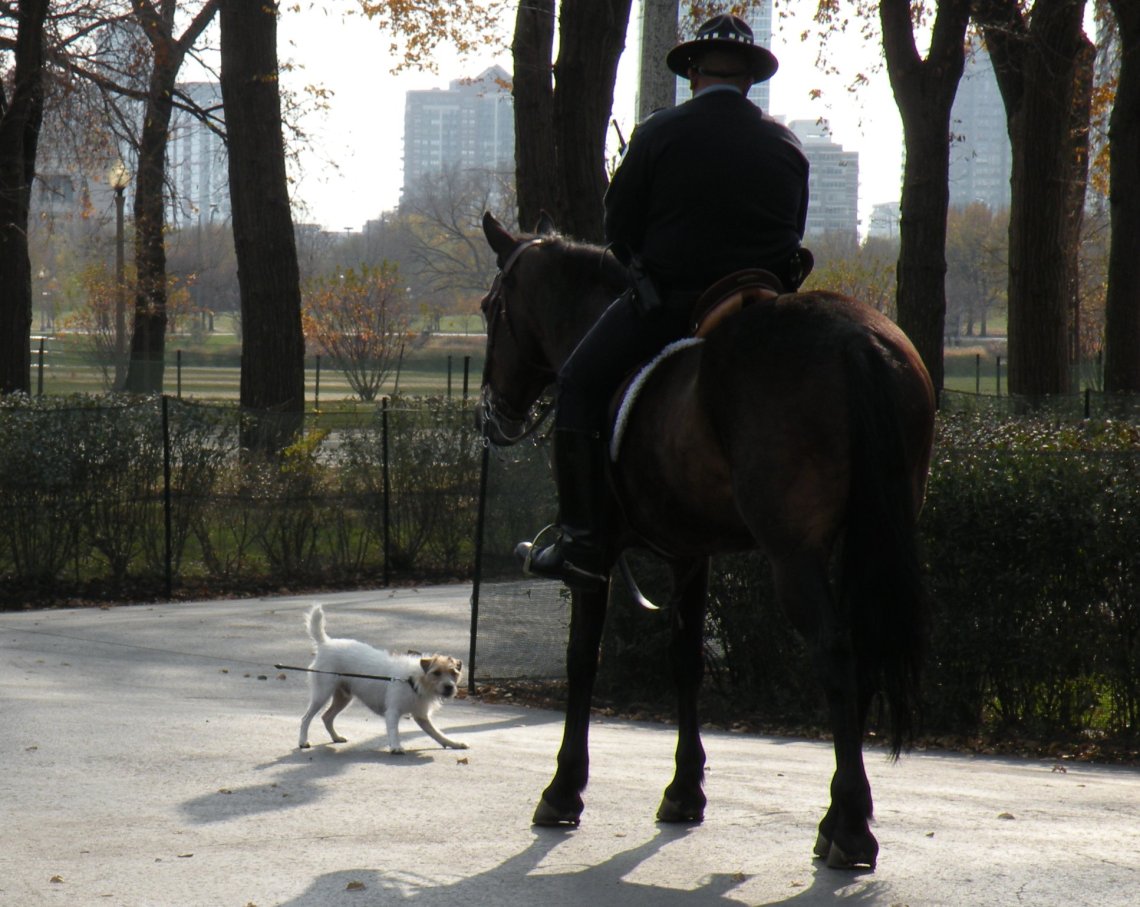 Daily News and Web Roundup for December 9th, 2014
1. Blue State Illinois Votes For More Police State
On December 4th, the Illinois General Assembly overwhelmingly passed a bill that thoroughly muddled the legal concept of privacy in terms of conversations that take place in a public setting like, well, for example, police stops, thus making conversations with police in public places into private conversations meant for just the two of you. It's apparently meant to stop the recording of police officers. From Illinoispolicy.org:
The bill would also discourage people from recording conversations with police by making unlawfully recording a conversation with police – or an attorney general, assistant attorney general, state's attorney, assistant state's attorney or judge – a class 3 felony, which carries a sentence of two to four years in prison. Meanwhile, the bill makes illegal recording of a private citizen a class 4 felony, which carries a lower sentencing range of one to three years in prison.

There's only one apparent reason for imposing a higher penalty on people who record police in particular: to make people especially afraid to record police. That is not a legitimate purpose. And recent history suggests it's important that people not be afraid to record police wherever they perform their duties so that officers will be more likely to respect citizens' rights, and officers who do respect citizens' rights will be able to prove it.

The bill might also provide an excuse to scuttle body cameras for police. Police may argue that using body cameras to record encounters with citizens outside of "public" places would violate the law, as citizens have not consented to being recorded.
This was tried last year in Illinois but struck down by the courts. Looks like it's up to Illinois' governor now but with nearly all the state's legislators behind the bill it could go through anyway.
2. Chicago Police Illegally Wiretap Entire Groups of People With No Warrant
Yeah, complimenting the above we have this gem.
Activists who have been protesting in Chicago claim they have proof that police have been using so-called "Stingray" technology to eavesdrop on their phones, reports WBBM's Mike Krauser.

The technology essentially puts up a wall between the user's phone and their provider, forcing phones in the immediate area to send data to the police instead of the nearest cell towers.
Here's some of the proof the police were doing this via CBS Chicago. They've also link audio of the entire exchange here.
Dispatch: "CPIC [Chicago police's spy 'fusion' center] on the air for a mobile"
Officer 1: "Go ahead"
Officer 2: "Yeah one of the girls, an organizer here, she's been on her phone a lot. You guys picking up any information, uh, where they're going, possibly?"
Officer 1: "Yeah we'll keep an eye on it, we'll let you know if we hear anything."
Officer 2: "10-4. They're compliant, and they're, they're doing ok now but she's spending a lot of time on the phone."
Officer 1: "10-4"
Remember, Millennials being on their phone a lot is a sign of suspicious activity. Other possible suspicious activities may include.
Driving the car you bought with your own money.
Eating the food that you bought to eat.
Saying hello to strangers on the street. One a day, please.
Going to the same place every day for lunch.
Blinking less while watching a movie in a theater, popcorn increases suspicion profile.
3. Senate Intel Report Being Released Today
A Senate report on CIA torture in the War on Terror is being released today so we'll soon all be treated to smorgasbord of tales of man's inhumanity toward man as sanctioned by the United States government.
Reuters reports that the following are among the things you can expect to hear about:
Sexual threats with broomsticks
Mock Executions
Waterboarding
Threats involving power drills
President Obama stated that the purpose of releasing the report was as follows:
White House spokesman Josh Earnest said on Monday that President Barack Obama supported making the document public "so that people around the world and people here at home understand exactly what transpired."

The executive director of the American Civil Liberties Union, Anthony Romero, said in an opinion piece in The New York Times that Obama should issue formal pardons to senior officials and others to make clear that these actions were crimes and help ensure that "the American government never tortures again."
Republicans have continually pushed back against the report's release saying it puts American lives overseas in danger. Recognizing this to be true, the Obama Administration is taking precautions.
Preparing for a worldwide outcry from the publication of the graphic details, the White House and U.S. intelligence officials said on Monday they had beefed up security of U.S. facilities worldwide.
While posing for photographs, LeBron James appeared to surprise the Duchess of Cambridge by breaking royal protocol and placing his arm around her.
AWKWARD: LeBron James breaks royal protocol by wrapping arm round Duchess of Cambridgehttps://t.co/t0cgy51o4y pic.twitter.com/B0fEgdLqgb

— Eurosport UK (@Eurosport_UK) December 9, 2014
O.M.G.
5. Federal Autopsy Confirms Mike Brown Not Shot in Back
A lot/lot of Americans still believe that Mike Brown was shot one or more times in the back by Officer Darren Wilson. Whatever else happened that day, that didn't.
The Justice Department autopsy found that Brown died from multiple gunshot wounds and had severe head and chest injuries, though it noted that the chest injury might have been an exit wound from a shot that entered Brown's arm. The autopsy also found a minor gunshot wound to Brown's right hand was evidence of close range discharge of a firearm.
All shots from the front.
6. Barack Obama Takes Over Colbert's "The Word"
While a part of me will always wish that it had been "Papa Bear" aka Bill O'Reilly, it was cool to see Stephen Colbert get a sort of send off from the leader of the free world last night.

https://www.youtube.com/watch?v=6-t_SKe0qW4