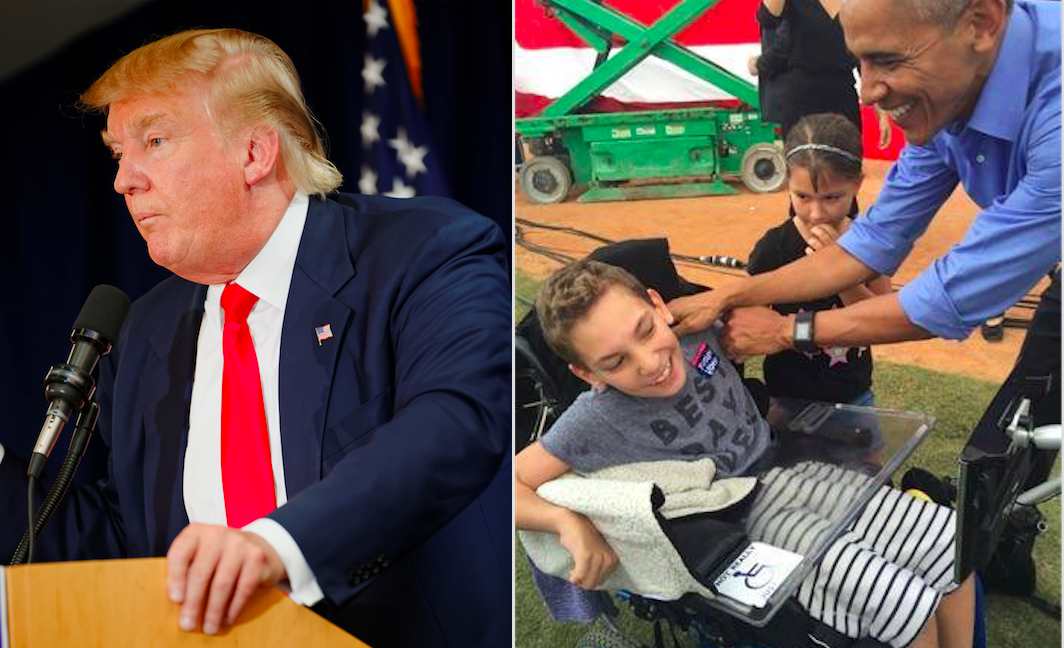 J.J. Holmes really, really wanted to go to a Donald Trump rally being held in Tampa, Florida. Not because he supports Mr. Trump, but because he really, really does not. Donald Trump has an extremely spotty (aka awful) record in regards to his treatment and respect of Americans with disabilities, and J.J. is a 12-year-old with cerebral palsy
He is wheelchair bound, and can only communicate with the help of a computer device. Reluctantly, his mother agreed to let him protest the Trump event and they made the drive out to Tampa.
When they got there, they were treated about as badly as you would expect. Reporter Kimberly DeFalc reported the following in a Facebook post:
This is truly disturbing to me … What I witnessed while covering a Trump rally today. Wheelchair-bound JJ Holmes, 12, who has cerebral palsy, and his family were ordered out of Saturday's Trump rally by Trump after they chanted for Hillary Clinton. JJ begged his mom, Alison, to travel over two hours so he could attend.

Unable to speak, JJ communicates through a special device similar to Stephen Hawkings. JJ is passionate about politics and concerned about the future of all humans but especially those with disabilites. Alison said the family was kicked by Trump supporters and had to shield JJ's wheelchair as Trump supporters gathered to push JJ's wheelchair out of their space.
The reporter, moved by JJ's courage and the Trump crowd's hate, decided to try to make the kid's day by arranging a meeting with President Obama:
Alison was called a child abuser and a murderer. This is just so, so sad! Tears are burning my eyeballs but then I look at JJ smiling afterwards when he asked his mom if she is proud of him.

If anyone can help, JJ is going to see President Obama in Orlando Sunday as he and Hillary are his heroes. I'm am pulling out all the stops of connections to arrange a meeting. I'm just not that well-connected. If anyone can help connect the dots, this would be life-changing for JJ and also send powerful encouragement for all who live with disabilities and rise up despite them! With gratitude, Kim
With help from Kim DeFalc, J.J. Homes got the opportunity to meet his hero, President Barack Obama at a Hillary Clinton rally.
Yesterday, this young man was kicked out of a Trump rally. As he was leaving, people kicked at his wheelchair. Today, he met his President. pic.twitter.com/VI4g2tKANG

— Steve Schale 🇺🇸 (@steveschale) November 6, 2016
When asked about the GOP nominee, the 12-year-old used his specialized computer to say: "I hate Donald Trump, I hate Donald Trump."
Us too, JJ.

Kimberly's Original Facebook Post